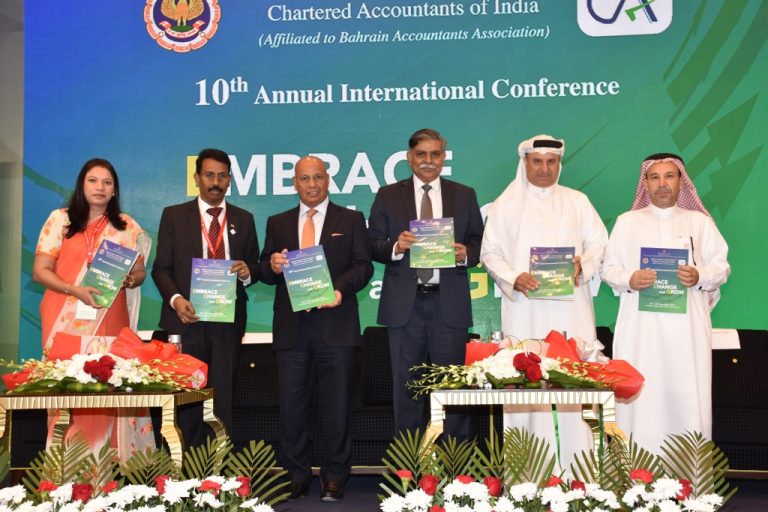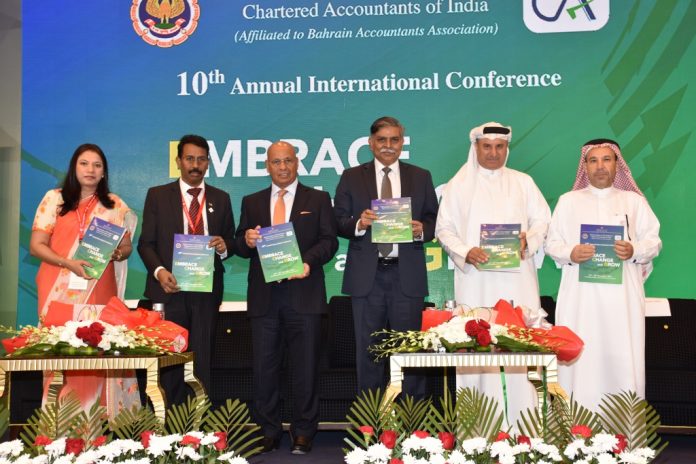 The 10th Annual International Conference of the Bahrain Chapter of the Institute of Chartered Accountants of India (BCICAI) held under the patronage of H. E Zayed R. Al Zayani, Ministry of Industry Commerce and Tourism opened at The Diplomat Radisson Blu yesterday with technology and VAT ruling the airwaves.
Over 400 delegates for the GCC and India heard H.E Hameed Yusif Rahma, Assistant Undersecretary for Domestic Trade at the Ministry of Industry, Commerce and Tourism (MOIC) praise the role of Indian chartered accountants in Bahrain's progress, saying  "The contributions of the ICAI in the economic growth of Bahrain in these challenging conditions have helped tremendously in working towards stabilization and economic growth in Bahrain. This conference could not have been more timely and appropriate"
The opening ceremony was attended by Indian Ambassador Alok Kumar Sinha, H.E Hameed Yusif Rahma, Assistant Undersecretary for at the Ministry of Industry, Commerce and Tourism (MOIC) and  H.E Ali Abdulhussain Maki, Assistant Undersecretary for Commercial Registrations and Companies, MOIC.
In his Keynote Address, Pujya Brahmaviharidas Swami of the BAPS Foundation set the template for change, saying that change is inevitable, inescapable and cannot be categorised as good or bad.
"Since change is inescapable, we have to tackle it by adjusting ourselves, anticipating it, attuning ourselves to it and also changing ourselves without giving up on our spiritual and ethical values," Pujya Brahmaviharidas Swami said, "As Shadow CEOs/Chairmen and entrepreneurs, accountants must be aware of change and prepared to build it into their lives.  Like finding a location on Google, we need to find our own location first and then map our response."
Indian Ambassador Alok Kumar Sinha highlighted the transformative impact of the changes that India has embraced such as GST  and said that Bahrain too was poised to benefit from new perspectives on economic and national growth.
"Embracing change and working towards growth is not just an impactful lifestyle choice but its positive effects transcend to policy making and lead to better bilateral relations between Bahrain and India" Ambassador Sinha said.
Mr Jamal Fakhro, Managing Partner of KPMG said: "With change, there is always growth and we must learn to swim with the current". He touched upon dispelling fear around the utilization of AI and the benefits of its integration. Mr Abbas Al Radhi, President of the Bahrain Accountants Association (BAA) further talked about staying ahead of the curve and preparing the market for blockchain and its effects.
Adding on, H.E Ali Abdulhussain Maki, who has been a part of the BCICAI since its inception, said that the BCICAI conference helps the financial world of Bahrain in keeping abreast with the ever evolving demands.
Day Two today began with H.E. Khalid Al Rumaihi, CEO of the Economic Development Board as Chief Guest Topics such as Social Innovation,  the impact of technology (AI, blockchain, cybersecurity) on accountancy procedures,  Bahrain 2030 and integration of AI are topics being addressed by  the roster of impressive speakers.
Bahrain has a wealth of I.T. talent and trained personnel who can take the lead in transforming the Kingdom into an AI research and development hub, said Dr. Jassim Al Haji, President of the Bahrain AI Society. He was speaking at the 10 Annual BCICAI international conference of chartered accountants where he tackled the topic of AI and disruptive change.
"People only see AI as a threat to jobs in the future and this is only a small part of the truth," Dr. Haji said, "In Bahrain, we need to do much more to understand the potential of this force which is inevitable and manage change in the workplace so that we are not left behind."
There are many Bahrainis who are graduates in I.T. development with genuine talent for AI development and Bahrain can step ahead in the race by encouraging these Bahrainis to form the core of a MENA-region R&D hub for intelligence, Dr. Haji said. Just like the Kingdom is pacing out its involvement in fintech, it should also engage in AI research, he said.
"The days when we could breezily talk of AI in 10 years are gone because this change is happening now and will overtake our workplace by 2020 or earlier," he said, "Being prepared and invested in this change is imperative for the continued progress of Bahrain."
The evening ended with a scintillating concert of Indian classical music by Rajesh Vaidya, a renowned veena player and percussionist Karunakaran Nair