Following the completion of tonight's Formula 1 Rolex Sakhir Grand Prix 2020, highlighted by a stunning first career win for Racing Point's Sergio Perez, Bahrain International Circuit (BIC) Chairman Arif Rahimi commented:
"At the end of an extraordinary two weeks of racing, I congratulate Sergio Perez and Racing Point for their victory today, wrapping up our unique double-header weekend.
"It has been a great honour to welcome frontline heroes, first responders and their families to BIC over the past two weekends, as we recognise their efforts in keeping Bahrain safe.
"For those watching at home, I hope that Formula 1, not just in Bahrain but races around the world this season, have been a welcome distraction and a source of entertainment.
"None of this would have been possible without the support and partnership that we have with F1 and the FIA. It is an incredible achievement for the sport to be able to host so may races, in different locations, in a safe manner over the last five months. We wish them, together with all the teams and support personnel, the very best in the final race of the season."
BIC Chief Executive Shaikh Salman bin Isa Al Khalifa added: "The range of emotions over the last two weekends is something that I shall never forget.
"We've had the pride of welcoming frontline heroes to share the F1 experience with us; the shock of Roman Grosjean's horrific accident; the relief when he walked away from the incident; the compassion of his emotional visit to BIC a couple of days later to meet the individuals who heled save his life; the excitement of seeing an up-and-coming young driver take to the wheel of a Mercedes; the thrill of racing on a completely new track; and the pleasure to have F1 here for a unique series of two races.
"It somehow feels fitting for us that such a difficult year concludes with a unique event which we hope has acted as a positive memory for those watching.
"We have only been able to do all of this together with #TeamBahrain. The coordination, the passion, the effort and hard work of so many people in the Kingdom gives us an event which we can be deeply proud of.
"I thank each and every individual who has contributed to this weekend. In particular, I thank my team at BIC, which has had to work differently, creatively and diligently to deliver an event of this nature. We have been able to share memories that so many of us will keep forever."
Perez emerged victorious after 87 hotly contested laps around BIC's 3.543-kilometre Outer Track, featuring incredible drama throughout.
As he crossed the finish line, the chequered flag was waved by National Taskforce for Combatting the Coronavirus member and Salmaniya Medical Complex Infectious and Internal Diseases Consultant Dr Jameela Salman, while a colourful fireworks display lit up the night sky.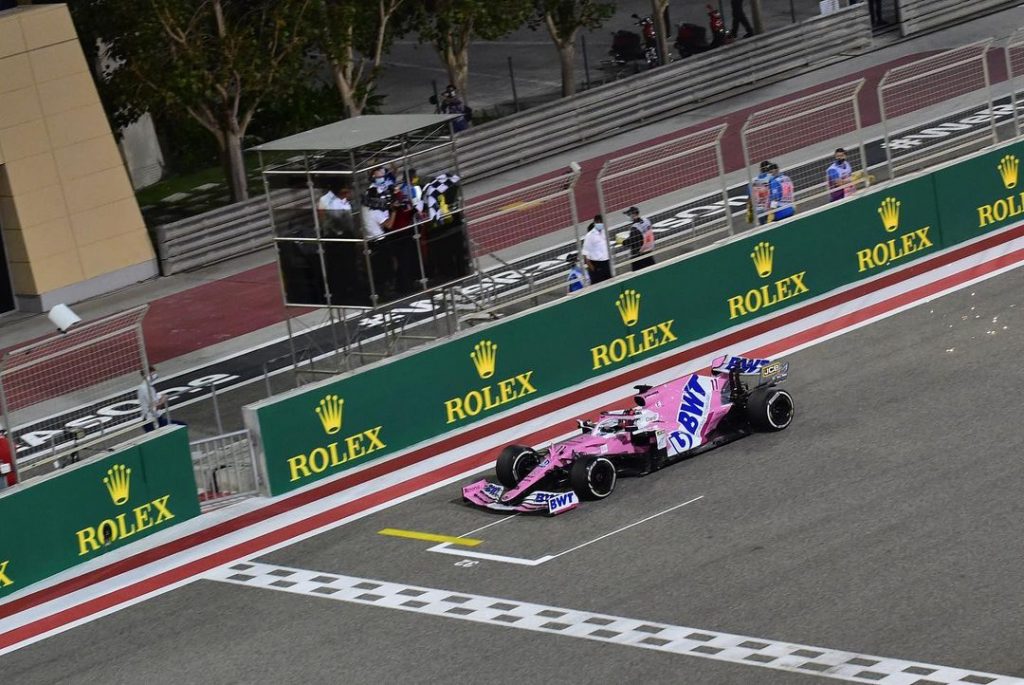 Joining Perez on the podium were Renault's Esteban Ocon and Racing Point teammate Lance Stroll. Perez started from fifth on the grid but had a disastrous first lap after getting involved in a turn-four incident that led to the retirements of Red Bull's Max Verstappen and Ferrari's Charles Leclerc. Perez was forced to pit but then did masterfully to battle back towards the front, where he was hunting down the Mercedes pair of George Russell and pole-sitter Valtteri Bottas.
Perez inherited the lead when Russell and Bottas were called in for fresh tyres, but the team made some uncharacteristic mistakes and botched both pit stops, likely costing them a dream one-two.
Perez took advantage and enjoyed clean air in front of him, building a comfortable lead as he charged towards the finish. He powered to the victory in one hour 31 minutes 15.114 seconds for his first triumph in F1.
Ocon followed 10.518 seconds behind for his first career podium, while Stroll claimed his second podium of 2020 11.869s back. Carlos Sainz was fourth for McLaren, Daniel Ricciardo fifth for Renault, Alexander Albon sixth for Red Bull, and Daniil Kvyat seventh for AlphaTauri. Bottas, Russell and Lando Norris in the second McLaren rounded out the top 10 and the race's points scorers.
The classification from 11th to 17th, respectively, featured AlphaTauri's Pierre Gasly, Ferrari's Sebastian Vettel, the Alfa Romeo pair of Antonio Giovinazzi and Kimi Raikkonen, Haas' Kevin Magnussen, Williams' Jack Aitken, and Pietro Fittipaldi in the other Haas.
Nicholas Latifi in the second Williams car, along with Verstappen and Leclerc, were all not classified.
For the second successive weekend at BIC, there was some drama at the race start. Leclerc had collided with Perez at turn four, causing significant damage to the Ferrari. Verstappen, in trying to avoid contact with the pair, ran wide and slid into the wall, while Perez was lucky not to be taken out in the clash.
Mercedes' two crucial pit-stop errors proved disastrous in their bid for victory. Russell, driving in place of seven-time world champion Lewis Hamilton, was leading with Bottas behind him when the safety car was deployed on lap 63. The team called both drivers in for new tyres, but had inadvertently put on a mixed set for Russell, which required him to pit once more later on. The team also had trouble replacing Bottas's tyres in his stop, which lasted nearly 30 seconds, costing him valuable time.
Russell was able to recover and go back to second place with under a three-second gap from Perez, but then a puncture required him to make his fourth pit stop of the race. He rejoined outside of the top 10, and was unable to challenge for the win from there. Bottas had also struggled over the race's closing stages, setting the stage for Perez's dramatic first-place finish.
The F1 Rolex Sakhir Grand Prix was the penultimate round of the 2020 FIA F1 World Championship. It was also the second race of Bahrain's first-ever F1 double-header.