Five further world-records broken and eighteen World Champions crowned on sixth evening of action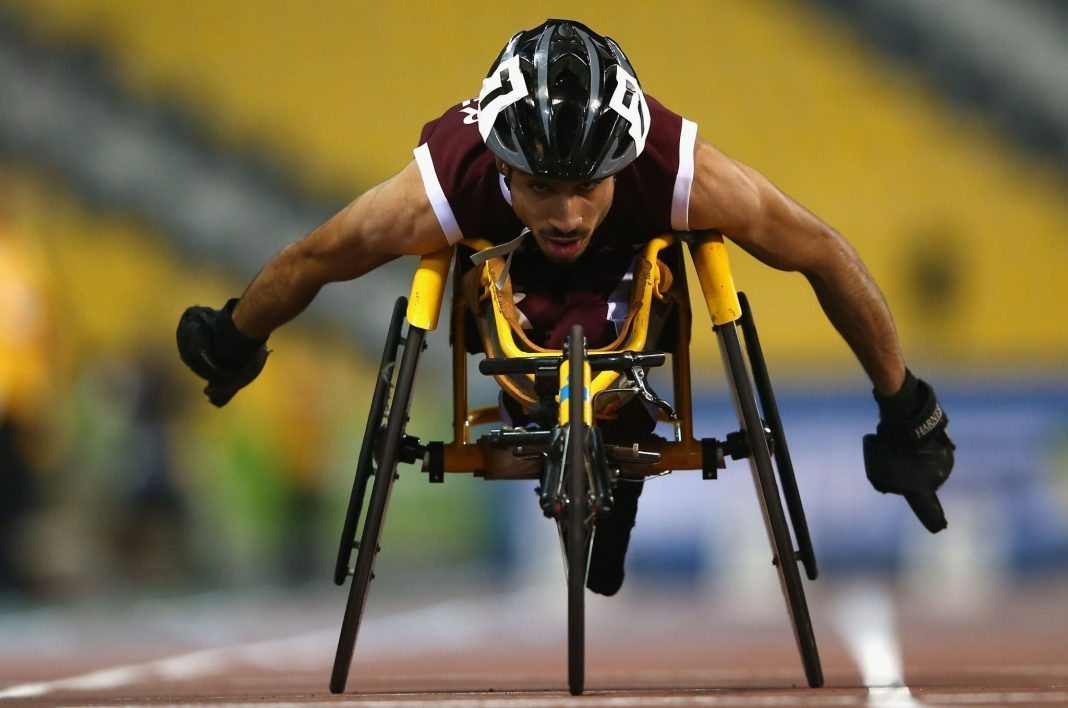 #Qatar's Mohamed al Kubaisi has qualified for the Men's #100m #T34 final in his first-ever IPC Athletics World Championships. Tunisia's Walid Ktila qualified with the fastest time and is on track for his third of four possible gold medals at these World Championships, while a shock in the Women's 100m T11 semi-finals saw reigning World Champion Terezinha Guilhermina of Brazil fail to qualify for the final.
Mohamed al Kubaisi has not long been involved in para-sports but has shown extremely fast improvement, rewarded with his first major championship medal at the 2014 Asian Para-Games last year. The 22-year-old has continued to build on this and produced an excellent performance to qualify for tomorrow night's 100m T34 final.
Speaking after his race, he said:
"It feels amazing being here among my family and friends. It actually feels great to have the responsibility of representing Qatar and making everyone proud including His Highness Sheikh Tamim. I've been preparing for months in Poland so I feel ready."
In the second heat, Walid Ktila again showed his unbeatable form by storming to victory to qualify easily for tomorrow's final. Ktila has already won gold in the 400m and 800m events and is on track to complete his 2013 World Championship feat of winning four gold medals with the 200m still to come.
There were several upsets in tonight's competition. In the Women's 100m T11 semi-final, crowd favourite Terezinha Guilhermina of Brazil finished third in her race and failed to qualify for the final. Guilhermina was clearly affected by having to run with a new guide following her regular guide pulling a muscle in the 200m final two days ago. Meanwhile, Terezinha's emerging nemesis, Cuiqing Liu of China qualified easily in the second semi-final making her the strong favourite for her third gold of these World Championships in tomorrow night's final.
In the Men's 400m T54, pre-race favourite Marcel Hug of Switzerland failed to collect a medal finishing in fourth place behind Yang Liu and Chengming Liu of China and Kenny van Weeghel of The Netherlands. Ahead of the World Championships, Hug was looking to better his 2013 performance of 3 gold medals and 1 silver but has so far only managed one silver which came in the Men's 5000m last night. Hug still has the 800m T54 to come.
Brent Lakatos of Canada was looking to match his 2013 World Championship performance by winning four gold medals. He has already been successful in the 100m and 200m T53 in Doha but was beaten tonight in the 400m T53 in the final metres as China prospered once again with Li Huzhao claiming victory. Lakatos still has one further race to come in the 800m T53on Thursday 29th, which Huzhao will also be competing in.
Speaking after winning silver, Lakatos said:
"I knew the Chinese was really strong and that he was one to watch. I thought it was an exciting race, we came out quite even on that last bend, but I just couldn't catch him. I'm still extremely pleased with two gold medals and this silver medal so far, but I hope to avenge this with a world title in the 800m"
In the Men's 200m T42 heats, para-athletics veteran Richard Whitehead of Great Britain broke his own world-record in a time of 24.10s. The 39-year-old is the reigning Paralympic and World Champion and will be looking for his third world title when he lines up in tomorrow night's final. Speaking after his world-record, Whitehead said:
"It's all about pushing the sport on and inspiring all the people watching all over the world. It was a great race and I'm thrilled to break my World Record."
Also qualifying was team-mate Dave Henson. The former British Army officer and Great Britain's flag-bearer at the Doha 2015 Opening Ceremony lost both his legs when he stepped on a bomb in Afghanistan in 2011 and tonight represented his country for the first time as an athlete, and is just one example of the compelling stories of triumph over adversity on display at these World Championships.
There were four further world-records broken tonight. Rachael Morrison of the USA threw a huge throw of 12.86m in the Women's discus F52 beating her nearest rival by over two metres. Evgenii Torsunov of Russia won the Men's long jump T36 with a jump of 5.34m and Irada Aliyeva of Azerbaijan threw 44.18m to win the Women's javelin F13. Lauritta Onye won Nigeria's first medal of the World Championships in style with a convincing win in the Women's shot put F40 final, furthering her own world-record to 7.72m. Speaking afterwards, she said:
"I am so excited to come here and win the gold medal but to do it with the world record is amazing. I had confidence in myself and wanted to come here and win gold only. It's been great to compete here in Doha, I love it!"
Mohamed al Kubaisi will be competing in the 100m T34 final at 17:46 tomorrow and Team Qatar will also be represented by Sara Masoud, double Asian Para-Games Champion, who will be competing in the shot put F33 at 16:12. Get your tickets to cheer them on online at https://doha2015.q-tickets.com, in Villaggio, Landmark and City Centre malls, as well as in ticket booths at the ground. Children below the age of four and pensioners aged 60+ go for free. All proceeds will be donated to charity. Qatar Airways and Ooredoo are also providing the opportunity for crowds to win prizes including flights, iPhones, iPads and Galaxy S6's.