Bahrain International Circuit, The Home of Motorsport in the Middle East, today announced that the 2023 Formula 1 Gulf Air Bahrain Grand Prix will be its most sustainable race ever. It also announced future plans to ensure it further reduces its impact on the planet and supports F1's 2030 net zero goal and well as those of The Kingdom of Bahrain.
Solar farm production and expansion plans
Over the last 12 months, analysis from BIC's solar partner IREC Energy shows that BIC's solar farm has produced 5.28 MW of clean energy, enough renewable energy to cover all of the circuit usage for F1 with significant capacity to spare, the equivalent of offsetting 3,108 tonnes of carbon. Renewable energy at circuits is a key part of how F1 will meet its Net Zero goal – in addition to the continued transition to more sustainable energy sources across its operations from 100% sustainable fuel in cars by 2026 to more efficient logistics operations through to on-site generator requirements.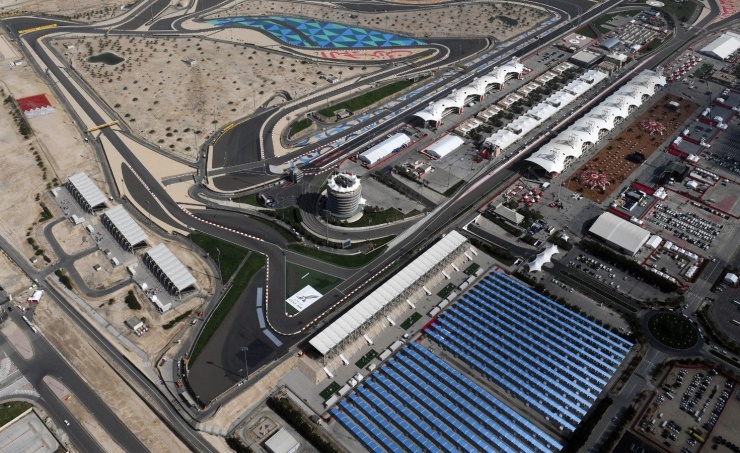 BIC is also pleased to announce that construction will commence soon on an expansion of the solar farm to cover additional car parks at the circuit. The 14MWh project, combined with the existing facility, will deliver enough clean energy to power BIC's entire energy consumption for the whole year, meaning that BIC will be 100% powered by clean energy.
New Building management system and othe energy reduction measures
In the last 12 months, BIC has undertaken a number of measures to reduce energy consumption. This has included a new building management system that efficiently monitors and manages light and air conditioning provision, an upgrade to more efficient air conditioning chillers and the replacement of all street and building lighting to LED lights.
BIC's combined energy saving measures will save over 30% in energy use over this year.
Recycling and waste
For F1 2023, BIC has upgraded and expanded its recycling facilities. BIC has been working with specialist company Urbaser to increase the number of segregated waste bins across the Paddock and public areas and have also introduced a special composting machine that enables fans in public areas to dispose of waste food in a dedicated composting machine. Bin collections by Urbaser are also undertaken using electric scooters.
BIC is also working on other measures to reduce plastic use. A major new element for 2023 is the introduction of water dispensers in fan areas, where fans can fill up their reusable water bottles with free drinking water, thus saving on plastic water bottle usage.
In addition, BIC is also working with specialist organisations for the recycling of waste oil and steel.
Measurement and Carbon Accounting
In order to ensure best practice across all of these areas and for BIC to be able to ensure proper and accountable measurement, it has recently partnered with the SEE Institute, a specialist advisory company across sustainability. The partnership will encompass delivering new best practices for the circuit in all areas of sustainability and will also manage areas of measurement and carbon accounting.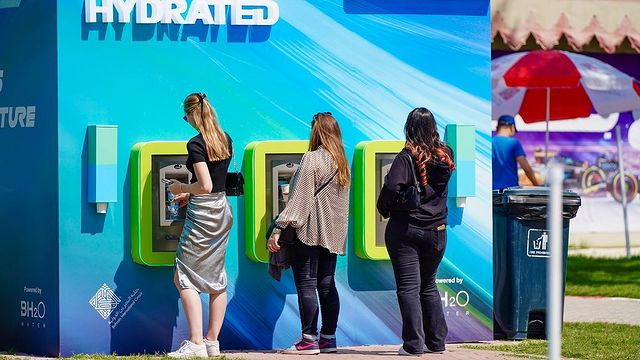 Sheikh Salman bin Isa Al Khalifa, Chief Executive of Bahrain International Circuit, said:
"We have substantially enhanced our efforts across many areas of sustainability this year, working alongside our partners and across the Government to ensure we continue our journey to limit our impact in the planet.
"The measures we have put in place this year, combined with our ambitious plans on expanding our solar facility, as well as other plans for the future, will help ensure we support F1 and the Government in Bahrain in their net zero targets. "
Ellen Jones, Head of Sustainability at Formula 1 said:
"It is great to see how the Bahrain Grand Prix has embraced sustainability, demonstrating the direct action we are looking for from our promoters in Formula 1 as we continue towards our goal of being Net Zero by 2030. Last year we issued guidance to all our Race Promoters to help assist them in best practice when running a sustainable event looking at key areas such as energy, plastic & waste, wellbeing & nature and local fan travel. We are looking forward to seeing these initiatives in place at events throughout the season, starting with the season opener in Bahrain this weekend."