Under the patronage of HH Shaikh Khalid bin Abdullah Al Khalifa, Deputy PM of Bahrain, RAMEZ Group, a retail giant in the GCC and Asia, has further expanded its presence in Bahrain by opening its latest hypermarket in Juffair.
The new hypermarket which is also 6th in the kingdom and 40th in the region was officially inaugurated in the presence of Mr.Ramez AL Awadi Chairman of RAMEZ Group, ministers, Ambassadors and a number of businessmen and other dignitaries.
Located in a strategic area in Juffair, close to Ahmed Al Fateh Islamic Centre, the sprawling 10,000 sq. ft. new hypermarket has been designed using the latest state-of-the-art retail space concepts for ease of shopping and display. It will meet all shoppers' needs and is also well-positioned to cater to visitors and tourists from all around the globe.
As always, RAMEZ new hypermarket provides more than 285,000 high quality and value-for-money products under one roof, mainly: food, clothes, cosmetics, stationary, furniture, toys, kitchen kits, home appliances and many more. The outlet has also introduced a huge range of products from USA, UK, Switzerland, Greece, Turkey, Pakistan, India, China, KSA, Philippines, and Thailand. RAMEZ Group owns a factory at the industrial zone in Hidd area that covers its main supply of plastic, aluminum, and paper goods.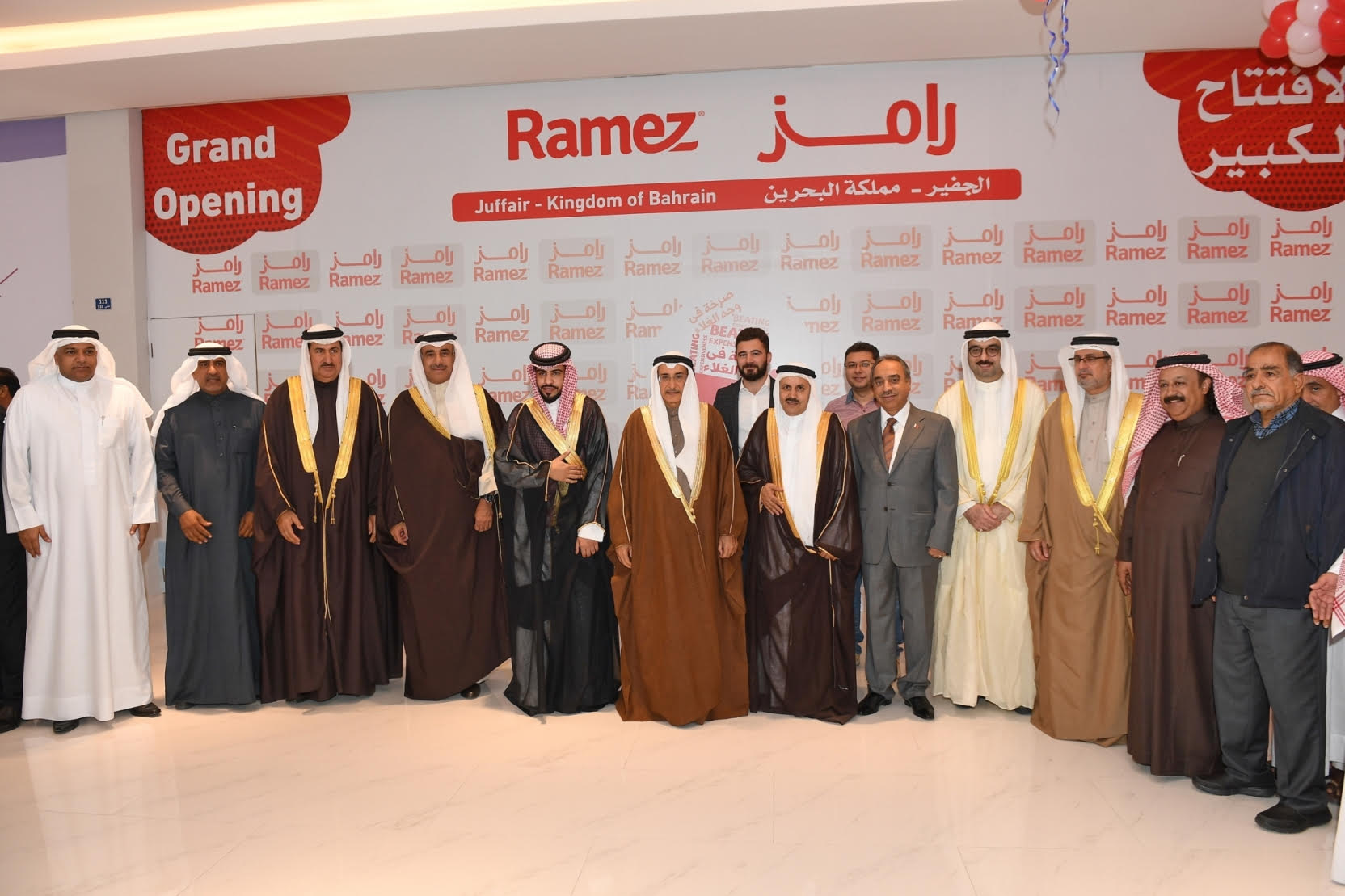 RAMEZ new Hypermarket contains a special display area for Bahraini products that showcases plenty of commodities such as: dairy products, spices, fruits and vegetables, etc. Plus, special corners serving fresh meat, chicken, Seafood, bakery and organic food.
In this Occasion, Mr.Ramez AL Awadi Chairman of RAMEZ Group expressed his deepest appreciation and gratitude to His Majesty King Hamad bin Isa Al Khalifa, His Royal Highness Prime Minister Prince Khalifa bin Salman Al Khalifa, His Royal Highness Prince Salman bin Hamad Al Khalifa, Crown Prince, Deputy Supreme Commander and First Deputy Prime Minister for their unlimited support and endless facilities for the trade sector and retail business which help fostering this vital sector and scoring tremendous growth.
"We are highly grateful to HH Shaikh Khalid bin Abdullah Al Khalifa Deputy PM of Bahrain for opening our 6th RAMEZ hypermarket in the kingdom, which is a moment of great pride for us, It is a sign of our steady confidence in the bright future of Bahrain and our commitment to be part of the progress of the Kingdom," said Mr.Ramez AL Awadi.
"Our growth in Bahrain is powered by the vision of the leadership, the business-friendly economic environment and the ability of our Bahraini employees to absorb and fit into the RAMEZ service model which puts customers above all," he added.
"Our strong Bahraini work force forms the nucleus of our operations in the Kingdom and is a key factor to our success, our vision encourages to train and deploy more young talented Bahrainis in all our branches and outlets, and we are keen to continue supporting Bahrain labor force by giving employment to more Bahrainis in our upcoming projects," he noted.
"Our expansion plans are firm and we will open new Hypermarkets in many areas around the kingdom, mainly Al-Hala area in Muharraq and Janabeya area in the near future, reaching 8 branches in total." he concluded.