Saar Mall in collaboration with 6/10 Women Empowerment initiative organized the Breast Cancer Awareness and Charity event entitled "United we Stand with Her" on 31st October 2019 from 5 – 9 PM. The proceeds of this event will be given to Bahrain Cancer Society to continue the fight against cancer and provide services to those affected by cancer.
This is the sixth year for Saar mall to organize the Breast Cancer Charity and Awareness event for the females in Bahrain. This noble event was always on the programs schedule of the Mall. Moreover, Saar Mall had focused to involve all the segments of the society to support all women out there in their fight against cancer.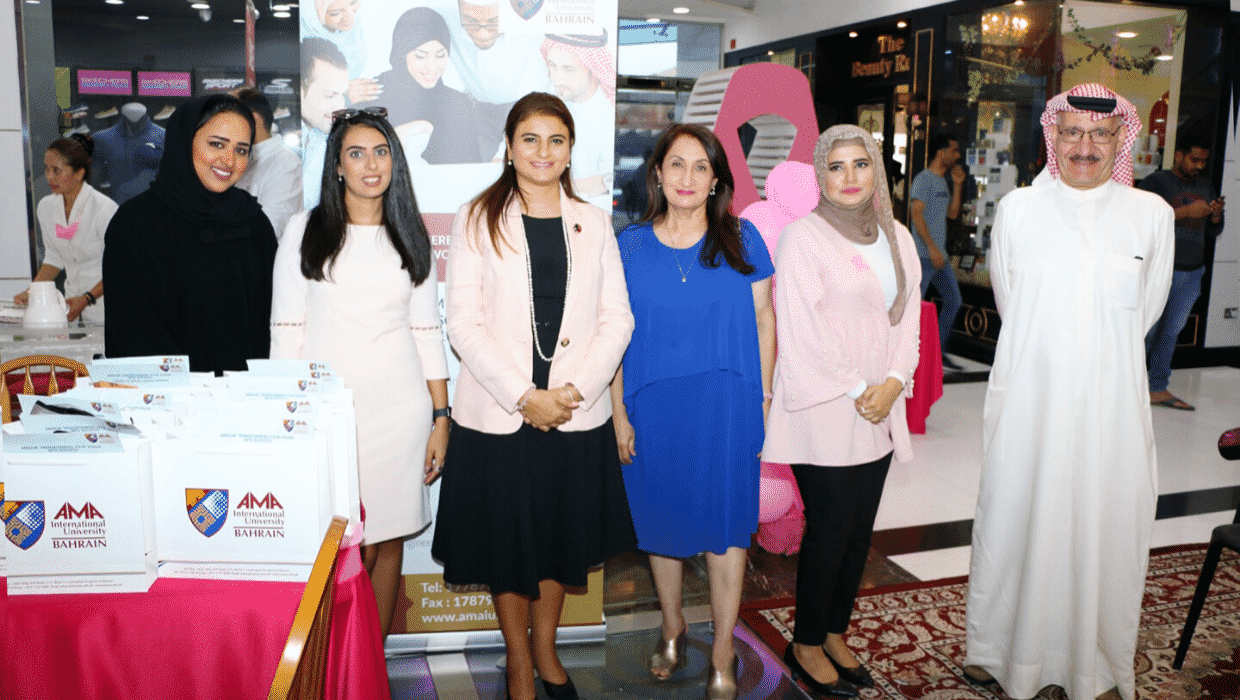 This event became possible through the help of our Partners; such as Bahrain Cancer Society, and the organizer Ms. Noora Muhanna – 6/10 Women Empowerment initiative. Whereas, the Guest of honor was MP Dr. Sawsan Kamal, Member of Parliament, Her Excellency gave a speech on Inner Peace: Path to Prevention.
The United We Stand with Her event started with an opening remark by Mrs. Esmahan Bokhowa, Saar Mall Manager, in which she stated that "early detection saves lives, therefore it's our role to spread awareness to all women out there". Dr. Fadi Al Tawash, Plastic and Reconstructive Surgeon, then mentioned in his speech the importance of selfexaminations for women on a periodical manner.
After that, we had two cancer survivors, Mrs. Nadia Siddiq and Mrs. Elisabetta Massey they spoke about their inspirational story to all our guests. Furthermore, Ms. Fathima Safina from Bahrain Eloquent Toastmaster Club delivered an inspirational story. Our Event Sponsors were; Lumee, Galata trading, Kids palace, Yellow Submarine, Carrefour, Kalimantan, Veras cake, Mame pod, AMAIUB, MKF, Balloons Heaven, Well Care Pharmacy, Bio Oil, Bio Derma, Ward Al Sham, Alta Café, Al Salam Hospital, Ammar Optician, Maison de Joelle, Remix Dj, Aptex, Cake Boutique, N Spa, Taylos Hospitality.
We had conducted several activities, i.e. stalls for think pink products, giveaways, free checkups, awareness program for the attendees to enjoy this event. The event ended by a Group picture with all our guests and cutting a cake that was provided by Cake Boutique.