Samsung has launched its revolutionary FlexWashTM, a washer-dryer combination model that tightly integrates two washers and a dryer* into one high performance appliance. Customers in Bahrain can now buy the innovative new FlexWashTM washing machine from retailers. With a range of core Samsung laundry technologies and features, including the popular AddDoor, FlexWashTM is designed to offer users the freedom and flexibility to customize their laundry routines, while providing a higher level of care for clothes to make them last longer.
Each of the two laundry compartments boasts unique features geared towards specific articles of clothing. The FlexWashTM lower washer can either be an AddWashTM washing machine or dryer*, and is equipped with 17.5 kg of capacity to handle main loads. After a wash cycle finishes, the washer can convert into a dryer with 9 Kg capacity, offering consumers the flexibility to start the dry cycle* without moving clothes. It also features Samsung's AirWash technology, which refreshes heat-sensitive clothing with ultra-hot air. The attached upper washer with 3.5 Kg capacity is intended for washing small loads of delicate or dark items that require extra care. Both loaders can be operated at the same time or separately.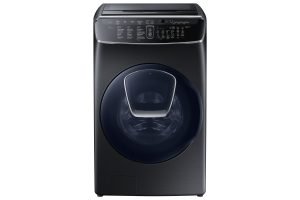 FlexWashTM's comprehensive approach is expected to transform the marketplace as consumers discover a faster, more effective, and customizable way to clean clothes. The ability to operate both top and bottom units separately and simultaneously addresses strong consumer demand to wash clothes faster while still keeping items separate.
The all-in-one laundry solution also uses three core Samsung laundry technologies: EcoBubbleTM, Bubble Soak, and Vibration Reduction technology (VRT PlusTM). EcoBubbleTM uses air and water to dissolve detergent, creating powerful bubble action for cleaning that is much faster and more effective. Bubble Soak thoroughly soaks clothes in active bubbles after the normal wash cycle for an extra round of powerful cleaning, while VRT reduces noise and vibrations during high speed spins.
The units are also IoT-enabled and integrated with Smart Control, which allows users to operate and monitor their machines anytime and anywhere with their smartphones, letting them start and stop every cycle from the palm of their hand.
In addition to its smart technologies, Samsung FlexWashTM adds a whole new level of consumer convenience with its ergonomic design. The one-body unit comes with a built-in softener case, transparent doors for easy monitoring, and is easy to install with only a pair of inlet hoses—a power cord and a connected drain hose. The upper washer is perfectly positioned so users do not have to bend down during laundry, an innovative structure that is already showing promise. It received the Asian Conference on Ergonomics and Design (ACED)'s 2017 Ergonomic Design Award and Grand Prix title, as well as the US Environmental Protection Agency's Energy Star for its energy-efficient qualities.    
"We always strive to bring our customers the best products. The innovative new technology of the two way wash in one machine, super speed and steam, are all advanced features that have been incorporated into the new FlexWashTM. The latest innovation from Samsung is here and promises to revolutionize washing day with its two-way washer. We wanted to bring our customers a new and exciting washing machine that meets their lifestyles, tastes and budgets," said Vinod Nair, Head of Home Appliances Division at Samsung Gulf Electronics.
Samsung customers can buy the FlexWashTM from leading electronics retailers across Bahrain at BHD 1,099. Terms and conditions apply.