Tamkeen proposes the formation of specialised committees to further address sector needs
15 sectors provide feedback around Tamkeen's programmes and 2016 Priorities
As part of its ongoing efforts to consult and engage with the public and to collect feedback from its various stakeholders, Tamkeen held a forum (3 November 2015) with various stakeholders from different sectors to collect feedback and recommendations around Tamkeen's programmes and 2016 priorities. The feedback will form a core part in the enhancement of Tamkeen's operations to ensure the provision of the best possible support for the private sector and for Bahraini citizens across all stages of their growth and development.
The forum included around 600 participants from all economic sectors and brought together professionals of different backgrounds including business owners, entrepreneurs, executives, job seekers, students and other stakeholders.
As part of the consultations, Tamkeen presented the participants with an overview of 2015's achievements with its 2015-2017 strategy of enhancing quality, achieving more impactful results and putting additional focus on customers. Tamkeen also shared upcoming initiatives for 2016, which was followed by exclusive sessions with representatives from 15 different sectors to collect feedback around these initiatives.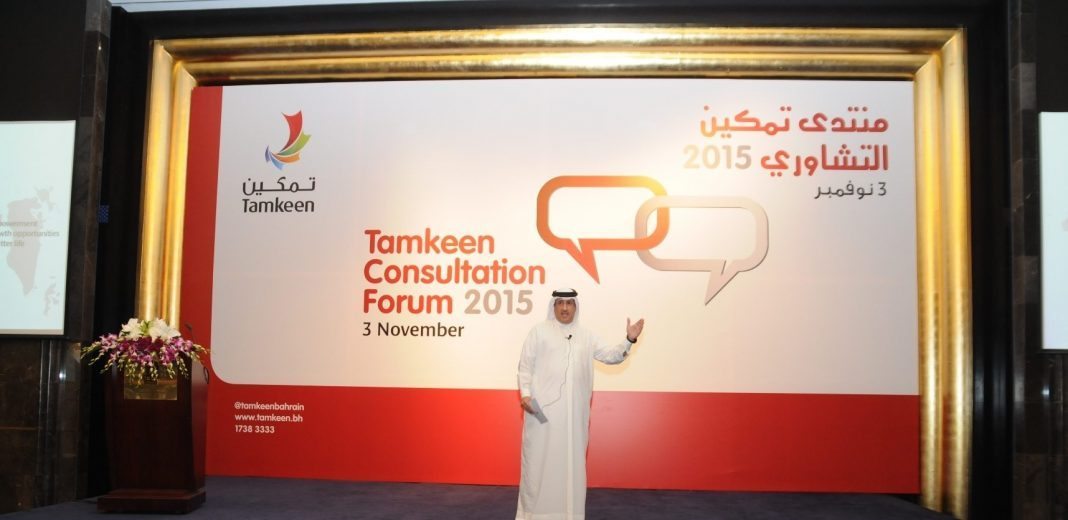 The main topics that were included in the forum Tamkeen's achievements and its priorities for 2016, as well as highlighting the role of the programmes that are available to the public, and future improvements to enhance the services that Tamkeen offers to private sector enterprises and individuals.
In his speech during the ceremony, Tamkeen's Chairman and Acting Chief Executive, Shaikh Mohammed bin Essa Al Khalifa, said: "Tamkeen has always put the feedback of the public as one of the pillars for its operations, and will continue to do so in the coming strategy cycles. To understand the needs and requirements of the private sector, and to ensure that our programmes match such requirements, it is critical to consult all relevant stakeholders, including businesses and individuals throughout all their development stages, and across all sectors."
"To further this consultation process, we are currently studying the establishment of sector-specific advisory committees with various sectors to further develop our services and programmes based on the needs of the kingdom's various sectors. Through these efforts, Tamkeen will continue to support the private sector to be the engine of growth for Bahrain's economy." He added.