Meeting follows Tamkeen's Consultation Forum on the 3rd of November
As part of its ongoing efforts to consult and engage with the public and to collect feedback from its various stakeholders, Tamkeen met with members of nine advisory committees representing nine economic sectors comprising professionals and experienced figures in their respective industries. The committees were formed to reinforce Tamkeen's efforts to fully engage and actively work along side the Private Sector to enhance Tamkeen's offerings and build working relationships with sectors across the different facets of the economy.
The committees will be tasked with providing feedback and recommendations   to help develop and adjust Tamkeen's support programmes according to sector-specific requirements. They will also offer advice to help Tamkeen bridge the current gaps in specific industries and the private sector in general, as well as propose ways for possible cooperation with potential partners. The committees will hold regular meetings every quarter to provide their feedback, and will  highlight issues that require immediate   attention.
Tamkeen's Chairman and Acting Chief Executive Shaikh Mohammad Bin Essa Al Khalifa and the Executive Management team met with members to present the road map for the   role of these committees, which will officially start in January 2016.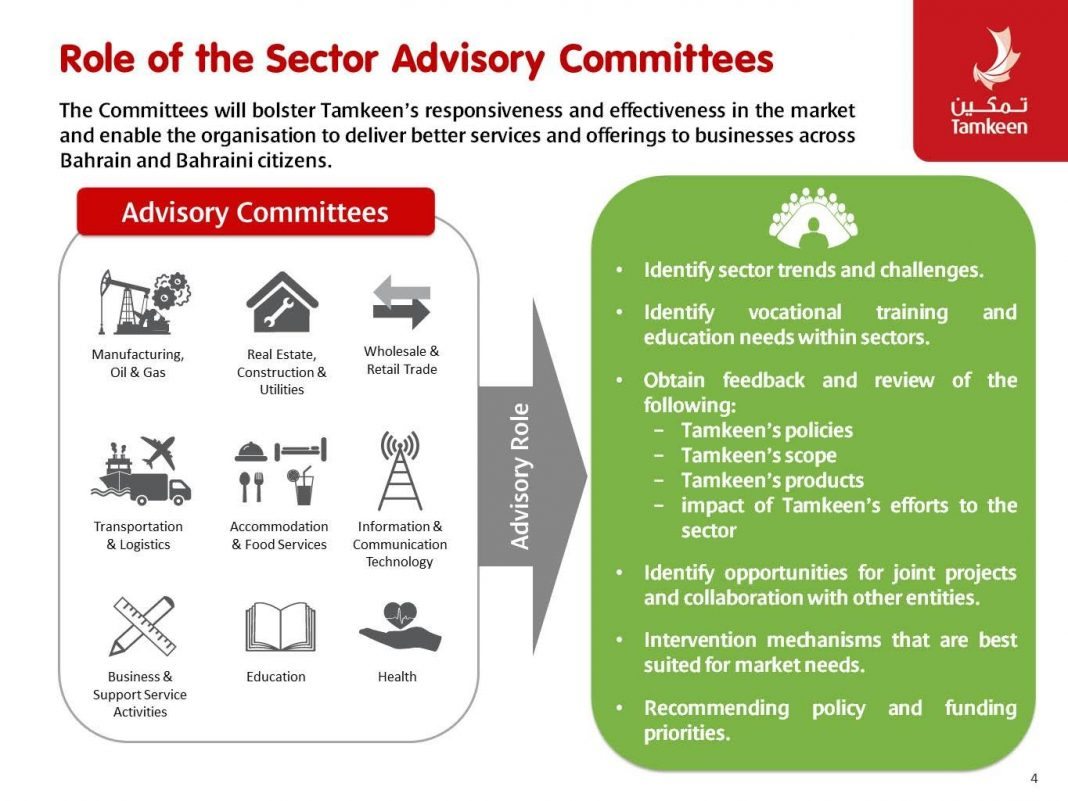 Commenting on the announcement, Tamkeen's Chairman and Acting Chief Executive Shaikh Mohammad Bin Essa Al Khalifa, said: "One of Tamkeen's main objectives is to support the growth and development of the private sector. Therefore, it is imperative that we adapt our support programmes in line with the continuously changing economic dynamics to match the requirements of the private sector in Bahrain. This requires the collection of constant feedback from the public, which Tamkeen has worked on gathering through a number of consultation initiatives. The Sector Advisory Committees which will be launched next year will build on this foundation and will allow us to collect more specialised feedback on a constant basis."
The nine advisory committees represent the following sectors: Manufacturing and Oil/Gas , Real Estate and Construction, Accommodation and Food Services, Wholesale and Retail Trade, Health, Business and Support Service Activities, Information and Communication Technology, Education as well as Transportation and Logistics.