Abbas Al Mosawi, the art activist is one of Middle East's most renowned artists. His impressionistic art form depicts a play between nature and his surroundings. As a man true to his environment, he adds a traditional flavor to his art. In doing so, he is the founder of the "Peace Project: through children and the arts. "
Abbas Al Mosawi has won many national and international awards for his artworks, including the prominent First Degree Competency Award from H.M King Hamad bin Isa bin Salman Al Khalifa.
Abbas Al Mosawi shares glimpses of his artistic life with the readers of Bahrain This Week.
Which painting forms have you chosen for your artistic reflections?
I am more of an impressionist artist. Most of my subjects revolve around the Bahrain scenery as I love the landscape portraits.
I started to take pictures of the landscape with a Black and White camera around 50 years before. I was working with my grandfather in the fruit market and we used to move around everywhere in Bahrain. Those images, light and the movements shaped my artistic reflections.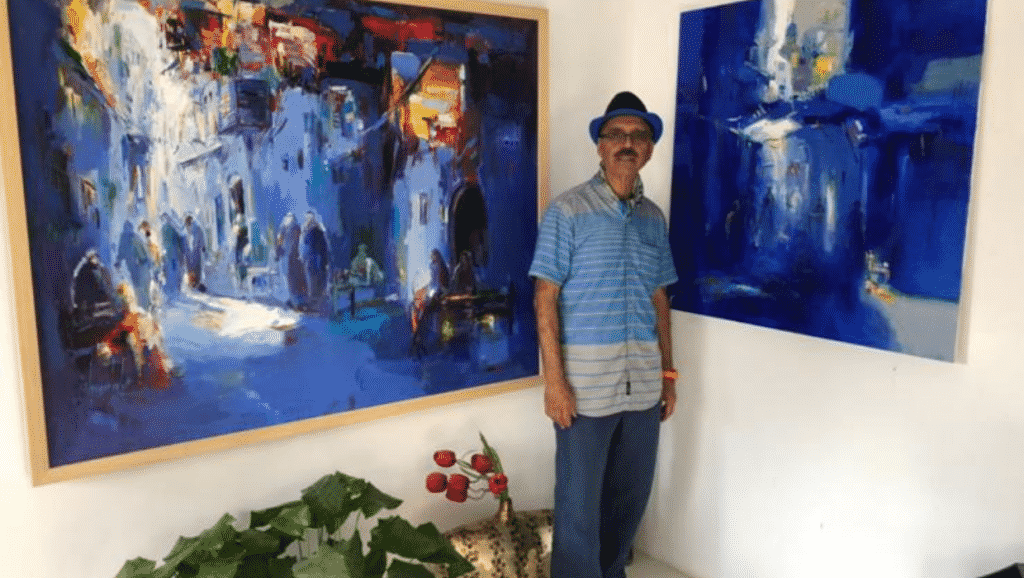 How have you managed to sketch the evolving abstract art over the past four decades in your career?
Most of my sketches are based on photos. I am a photographer and the founder of Photographers' club in Bahrain. We make a plan and design captions with a message. Sometimes, we camp in the desert, visit wildlife or the markets. These inspire my sketches and bring in the accurate lighting required.
When we study the theory of modern and contemporary art, we try to exhibit the ideas and techniques relevant to international standards. However, most of my art is a reflection of the life in Bahrain with deserts, beaches, farms, souqs, markets etc.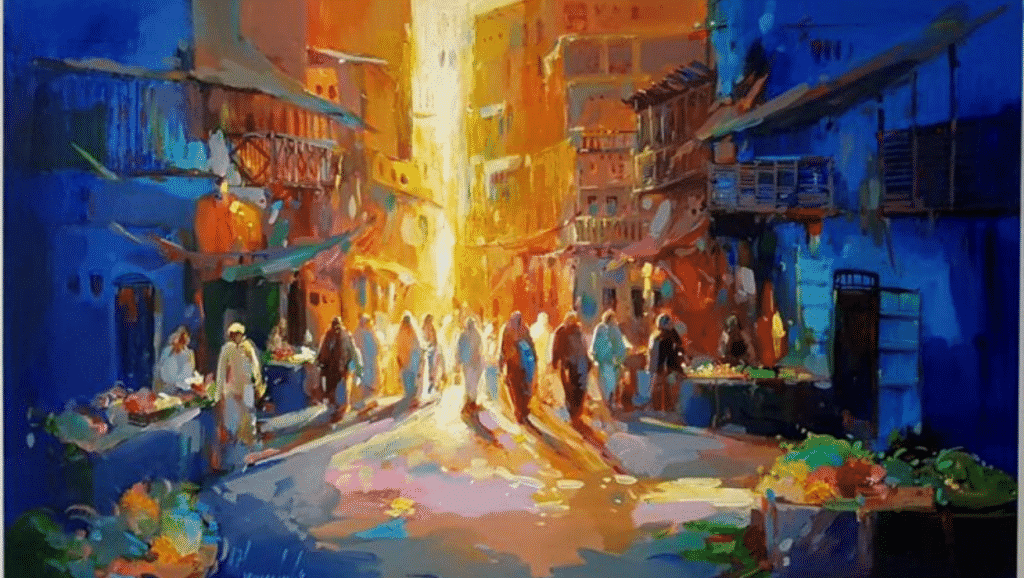 What does 'art' mean for you?
Art is my life and breath. I have lived in a family of artists all through my life. My father, who was also a poet, had travelled to India to study art. He returned with a camera and our house had a studio with his black & white pictures and developed images out of it. My siblings are also artists and we have a band of musicians in our family.
I have established my art gallery next to my art studio as I want to keep art closest to me. I have established the Bahrain art society. Whenever I travel across the world, I never miss the galleries, museums, art shows and art films. I live for art.
What's the theme that you express through your paintings?
I get the theme from different aspects of Bahrain life. Sometimes, we go to the Souq and draw 20-30 paintings at a time. I make themes out faces, women, sea, beaches, horses and the small islands across Bahrain. My palette is full of colors and I attribute to them, minute features of the theme I have developed. For instance, if I am drawing the picture of a Bahraini woman, apart from the features on her face or hair, I will also focus on her accessories and the lighting around her face.
Did you get the inborn artist call or developed it over the time?
The gene of artistry was always there in my family. There were poets and writers in the family ever since my great grandfather's time. My father is the greatest inspiration in my life. He had the language of a poet and made some original collages which were considered modern during the 1960s.
We had a grand house with eight big rooms in a beautiful area in the island. The house had a garden with date palms and green lawns. The light had diverse hues there and enthused the budding artist in me.
Can you describe your Peace Project?
The idea of Peace Project came into life in the 1990s, when the Gulf region was going under much turbulence. We created the project for children and families. Art can unite people from different walks of life. Art can convey the message of living as one village on the planet Earth. We have conducted art shows at prominent places such as the UN, Geneva, Arab League, Taj Mahal, China, Morocco and hundreds of other places. We continue to conduct shows during special occasions such as Women's Day, Children's Day etc. with a specific message.
Who are the other Bahraini artists that you are associated with and admire? 
My first inspiration was from Dr. Ahmed Maher, who had motivated me to visit and learn in Cairo for five years. I also admire the works of Sheikh Rashid Al Khalifa, who joined me in building the Bahrain Arts Society.
What's your message to the young Bahraini artists?
The materials and supplies for art are easy to access on these days. However, artists today need help to explore the ideas. My message to the young artists is that you should study, have experiences and work with dedication for the creation of art.