Dolls have been an intrinsic part of ethnicities around the world since ancient times. There are various doll types available around the globe, each one reflecting a bit of the culture and the civilization they have been born from. One such special doll type, is the peg doll that is believed to have originated during the Victorian times in Britain.
Bringing in the charm of the Peg dolls to our pearl island is the 32-year-old Londoner, Kylee-Jai Wright. Having moved to Bahrain in 2009 with her husband, she taught at the British Preparatory School and the British School in the Kingdom till she found her hands full with two lovely kids of her own. As a fine Doll Making Artist, she has been successful in lighting up several little faces with angelic smiles as they hold their favorite character close to their heart. Kylee sat down with Bahrain this Week, sharing with us her passion towards peg doll making and how that has changed her life.
How did your artistic journey begin? How does the transition from being a primary school teacher to a peg doll maker feel?
I've always enjoyed being creative. I grew up watching my mum designing her own line of children's fashion, so creativity has always been a part of my life. When I stopped teaching to be a 'stay at home mum' with my four-year-old and nineteen-month-old, I would keep myself busy with creative projects while they had their afternoon nap. I would end up making soft toys from baby clothes, hair accessories, anything crafty I could get my hands on! When
I bought my first set of pegs, I didn't have any idea of what to do next. I must confess that they sat in my craft box for almost a year untouched!
What inspired you to begin Petit Pegs? What does the name stand for?
Like every other little girl in the world, my daughter Pippa was obsessed with Disney's Frozen! She wanted Frozen dolls but I kept stalling because I didn't want to introduce her to a world of Barbie type dolls so young. That is when I remembered the pegs I had kept untouched since long and decided to try and paint her dolls instead. Luckily she loved them! I posted a picture of one of my works on Facebook as I was so pleased with how they turned out and was quite surprised at the flowing requests for characters from Frozen, superheroes and all sorts! Once I realised they were becoming quite popular, I thought of coming up with a name. My in-laws were visiting from London at the time and the four of us were trying out different names. I first wanted to combine my children's names (Pipelli – Pippa and Elliott), but it didn't really work. I wanted alliteration so it rolled off the tongue and asked everyone if there was a word for "small" that began with "p". My husband said, "Petit is French for 'little'." And that was that! Then I painted my son and daughter into one of my pegs and began painting custom families for various people. These custom drawn family pegs are my favorite. Each is unique and they are a portrait you can hold in your hand.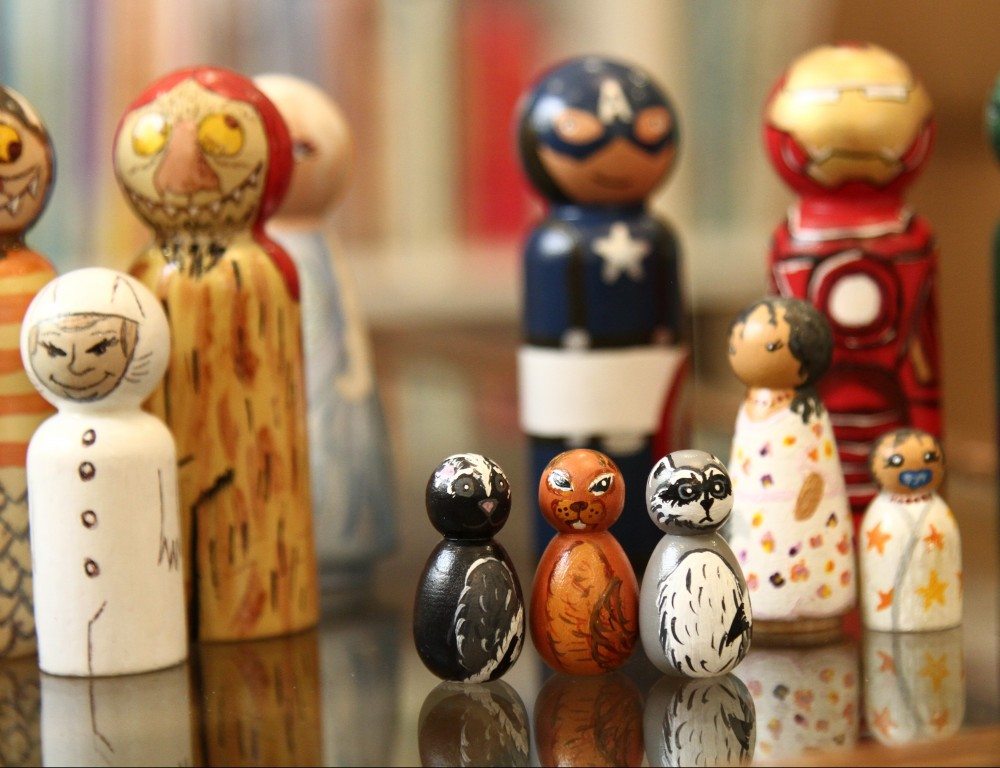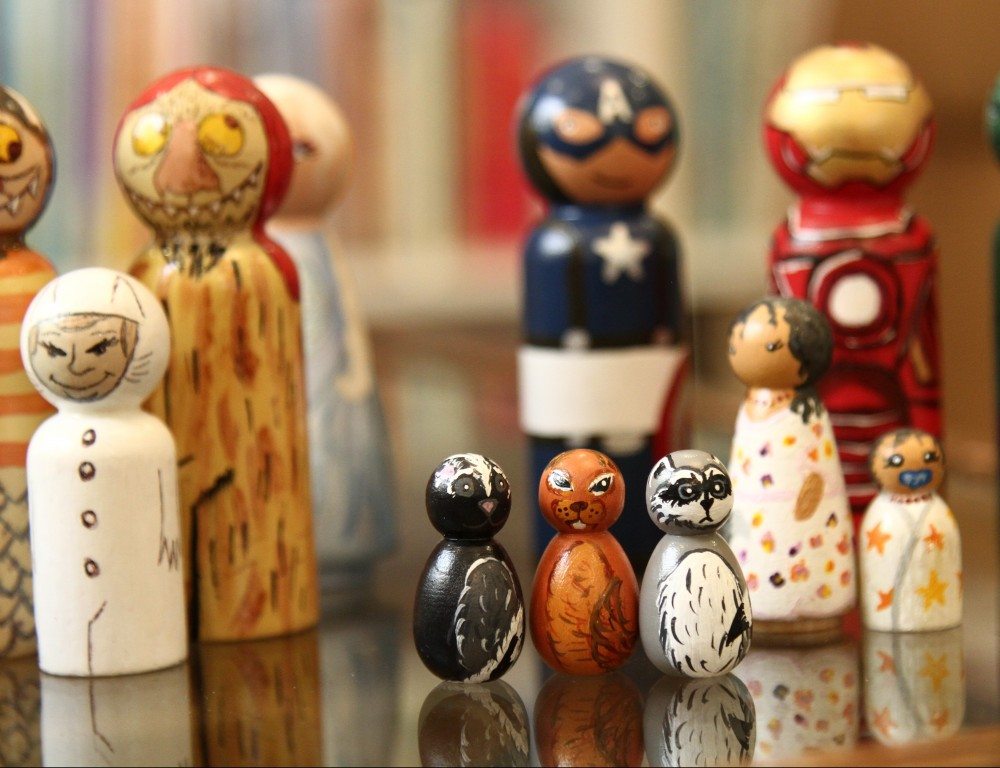 How did you learn the art of making these unique figurines? Did you know other people who made them before you started doing this? 
Painting the pegs was more of a trial and error for me than professionally learning how to take them. I printed photos of the raw pegs on to papers and then drew designs on to them to see how they would work on the actual peg shape. As you would know, Pegs are made of wood. I love wooden toys and have seen different types of wooden dolls. We need to understand that every artist has their own style.
How do you go about deciding how you're going to make them and the materials you're going to use?
I did a lot of sketching, both on paper and the actual dolls. Some characters are very tricky to translate to the shape of the pegs, but those are often the most rewarding to finish. Like Slinky the dog from Toy Story! Since the peg dolls are enjoyed by children, I use non toxic paint and sealer. So although they shouldn't be put in to mouths, if they are, no harm will be done. It also means they can be used as cake and cupcake toppers.
What is the hardest part that comes with the process? 
The hardest, and most time consuming part, is the initial translation from character or person to peg. Once that is done, the painting comes together quite quickly.
Now that you have created so many stunning dolls, do you have a favorite?
Hmmmm… That's a tricky question! I think my favorites would have to be Where the Wild Things Are and The Avengers, 'Ironman' in particular!
Are you looking forward to take classes for those who are interested to learn this art?
So far, I've not really got a chance to take such a class. But maybe it's something I can do in the future!
Once Again…thank you so much Kylee for bringing this art of Peg Doll making to Bahrain. Can we have a Ramadan message for our readers?
Oh it is my pleasure! I'm honoured and touched to see the pegs being liked so much here in Bahrain and I think it's something your readers would also enjoy finding out about! Ramadan Kareem, I wish you peace, joy and good fortune!
To know more about the Peg Dolls from Kylee, you can visit her Facebook page or follow her on Instagram