In the recent Huawei ICT Competition 2018-2019 Global Final, Bahrain team comprising Isa Mohammed Mahmood, Abdullatif Isa Rashdan, and Waleed Yusuf Al Busmeet came on the third position in the world among more than 100,000 students from 61 countries.
Huawei Global ICT Competition, one of the world's largest ICT competitions aims to equip the future generation to lead the ICT sector. The competition develops digital technologies accessible to everyone by discovering and nurturing promising talents in the ICT sector.
In the recent Huawei ICT Competition 2018-2019 Global Final, under the theme of "Connection, Glory, Future", Bahrain participating team came in the third position in the world among more than 100,000 students from 61 countries taking part in the competition in Shenzhen, China. The team members were Isa Mohammed Mahmood (Bahrain Polytechnic), Abdullatif Isa Rashdan (University of Bahrain) and Waleed Yusuf Al Busmeet (AMA).
The Bahraini team alongside other teams from around the world were given an 8 – hour exam where they had to develop a solution using their skills in Huawei Cloud Services, Big Data Analysis and Artificial Intelligence.
"What we presented is a cost efficient, fault tolerant and scalable smart education (online learning platform) solution which was done only using Huawei Cloud Services. Additionally, using Big Data Analysis, we were able to develop a solution for smart cities where it is easy to analyze huge amounts of data, which are gathered by cameras in roads about car records and their speed at a certain date and time.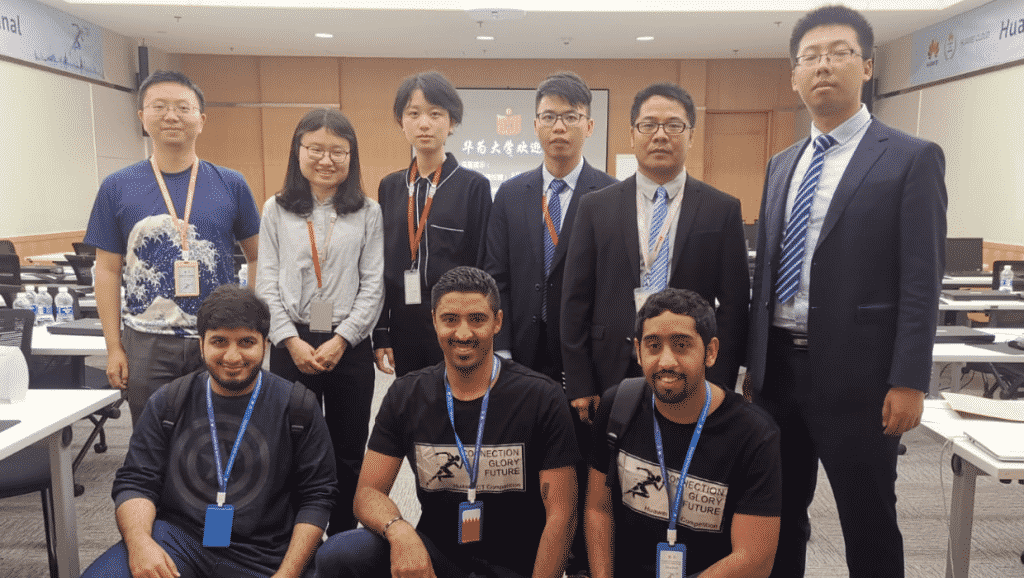 We are very proud about our winning in the Huawei ICT Global final 2019 and achieving the third prize. The Bahraini team was passionate about representing their country in international events such as this ICT competition. Teamwork and efficiency are the key values that enabled us to achieve this global achievement. This participation added to us many practical and theoretical skills required by the industry in the trending fields such as cloud computing, big data and AI. This competition tests the ability of competitors to design and deploy a fully working solution with given parameters and requirements in a very small-time frame." Abdullatif Isa Rashdan told Bahrain This Week.
"It was a great honour for us to represent the Kingdom of Bahrain. One of the most important achievements was to highlight the talents of young people in the Kingdom of Bahrain in the field of ICT.", Isa Mohammed Mahmood said.
Isa pointed out that the evaluation criteria in the competition required the completion of a variety of practical tasks that covered the application of the latest ICT skills in creating a smart city and smart education solution. He mentioned that their participation in the competition contributed to the development of their skills in the field of cloud computing, big data analysis and artificial intelligence.
"We won the third place because of teamwork. What distinguished us was our research and review of all the materials that related to the ICT field during our trip to China. Our ambition is to be in advance stages in the new technologies like cloud computing services, big data and AI and raise the name of our kingdom in all forums around the world.", explained Waleed Yusuf Albusmait to Bahrain This Week.
Albusmait mentioned that the competition consisted of actual process tests for 8 continuous hours in dealing with services and new advance devices in ICT. The participants had to find solutions and design it in short period of time and overcome the problems that they were facing during the tests.
The Bahraini team was formed by Huawei through choosing the three best performing students out of 120 participants in the Huawei National Exam that took place in Bahrain which examined their skills in networking and cloud computing.
Waleed Albusmait is an Informatics Engineering student at AMA University. The initial ICT lessons from Dr. Mary Anne in the university that encouraged him to learn more. He took, certification courses in Cisco and Huawei that gave him the confidence and knowledge. He came out among the top 3 students in Bahrain, during the initial competition. His future goal is to focus in the ICT sector as he finds himself there.
Isa Mahmood is a year 3 student majoring in networking degree at Bahrain Polytechnic University. His passion is in Cloud Computing and Artificial Intelligence as they are rapidly taking over the ICT field. His tutors at Bahrain Polytechnic recognised talent in this field and nominated him to participate in this competition. In the future, he is planning to further develop his skills in Cloud Computing technologies by earning Huawei and Amazon certifications, and hopefully becoming a solution architect. Additionally, he is aiming to lead the Bahraini team to get the first place in the Huawei ICT Competition next year.
Abdullatif Isa Rashdan is a senior Computer Engineering student at University of Bahrain. He was enthusiastic to participate in the competition as it added a lot to the skill set that are crucial to stand out as a good candidate in the job opportunities in the future.
His future plan is to go and understand more about these new technologies and become an expert
on them.