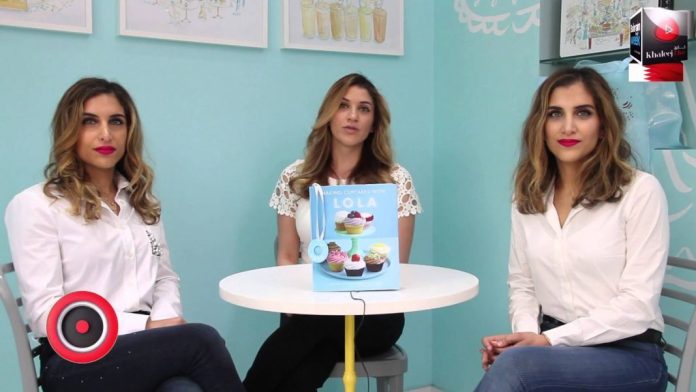 Lola's Cupcakes is a beautiful story of the three lovely Khalfan sisters, Shaikha, Sharsifa and Nouf, who are dedicated to make every special occasion of the people of Bahrain memorable with their delightful confectionary creations.
Tell us briefly about the founders/co-founders.
Shaikha Khalfan and Sharifa Khalfan, the two stunning twins along with their beautiful younger sister Nouf Khalfan are the founders of Lola's Cupcakes Bahrain. Having spent a memorable childhood in Bahrain surrounded by the warmth of their closely-knit family, the sisters were always ambitious and go-getters. After illustrious years at university in Boston, MA; Shaikha and Sharifa slipped into comfortable married lives and went on to welcome motherhood. Simultaneously, Nouf Khalfan proceeded to work diligently towards supporting their mother's family business. The spark of working together as a team, motivated the sisters to always wonder about a business that they could all be involved in together. One bite of Lola's Cupcakes, while traveling to London, unraveled the long awaited solution to their dream business aspirations.
Were you all interested in baking right from the beginning?
Shaikha was always passionate about cooking and baking. Searching for the perfect ingredients and baking the most delicious treats for all of us at home, we thoroughly enjoyed the thrill of being together and felt like we were creating magic out of the simplest items. Our family has always been very supportive and we believe that Lola's became the perfect outlet for us to do something that we could call our own.
Tell us briefly about how Lola's Cupcakes Bahrain was established.
We all fell in love with Lola's on our trips to London. Those scrumptious authentic British style cupcakes are an explosion of flavours and we'd find ourselves craving them once were back in Bahrain. When one of the twins was pregnant she had an insuppressible craving for Lola's and couldn't understand why Bahrain did not have it! This led to actual planned business discussions and before we knew it, we had decided to share the wonderful world of Lola's with Bahrain. We assure you that when you taste our cakes, cupcakes, brownies, cheesecakes or mini-donuts you will taste the difference and understand our passion for the brand.
What were the challenges faced at the beginning and how did you overcome them?
We wanted everyone to have an authentic experience of the British style bakery ie. Lola's. However, re-creating identical flavours and textures as they do in London was our primary challenge in setting up shop in Bahrain. Scavenger hunts ensued for us to source the exact ingredients that they use. Eventually we found a supplier that was able to help us import the ingredients that we couldn't find here. Running a business is never a smooth sailing journey. There are plenty of highs and lows but when we face any issues we are lucky enough to be working alongside each other. As sisters, we share a close bond and are able to bounce ideas off of each other until we find a suitable solution in the best interest of the business.
How are Lola's Cupcakes unique?
We believe that everyone strives so hard to be unique but we go the extra mile by ensuring
consistency. We only use the finest and freshest ingredients and take the utmost care when designing our cakes and cupcakes; customized or otherwise. Our products are almost always a part of someone's special moments. It could be a birthday, a wedding, an anniversary or a simple party offering. We consider your special occasion to be as dear to us as it is to you and we aim to add magic to those to-be memorable moments. Lola's doesn't specialize only in cupcakes, contrary to popular belief. Our unique selling point would be that we house the most scrumptious cupcakes, cakes, brownies and mini-donuts and have a very classy packaging. We are always available on Talabat and are easily accessible from the comfort of your homes.
Any special promotional workshop/activity that you have in the offering?
Yes we do have an exciting mother's day workshop for children between the ages of 6 to 12 on the 19th of March. We're keen on providing the children with a fun filled experience of dressing them up as junior bakers and helping them design then decorate their own batch of half a dozen cupcakes that they can then take home with them. The theme as explained would be mother's day and the registration fee would be BHD10/- We intend on having workshops more often and provide a platform to encourage their passion for baking and to bond with their friends in a creative space.
Does Lola's Cupcakes do party offers and banquets?
Yes we do catering and party favors our decorating team is always around to assist customers with ideas and to understand their expectations.
Where do you see Lola's Cup Cakes in the next 5 years?
We would like Lola's to be a household name on the Island and to be the first thought that comes to your mind when you think of any of our offerings especially the wide variety of cakes that we design. With our premium packaging, we believe that our focus for the next 5 years would be to be viewed as a solution to retail and corporate requirements.
What is your message to aspiring start-upers of Bahrain?
Our message would be – Don't give up even when the toughest challenges present themselves. If you can dream it and focus on it, you most definitely can achieve it!