The S-Class stands for the fascination of Mercedes-Benz: legendary and traditional engineering expertise which defines the luxury segment in the automobile industry. The new S-Class can be experienced with all the senses – seeing, feeling, hearing and smelling – while offering numerous innovations in the areas of driver assistance, protection and interaction. Mercedes-Benz is shaping the next generation of individual mobility with innovations that place the focus on people. The new S-Class uses digitisation for a car that responds empathetically to the needs and wishes of its driver and passengers.
"The S-Class is the world's best-selling luxury sedan. With the latest generation we want to offer our customers innovation, safety, comfort and quality as never before," says Ola Källenius, Chairman of Daimler AG and Mercedes-Benz AG. "The new S-Class underpins our claim to produce the best automobile in the world", states Markus Schäfer, Member of the Board of Management of Daimler AG and Mercedes-Benz AG; responsible for Daimler Group Research and Mercedes-Benz Cars COO. "This is where covetable luxury meets the greatest possible safety and highest level of comfort." The market launch in the Middle East will commence in January 2021.
Modern luxury attains the next level in the interior of the S-Class. The designers have created a feel-good ambience with lounge character marked by elegance, high quality and lightness. The dashboard with its new architecture, modern surface design and ergonomic display arrangement is a particular highlight. But the feel-good aspect goes even deeper: with high ride quality and low noise levels as well as an extensive range of ENERGIZING Comfort programmes, the S-Class looks after the well-being of its passengers. They also stay fit thanks to the effective air filtering system, which signals its newly gained capability with the new name ENERGIZING Air Control.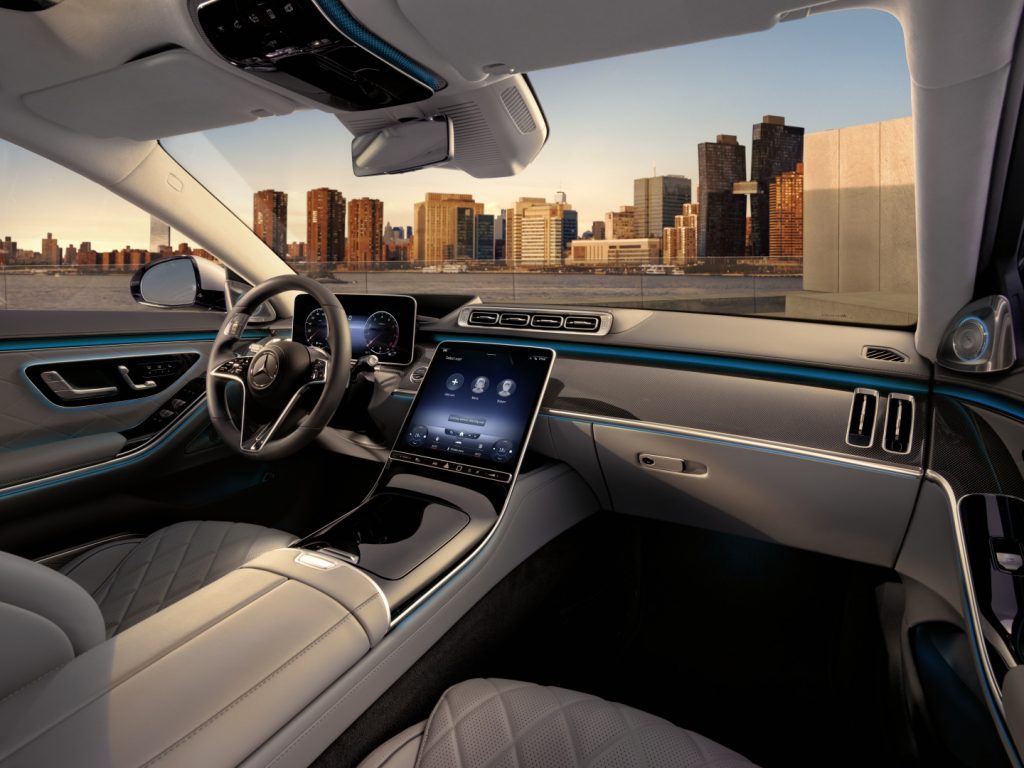 The new Mercedes-Benz S-Class has become more intelligent in many areas, and the driving experience is at the next level. Digital innovations such as in MBUX (Mercedes-Benz User Experience) are joined by innovations that increase driving enjoyment while making driving even safer: among them are rear-axle steering with a large steering angle and safety innovations such as the rear airbag. As a new function of PRE-SAFE® Impulse Side, the active E-ACTIVE BODY CONTROL suspension can raise the vehicle body (on both sides) just before an impending side impact. Following systematic further development, the driving assistance systems are a further step towards autonomous driving. Thanks to improved environmental sensors, for example, the parking systems give the driver even better support when manoeuvring at low speed. The integration into MBUX means that the level of visualisation has now entered a whole new dimension.