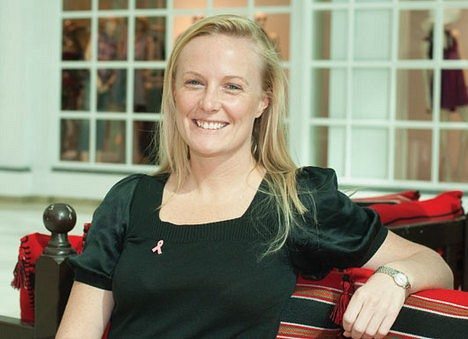 i-Check is a well recognized symbol that stands for a strong cause. It is a pledge every men and women takes for themselves and the world around them that they will be their first physician. It is a humble beginning which is about working together towards the cause of Breast Cancer. Think Pink Bahrain has been painting the town in Pink, spreading awareness about this malicious form of cancer. When Bahrain This Week met Ms Julie Sprakel at her office in RCSI, she was all smiles and the twinkle in her eyes showed the determination of a warrior fighting against the odds in this battle of life.
"It's been 10 years and the journey has been long but rewarding", Julie opened her life being the President of Think Pink Bahrain and a person who has successfully overcome being personally touched with cancer. Hailing from the continent of Australia and completing her education in UK, Julie is now the daughter in law of Kingdom of Bahrain. "People tell me, if am in trouble I could always go back to my home in Australia. But now for me, Bahrain is my home. This is where my heart belongs and my activities are. So there is no question about turning back anytime." She adds with a smile of confidence.
"Think Pink Bahrain has been working on being socially responsible for years. We are not under any international association, but registered under the ministry of health and social development", Julie continue with pride. "All our activities are based on community engagement thereby taking the message to a wider spectrum of the population."
The community engagement programs of Think Pink Bahrain have been well acknowledged at individual and corporate levels as well. The awareness campaigns that the group began 10 years ago at the educational institution levels have now blessed our Kingdom with ladies who work towards spreading the message and creating a better place to survive. "With all the support and charity we received over the last 10 years, Think Pink Bahrain was able to raise an amount of 700,000BHD set clearly towards attaining the two goals of Education and Diagnostics".
The goals of Think Pink Bahrain are set very clear and their immense effort towards attaining them has always been transparent. One of the didactic efforts taken by the NGO was to send eight Bahraini healthcare professionals from 3 three teaching hospitals, SMC, BDF and KHUH, to Hinterzarten Germany for a three week course on Lymphadema at the Foeldi Clinic.
The biggest diagnostic project so far on roll for this Think Pink Bahrain is the installation of the latest and most up-to-date cancer diagnostic machine in the Kingdom at the Salmanyia Medical Complex. "This digital MRI scanning machine is our dream project." says Julie. The team has been working together with the Ministry of Health in accomplishing this task for the last 2 years. "Once when I visited a school, a student rushed to me and cried asking when we were getting the MRI machine. Her mother had died recent with cancer as they couldn't diagnose the disease on time. These are some of those moments when I feel helpless but it presents me the strength and energy to work towards serving this community which actually needs the awareness and proper guidance." She shared with us. "We are expecting the center to be open by February 2015."
"I have heard many saying that they don't smoke or drink, none in their family line ever had it or they had a baby and were breast fed. So they can't have breast cancer. But that is not true. Anyone can get it." Julie noted on the myths people encompass about breast cancer. "All it takes is 8 minutes of your time every month to do a self check and be assured. The earlier it gets detected and diagnosed, better are the chances of recovery." "When a person gets detected with cancer everything around them gets equally affected. Their immediate family, friends, employment, insurance, economy and more", she explains. "It also shouldn't go unsaid that of all the world statistics we have about breast cancer 2-3% are men. And we had few cases of men diagnosed with the same here in Bahrain." She also assured, "Luckily 90% of the lumps or the cysts found are not dangerous, but that doesn't mean you can ignore the 10%."
Julie who is currently pursuing her research in this field is a well acknowledged orator outside the Kingdom as well. "The Government of Bahrain is very kind and generous towards its public especially in the matter of health. Very few would know that anyone above the age of 40 and has their valid CPR can get mammogram done at one of the three dedicated health centers in the Kingdom for free. When I mention this in my speeches elsewhere, they awe at the health facility being provided to the public here."
The team player as she is gives all credit of the success of Think Pink Bahrain to the wonderful selfless service the ladies at the NGO has been rendering to the society. "Think Pink Bahrain is the only Breast Cancer specific NGO registered in the Kingdom and we were born because you, the community raised voice to have better education and awareness regarding breast cancer."
"Breast Cancer is not something you need to be thinking of only on the month of October. The pink ribbon is not to be thrown away but kept to remind yourselves about the valuable 8 minutes of self check that can save your life and the world around you." Julie chose her wise words for the readers of Bahrain This Week.