The two-day 'Total Shuttler's Clash-3' conducted by Evenlode Badminton Club (EBC) & Ras Tanura Badminton Group (RTBG) under the aegis and supervision of Saudi Badminton Federation proved a grand success at the Ras Tanura Aramco Najmah & Radhwa camps.
More than 600 contestants from Bahrain, various regions of Saudi Arabia like Jeddah, Riyadh, Abha, Jubail, Dammam and of diversified nationalities — Saudi, Indians, Filipinos, Pakistanis, Indonesians, Malaysians, Syrians, Jordanians, Egyptians and Singaporeans —contested for laurels.
The 20 + major badminton clubs across the Kingdom including Evenlode Badminton Club (EBC), RTBG, Sinmar, Desert Smashers, Noble, IBC, JBC, Pinoy, Fun BC, KSA Shuttlers, RESC, RCS, Pombag, Battledoers, Dessert Smashers, DSBC, Jubail BC, Abdullah Dossary BC, Bisdak BC, Smash, Fusion, Fleeq, Elite BC, Harley, etc. and upcoming talents from the Saudi Badminton Federation displayed their dexterity and command over their game.
EBC uniquely holds the credit of conducting multiple international tournaments in a calendar year whereby inculcating the spirit of sports and providing a good platform to refine the badminton talents in the region.
Saudi Badminton Federation Managing Director Yazeed Al Masoud was present at the event and said, "We are very happy to see such a massive badminton crowd enjoying this beautiful game of badminton. We have a project to improve the interest in badminton in this country among the locals and such professional tournaments will surely develop the interest of the local players. We are also here to support badminton among the expats and will do to our best for the betterment of the community."
Tournament chairman Mohammed Saleh Noorudheen acknowledged all the club participants across the region for making this event a grand success. He also acknowledged Saudi Badminton Federation for approving this mega badminton tournament.

Evenlode Club chief patron Jamal Saad Al-Doulab, BWF Middle East coordinator Jaffer Ebrahim, EBC president Tony Abraham, RTBG president Hitesh Patel, Mona Patel, EBC secretary Mansoor Vaisyar, tournament chairman Mohammed Saleh Noorudeen, EBC VP Fahad Khalid, RTBG VP Janarthan, RTBG Treasurer Kamaleshwar, Treasurer Abdul Jaleel, RTBG Advisor Hari, EBC executive committee members Mohammed Aslam, Mahroof Bangalath, Suraj Jalal Sakariah Saddiq, Binu Thomas Mathew, Jaleel Kadavil, and other tournament members Advisor Cherian George, Shuhaib, Jaisal, Javed, Akhil, Usman, Afees, Murali, Ahmed, Anand, Rommel, Patrick, Nijar, Moncy, Ibrahim, Mohsen, Khairul, Jamshed, Shoaib, were instrumental in organizing the event.
The title sponsor of the event was Energy giant, Total which is the official energy partner of World Badminton Federation (BWF). Hisham Attalla, managing director of Saudi Total Petroleum Products, emphasized that the partnership enables Total to continue invigorating interest in badminton while demonstrating its commitment to sports, globally, namely motorsport and football.
The other co-sponsors were MAX fashion styles, Al-Marai, Khalid Group, Gambit Ground Engineering, Sinmar Group, Kapit Bahay Restaurant, Dadabhai Travels, Lining, Heroize Contracting, Chillis, Silk Route, Wafa Printing Press, Indomie.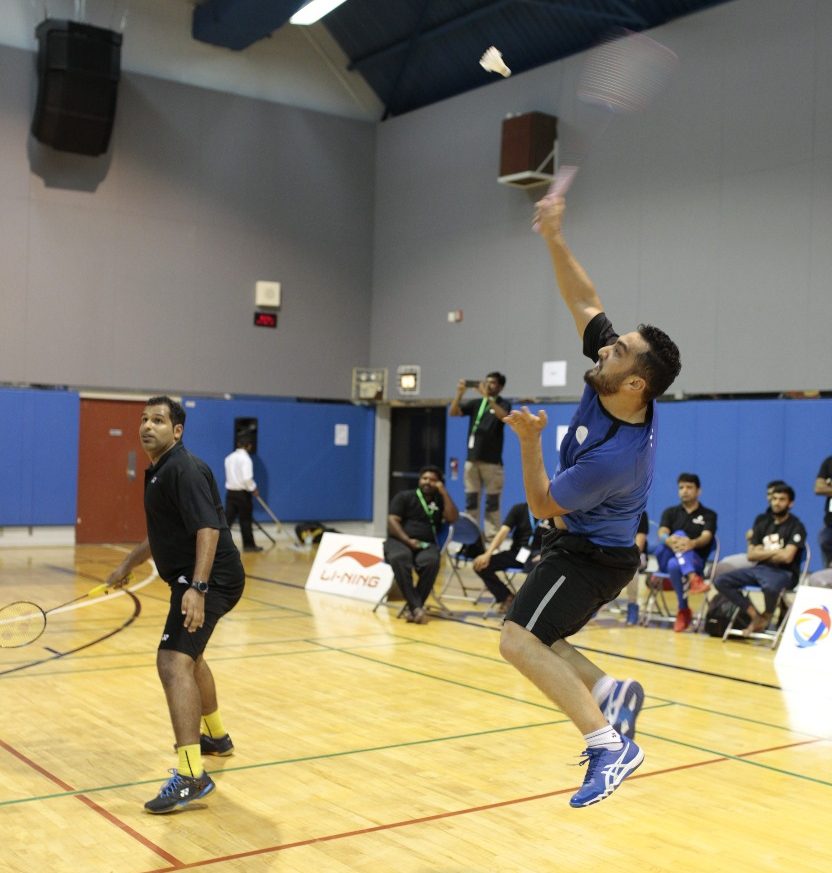 India national player Sanjay and Derrick of Riyadh emerged the winners of the premier men's doubles flight edging out Syrian Olympic player Ammar Awadh and Bahrain Olympic player Jaffer Ebrahim, the winners of previous series. In ladies champ flight, Yugeane Yusikee and Shaen Abeto of Jeddah beat Princess De-Silva and Jennivie Moreno in a closely fought match. In the Mixed Champ flight, Sanjay & Malvika Harish beat Ammar Awad & Yugeane Yusekee.
Unique and spectacular trophies, cash prize and gift vouchers from Max were awarded to the winners of all 20 categories. Ras Tanura was perfect place not only for the contestants but their families too for having cordial get together and building new friendship.
Results: Mens Premier Doubles: Winner – Sanjay/Derrick, Runner up-Ammar/Jaffer; Mens Champ Doubles: Winner- Ramesh/Kiran Lal, Runner Up- Sibeesh/Noufal; Veterans Doubles (45+): Winner- Aslam/Babu, Runner Up- Agung/Pujo; Mens's Doubles Flight 1 & 2; Winner- Hassan/Mehaboob, Runner Up- Jaffer/Mudasser; Flight 3: Winner- Togy/Muneeb, Runner Up-Jesson/Mark; Flight 4: Winner-Arjan/Dennis, Runner Up- Anoop/Arun; Flight 5: Winner – Botemon/ Boris, Runner Up- Miguel Francis/Kristhopher John; Flight 6A: Winner- Ahammad /Afsal, Runner Up- Abraham Daniel/Ramesh Gunarahm; Flight 6 B: Winner- Joseph/Kenneth Runner Up- Andre/Paul.
Ladies Doubles Champ: Shane/Yugeane, Runner Up- Jennivie/Princess ; Ladies Doubles 3 & 4: Winner- Malavika Harish/Reya Fathima, Runner Up-Ginalyn Hulleza/Noor Hulleza; Ladies 5 Winner: Marias Lourdes/Regina May, Runner Up- Maricris Dayo/Neev Condes; Ladies 6: Winner- Zoya Fathima/Soha Rehman, Runner Up- Chamamine/Lousia.
Mixed Double Champ: Sanjay/ Malavika Harish, Runner Up: – Ammar/ Yugeane); Mixed Doubles Flight 1 & 2: Winner – Dajo/Jocylin, Runner Up- Tots/Cerylyn; Mixed Doubles Flight 3: Winner – Rudi Asnan Eka Saraswati Runner Up- Fortunato Cea, Mary Grace; Mixed Doubles Flight 4: Winner- Varun/Nizah, Runner Up- Astroflex/Maria; Mixed Doubles Flight 5: Winner- Kristopher/Dayo,Runner Up- Francis/Jaimie; Mixed Doubles Flight 6A: Winner-Nisar/Khushi, Runner Up-Ricardo /Nurma; Mixed Doubles Flight 6B: Winner – Rashad/Shilna, Runner Up- Bote/Arianinne.