Filipino Toy & Hobby Kolektors (FTHK), formerly known as Bahrain Toy Collectors, is a group of toy enthusiasts and hobbyists founded in the Kingdom of Bahrain in September 2016. Established to gather like-minded individuals who share the same interest in high-end collectables, rare finds, vintage and limited-edition toys and action figures, with items valued between BD100 to BD5,000 per piece. Aside from collectors, there are a couple of members who are artists and sculptors who customize toys and dioramas.
The launch of this non-profit group in December 2016 was warmly received, with guest's estimated at 2,500, coming not just from within the island but from neighboring GCC countries of Saudi Arabia, Kuwait and Oman. Since then, the group have been invited to join in other exhibition and events to showcase their collection.
The group aims to inspire other toy enthusiasts and hobbyists to showcase their collection, feature their talents and connect members to vendors, artists and sculptors in the toy industry.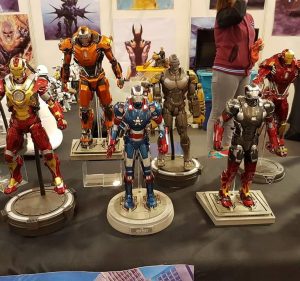 Their 1st event was in 2016; the 1st Filipino Toy n' Hobby Kolektors Exhibit where a crowd turnover of 2500 from visitors both registered and unregistered attended the event. Following the success of the first event; the second event was the School and Fair Expo 2017 which was held at the Bahrain International Exhibition Center where there was an estimated crowd turnover of 3,500+ attendees followed by the third that was held at the Mukta Cinema's 1st anniversary at the Juffair Mall in 2017 where the event attracted more than  3,500+ attendees.
With the success of the three consecutive events; the organizers are back with the 2nd edition of the  Filipino Toy n' Hobby Kolektors Exhibit which is to be held at the Al Hayat Shopping Center on the 15-16 December 2017.
The 2nd Filipino Toy n' Hobby Kolektors Exhibit on 15th and 16th December 2017  comes in line with the Kingdom of Bahrain's National Day Celebration.
Held in the upper level of Al Hayat
Mall – Segaya; will provide attendees with a better and bigger exhibition of their personal collections, most of which are not available in the Kingdom of Bahrain.
Approximately, 500+ toys and action figures will be on display, valued at BD100,000+, (most figures range from BD100 – BD5,000 per piece). Exhibit timing is from 12:00 noon to 11:00 pm. The event will further involve free entertainment with Live Band and DJ during the Peak Hours, from 8:00 pm to 11:00 pm.
The event further provides kids with free access to the following activities like NERF Target Range; Hit the Target get a prize,  Kids Painting Area; Paint and bring it home, Kids Coloring Corner and with other surprise activities.