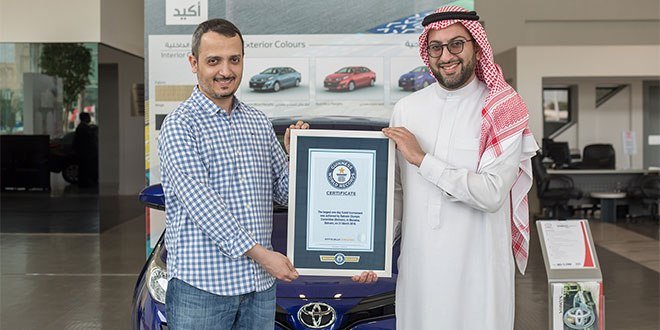 Toyota Bahrain, exclusively backed by Ebrahim K. Kanoo, is the platinum sponsor of the Guinness World Record winning Futsal Championship, held under the patronage of HH Shaikh Nasser Bin Hamad Al Khalifa; representative of His Majesty the King for Charity Works and Youth Affairs, Chairman of the Supreme Council for Youth and Sports, President of Bahrain Olympic Committee, the Bahrain Royal Endurance Team Captain.
Futsal is a variant of football, usually played indoors on a court smaller than a regular football pitch, between two teams of five players each.
Organised by the Bahrain Olympic Committee, the championship saw two hundred and twenty six players create eight teams, and play for a continuous 23 hours, 45 minutes and 8 seconds, making it the longest Futsal Championship played in the world.
Ebrahim K. Kanoo Director, Mr. Khalid Kanoo praised the efforts of His Highness Shaikh Nasser for his unrelenting commitment to empowering Bahrain's youth through sports and for his continuous efforts to bring Bahrain to the forefront of global and regional initiatives; "Ebrahim K. Kanoo and Toyota support His Highness's efforts which guide our own commitment to Bahrain and its youth. We are a proud platinum sponsor of this event and take pride in the immense local athletic talent we have in Bahrain."