Toyota Bahrain, exclusively backed by Ebrahim K. Kanoo, was the lead sponsor of the Mobility 360 Middle East Conference hosted by Bahrain Ministry of Industry, Commerce and Tourism and the GCC Standardization Authority.
The conference; held under the patronage of Minister of Industry, Commerce and Tourism H.E. Zayed AlZayani, took place at the Bahrain International Convention and Exhibition Centre on the 2nd & 3rd of September, with the aim of raising awareness about reducing the Kingdom's carbon footprint and highlighting the ambitious initiatives planned to promote the use of eco-friendly vehicles.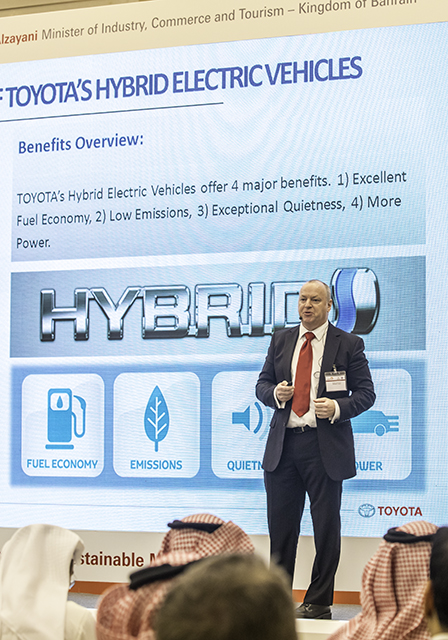 Ebrahim K. Kanoo CEO, Mr. Michael Brightmore, spoke about Toyota Motor Corporation's efforts in the sustainable mobility and its pioneering hybrid electric technology: "Toyota is proud to support the Mobility 360 Conference and showcases its leading hybrid electric vehicle technology. Toyota has been promoting hybrid electric and sustainable mobility since the Prius debut in 1997 as the world's first mass produced hybrid electric passenger car. Today in Bahrain we offer the Prius and the ever popular Camry in hybrid electric and have been working continuously to educate our customers and the public about the massive economic and environmental benefits."
The conference brought together high profile automotive manufacturers, automotive solution providers, infrastructure developers, automotive and mobility consultants and researchers from across the GCC, India and Spain to share their expertise during the two day event.
Presentations, panel discussions and workshops discussed key topics crucial to building a sustainable economy and the current usage of hybrid electric vehicles in the GCC, the future of urban mobility, the ideal infrastructure and evolving technologies in alternate energy vehicles.
Toyota Bahrain showcased the Prius and offered test drives of the Camry HEV at the conference and had certified Toyota hybrid electric masters on hand to explain Toyota's future energy efficiency plans with delegates and visitors. Both vehicles are displayed at the Toyota showroom in Sitra. Interested customers can visit the showroom, call on 17730730 or visit the Toyota Bahrain website on Toyota.com.bh