As the UAE's undefeated Turkish coffee-making champion, Indian Karthikeyan Ranjedran is pinning his hopes on a genetically-engineered Kenyan coffee bean to ward off 20 international challengers and secure his adopted homeland's first World Cezve / Ibrik Championship title.
Having emerged victorious in last October's National Cezve / Ibrik Championship at Dubai World Trade Centre (DWTC), Ranjedran will represent the UAE when the 21st Gulfood hosts the ninth World Cezve / Ibrik Championship from 21-25 February 2016.
Owned and organised by the Speciality Coffee Association of Europe (SCAE), Gulfood's hosting of the competition, dedicated to the centuries-old art of brewing coffee in a 'Cezve' or 'Ibrik' – the small, long-handled pot – marks the contest's Middle East debut.
"It's a tremendous honour to represent the UAE and the hundreds of nationalities that call the country home," said Ranjedran. "I'm a little nervous but it's a great opportunity so I'm going to give it my best. I believe I can make it because I have the right beans, the right technique and the right team behind me."
A 23-year-old barista from the southern Indian city of Pondicherry who works for Dubai's Raw Coffee Company, Ranjedran will use Kenyan coffee bean supplier Scot Labs' SL28 – a genetically engineered hybrid bean spliced from the genes of Tipica and Mokka from Yemen and Bourbon from the Indian Ocean French colony of Réunion Island.
"The SL28 bean was made in a test-tube in a Kenyan laboratory," says Ranjedran. "I've chosen it because of its very medium roast profile. The SL28 is a beautifully delicate bean and very fruity with hints of raspberries, blueberries and only mild malic acidity. I tested the bean extensively before the nationals because you have to make 10-20 cups to find the perfect roast point – the bean fits my personal preference perfectly."
Insisting there is no secret to his Ibrik technique and no special ingredient that tip the scales in his favour, Ranjedran puts his success down to the age-old adage that practice makes perfect.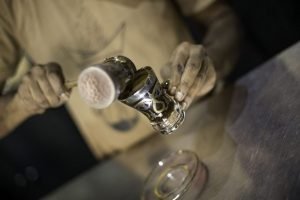 "I was always a home barista and a big coffee drinker," he adds. "I used to make lots of coffee variations at home a long time before I ever dreamed about entering a competition. Trial and error is still a huge part of my process. Every coffee is different because each bean has its own profile; there is a lot of fine-tuning and calibration because the character of coffee changes with varying conditions such as humidity."
With an undefeated 2-0 record in competitive coffee-making formats, Ranjedran knows he will have to be at his best to fend off a field of baristas from nations as diverse as Uganda, the Philippines, Nepal, the Czech Republic, Greece and Italy, represented by reigning world champion Davide Berti.
"If I'm honest, I don't know much about the other baristas," said Ranjedran. "I just want to learn new techniques because you gain so much in these competitions, the baristas share so much knowledge that I can take back to my regular work. I want to serve my customers the best cup of coffee in Dubai."
With world-class baristas such as Ranjedran ensuring coffee consumption across the Middle East continues its upward trend and the UAE now one of the region's major re-export hubs for coffee trading, the dark brown beans will fall under the microscope like never before at the 2016 edition of the world's largest annual food and hospitality trade show.
Of the 70 countries worldwide that produce coffee, major exporters Brazil, Vietnam, Indonesia, Columbia, Ethiopia, India and Mexico will all be present at Gulfood 2016, while buying delegations from the world's largest traditional importers – the United States and Japan – will network with specialist coffee trading, roasting and packaging companies from emerging markets across the MENA region, South Asia and Africa.
Dubai Customs and Dubai Multi Commodities Centre (DMCC) reported the emirate's coffee exports rising at an average annual rate of 57 per cent – or from USD 5.9 million to USD 22.4 million – between 2010 – 2013, the same year Euromonitor International named the UAE the 'world's fastest growing market'.
The biggest edition in the show's history, Gulfood 2016 will attract 85,000-plus visitors from more than 170 countries including international heads of state, ministers, government officials and national trade associations from five continents.
Gulfood 2016 is a strictly trade-only event for business and trade visitors. The show is open 11am-7pm from February 21-24 and 11am-5pm on February 25. Visitors can pre-register at www.gulfood.com to save AED100 (US$ 27) on the AED300 (US$ 81.70) on-site entry fee.