When it comes to business, he is one of the greatest visionaries that Bahrain can boast of. Building a successful corporate entity over the last 4 decades, he continues to secure a very prominent place for his business enterprises in the global map of electro-engineering. Meet Mr Abdulrahman Juma, Chairman & Managing Director of Universal Electro Engineering (UNEECO) Group of Companies to know more about the great leader and his achievements.
Welcome to Bahrain This Week, Mr. Juma. Please tell us something about yourself and your association with UNEECO.
Thank you. I am Abdulrahman Juma, Chairman and Managing Director of Universal Electro Engineering (UNEECO) Group of Companies. I am a Bahraini, born and raised in Bahrain. I come from one of the oldest business families of the country.  After obtaining my degree in Mechanical Engineering with a scholarship from BAPCO, I had worked with BAPCO for a few years before starting up my own enterprise, UNEECO in 1976.
What other portfolios do you hold apart from being the Chairman and Managing Director of UNEECO Group of Companies?
The other portfolios that I hold are:
Board Member of Bahrain Holding Co.

Chairman of Bahrain National Life Insurance

Chairman of Prudent Solutions

Vice Chairman of Prudent Saudi

President of Abdulrahman Juma & Sons
Please tell us about UNEECO and the various services that it offers.
UNEECO, established by me in 1976, is a leading manufacturer of Low Voltage (LV) Switchgear Products. This company also markets High Voltage (HV) equipments such as Vaccum Switchgear, SF6 Ring Main Units & Oil/Dry Type Transformers, Joints & Terminations. The company has its panels regularly type tested from KEMA/DEKRA from 100A to 2500A in line with IEC 61439-1 & 2.
To tell you a bit more about UNEECO, the company marketed and sold its first product in 1977. Our earliest partners have been Ring Master of Norway and Aiphone of Japan with whom we collaborated on Internal Communication equipments. We first installed such a system at the Civil Service Bureau.
In early '80s,  UNEECO implemented the industry's standards in the international markets which were just being designed then.
In early 1990, UNEECO associated itself with Allen Bradly now known as ROCKWELL Automation which are an engineering, manufacturing of Automation Products. Now we are their Channel Partner.
UNEECO started Low Voltage Panel Manufacturing in 1991, in association with Merlin Gerin of France, now known as Schneider Electric.  We are their Platinum Partner. The first plant was in Salmabad. Then it was moved to Mina Salman Industrial Area and had operated for 15 years from there.  Presently we are in BIIP Al Hidd Industrial Area.
We have been long-term partners with many brands like: Schneider Electric (Middle East, UK, France),  Raychem – TE Connectivity, Thorn Security and many other globally acclaimed ones.
How has UNEECO grown/expanded since its inception under your able leadership?  What has been some of the landmark achievements of the company?
I grew UNEECO as a company from a capital of  BD 15,000/- to BD 1 Million.  Now it has acquired more than 30 agencies of International Companies from the USA to Japan.  Now we are into Trading, Marketing, System Integration and also operate as a Design build Data Centre provider.
Here is a list of our significant achievements:
We have been the Star Performer in GCC for consecutive 4 years (2015 – 2019) for Larsen & Toubro (L&T)

 

Products.

We have been awarded the TYCO(THORN) Best Retailer in Middle East for TPE.

We have received Uptime TCCF Plaque from Uptime Institute for RJR Data Centre, Batelco Bahrain.

We have also been the Platinum Builders for Schneider Electric.
We are also extremely proud to state that we have grown from a 36-staff company in 2005 to a 180-employee company currently. We consider our employees to be our assets and ensure that we provide utmost care to ensure their well-being. Our health insurance scheme for our expat employees not only covers them in Bahrain, but also in their individual home countries.
We are now employing more higher skilled technicians and engineers for further growth and expansion.
You have recently been awarded the Bahrain Keraleeya Samajam (BKS) Business Icon Award. Our heartiest felicitations to you for the same.  What, according to you, are the basic qualities that a successful business leader needs to possess?
Thank you. I think to be a successful business leader, one needs to possess the following qualities: Patience, Perseverance, Passion and Trustworthiness.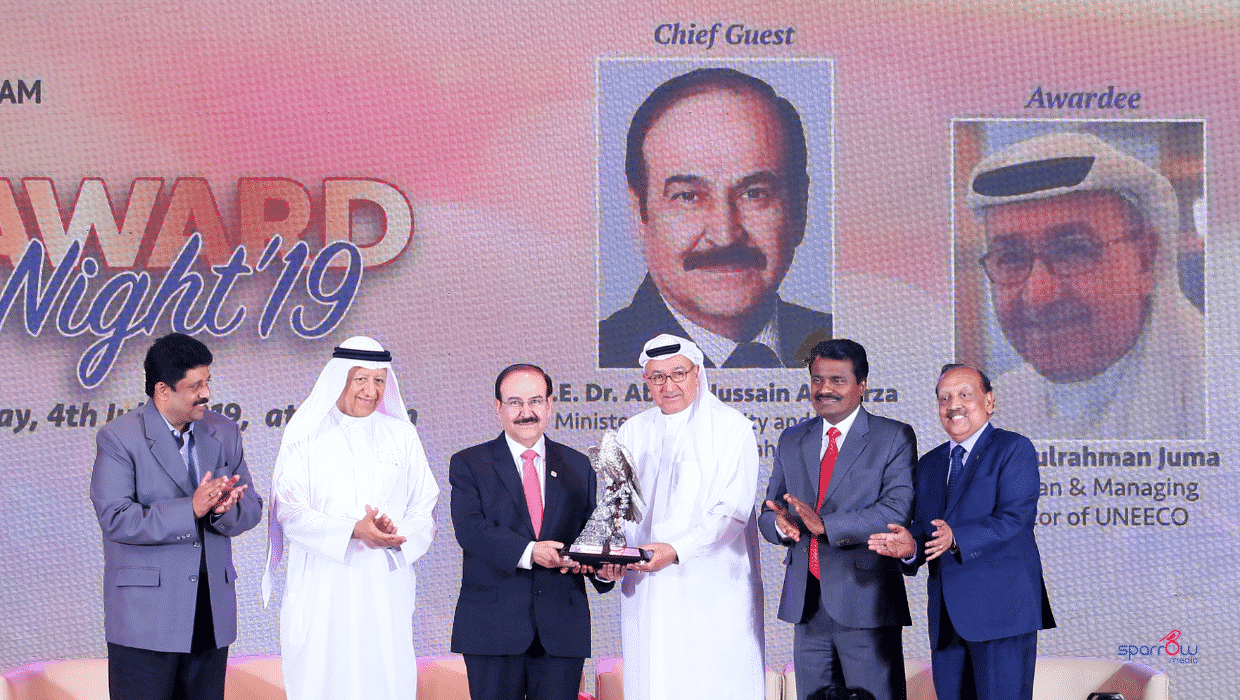 How has UNEECO been contributing to Bahrain's growth and development in the last three decades?  What have been its milestones?
UNEECO is the first factory to introduce Type Tested Panels to the market that meets the IEC Standard high quality products of major industries like BAPCO, ALBA, GPIC and others.
Some of our landmark achievements that have helped Bahrain advance in the field of electro-engineering are:
Setting up of L&T Factory ( our second factory) for Electrical Panel Building

Setting up of our third factory in Sitra for Electrical Panel Building in tie up with Asian Products.

Being the pioneers of Generator business in Bahrain.

Setting up of Lighting Control

Panels in association with Qlite of UK.
Tell us a bit about the various partnerships with foreign companies that UNEECO has entered into.  How has it benefitted from these tie-up?
Over the years, UNEECO has tied up with various international players in the field of electro-engineering. Through these tie-ups, UNEECO has acquired products and installation business of internationally acquired products and systems at par with global practices and standards.
The following companies have been our cherished partners over the years:
Schneider Electric (for switchgears): UNEECO has signed a Franchise Agreement with Schneider France and is its Platinum Partner.

Larsen & Toubro (for switchgears)

 

: UPS/UNEECO Branch is the

Authorized Panel Builder of L&T of India.

Thorn Security, UK

Qlite, UK

Rockwell Automation USA:

UNEECO is the Channel Partner of Rockwell Automation USA.

RR Global

Modutec (for housing/shells enclosures)

Authorized Local Partner for Raychem Local Kitting.

Raychem TE Connectivity Germany (joints and terminators up to 22 Kb)

FG Wilson Generators, UK

Teksan Generators ,Turkey

Socomec, France (for switchgears) – Electrical & Electronics

Borri (for Uninterrupted Power Supply) – Italy

Stulz (for Super Cooling System for Data Centres) – Germany

Ring Master – Norway

Aiphone (for internal communication systems or intercoms) – Japan
What has UNEECO planned to achieve by 2030?
By 2030, our plans are:
To be the Leader in Electrical Power and Switchgear

Start Manufacturing Power Products in Bahrain.

Increase the Manpower by expanding the existing Manufacturing units

Increase the Company Turnover over 100 Million BD.
What have been the various rewards and achievements of yours in the course of your long and illustrious career?
Business Icon for the year 2019 from Bahrain Keraleeya Samajam.

4 Times Star Award in a Row from L&T INDIA.

Philanthropist Awards from various Social Organizations

Award of Best Distributor of Austco Nurse Call Systems in 2018
How has UNEECO ensured further growth and development  of the Electro-Engineering sector in Bahrain which can be at par with global standards?
Under the wise guidance of the ruling family, the business atmosphere here is very friendly.  Bahrain motivates us to invest most to expand the business in Bahrain. To be at par with the global standards of quality, we have been periodically testing all our products in line with the International Standards.  The latest International Standards IEC-61439 – 1 & 2 being followed. Our factory is semi-automated to bring in more precisions and quality products.
How do you balance a highly demanding professional life with
your personal life?  What are your hobbies?
Though it is a challenge in today's world,  I always keep a balance in my professional and  personal life. While my work is my passion, I unwind by spending quality time with my family. I love travelling and photography.
What is your message to the young and aspiring entrepreneurs of Bahrain?
Be passionate and dedicated in the work that you are doing.

Keep on updating the skills for career development.
And always keep yourself updated with the latest news and developments because 'if you are not updated, you are outdated'.