The Bahrain Game Development Community has big plans for the upcoming months, with a focus on promoting game jams. This will also increase awareness of the game development initiatives made in Bahrain with the vision of creating a game development industry in Bahrain.
Zanga "زنقة" a local slang that means "in a constricted situation." It was an initiative, started 8 years back by the GameTako community as a non-profit initiative to promote and support the gaming industry, and is now organized by volunteers from game dev communities across the Arab World such as Yousef BuHazza, Danar Kayfi, Tariq Mukhtar, Moneim Mohammad, and Mahmood AlSarhani.
ConsultNivs strategic Partners, Unreal Bahrain in Cooperation with The Unity Devs Syndicate, and Corporate Hub 9 are happy to announce that Bahrain will host the 8th installment of the Game Zanga Game Jam Competition across the Arabian Region.
The 5-day free workshop organized by Unreal Bahrain and in collaboration with Polytechnic Bahrain which will be held at Polytechnic Bahrain from the 12th until the 16th of August 2018. The workshop will allow those partaking in it to learn the basics of the Unreal Engine. Those who are interested can register at the Unreal Bahrain Website and those who have the passion to learn can bring your own laptop with the latest version of the Unreal Engine installed on it.
Game Zanga is an event for game development enthusiasts all over the Arab World and beyond. The Jam offers no Financial Prizes but intended to spread the challenge and skills of game development across the Arabian region.
According to a statement made by Zanga, it's open to game development enthusiasts of all ages; backgrounds and skill levels, whether you are an industry professional or you've never made a game before. The statement adds that the obstacles to development are practically nonexistent these days and there are free development tools available, and some of those tools make it possible to create fun games without needing to write a single line of code as well as plenty of content and libraries that you can use in your games for free.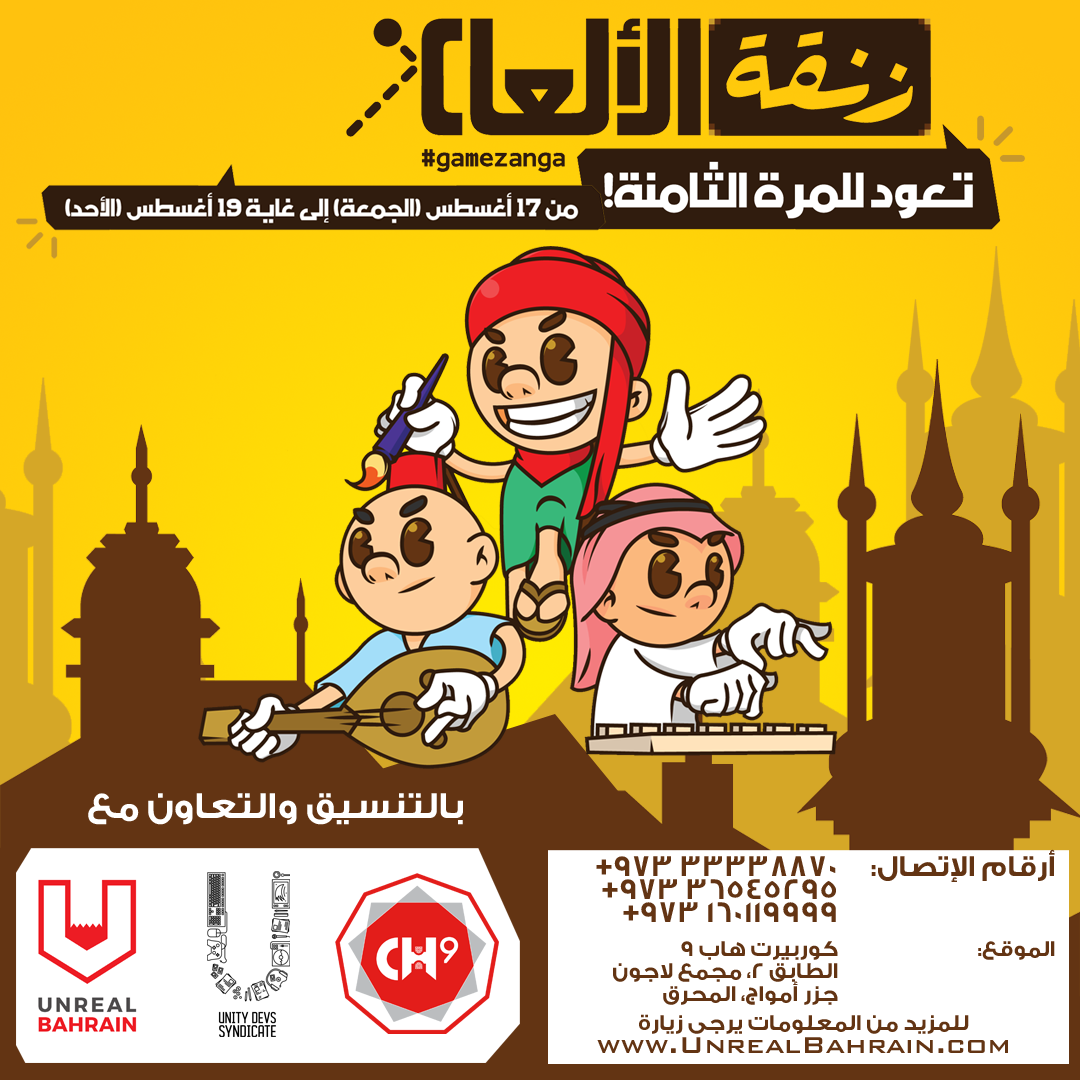 Game Jams have long been a staple of innovation in the game development scene and have a long-lasting tradition within game developers as a rite of passage towards calling themselves true game developers. Jams bring together many people with different experiences together and put them into competition to deliver innovative games following a theme over a constrained short period of time.
Bahrain is not unfamiliar to organizing Bahrain Game Jam, where the next one after the Game Zanga would be the Bahrain Game Jam. Bahrain also hosted its first Global Game Jam this year thanks to Unreal Bahrain and CH9, followed by The GCC Game Jam and GCC Game Conference organized by Inifinte Ware and Polytechnic Bahrain as part of the StartUp Bahrain Week, organized by the Bahrain Economic Development Board.
Many consider that their games have completed once submitted at the end of the jam. However, teams following up with those games at times achieve amazing success. Prime examples are games like Superhot which was developed over the 7 Day First Person Shooter Game Jam and went on to make over USD 4 Million in sales. This is an incredible success for a game whose concept was developed in 7 Days.
Another game, Goat Simulator, which was developed during an internal game jam at coffee stain studio has made over USD 12 Million in revenue. The list goes on with games like surgeon simulator, Thomas was alone, and who have enjoyed similar commercial successes and helped their creators to open independent game development studios. According to Newzoo, the gaming industry was valued at USD 116 Billion in 2017 and is expected to grow to USD 143.5 Billion by 2020.
The Bahrain Jam will be held at the CH9 Incubator  located on the Second Floor of the Lagoon Mall in Amwaj Islands, and will start from Friday 17th  of August until Sunday the 19th  of August 2018. It will be open for the duration of the 48-hour jam. For more info on how to join or help with the Game Zanga 8 please visit www.UnrealBahrain.com or email [email protected]
Follow the local game development community in Bahrain on Twitter, Instagram, & Facebook: @UnrealBahrain, @UDSyndicate & @bhgamedevs.