In the world of political decision making, Ms. Nancy Dinah Elly Khedouri is a multifaceted lawyer, author, member of Bahrain's Jewish community and an active member of society, Nancy does it all with surprising warmth and friendliness. She was appointed to Bahrain's Shura Consultative Council in the year 2010 and re-appointed in 2014, where she serves in The Foreign Affairs, Defence and National Security Committee, and The Youth Affairs Committee.
You have been a member of Bahrain's Consultative Council (Shura) for eight years. Please tell us about the Shura as an organization- what are its mandates and how does it perform them?
The National Assembly is the authority which is competent to pass Legislation and is comprised of two chambers: The Shura [Consultative] Council and The Council of Representatives. The Shura Council is a multi-functional institution due to its direct and indirect relationships with the Executive Authority and the Judicial Authority on one hand and The Council of Representatives on the other hand. Shura members, appointed by His Majesty The King, bring decades of expertise in various professional fields to legislative discussions.
By its two Chambers, the Legislative Authority works on the development of the Legislative structure in the Kingdom of Bahrain. According to this system, no laws may be issued without the separate approval of each Chamber or jointly as The National Assembly if such a session is required. The approval of the government budget is one of the National Assemblies largest tasks. The Economic and Financial Affairs committees in both Councils discuss the draft law with Government, and considering the Budget by the Council and its committees is always a matter of urgency.
The Committees are considered the backbone of the Legislative work and each Member must participate in at least one permanent Committee. The Committees duty is to study and review draft laws and proposals or subjects referred to them by ministries, enabling the Council to form its opinion in the subject proposed for discussions. To do so the committees are entitled to approach ministries, institutions, organizations and public commissions to collect data and documents which they consider necessary for review. The Council has so far established three permanent committees, namely the Woman and Child Affairs Committee, Youth Affairs Committee and the Human Rights Committee.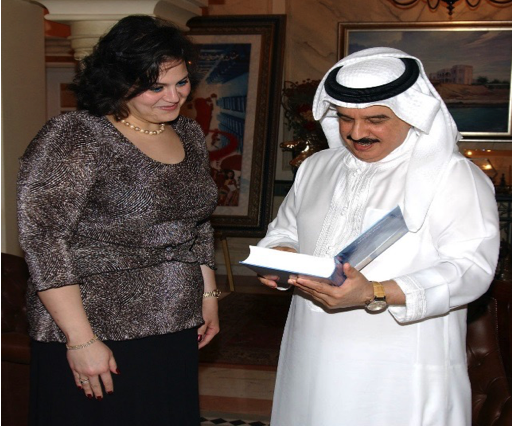 Tell us about your career – how did you enter the field of politics? What drives your passion in this field?
I hold a L.L.B (Hons.) Degree and I am passionate about the field of Law due to my conviction in the rules of "fair play". Having said that, I enjoy multiple roles, all unique. In my role as Managing Director of a Family business to-date, it is wonderful to meet and interact with different people and to supply our customers with their respective requirements from our leading "Quality" Suppliers.
I became Managing Director of my family business at 21 following the passing of my father, God rest his soul. It was a great challenge for me as a young lady and the only child of my parents working in a very male-dominated society, as it was at the time. There was much to learn the hard way, but today I am thankful for that experience that moulded me into the person I am.
I feel privileged to be appointed for the Years 2010 – 2014 and re-appointed for a further four-year term for the years 2014 – 2018 I am honored to be appointed and I believe it demonstrates the encouragement of His Majesty King Hamad to women empowerment in The Kingdom of Bahrain to the inclusive enhancement for all its citizens, regardless of religious differences, as I am a Bahraini of the Jewish faith.
I am honored to serve in the council's Foreign Affairs, Defense and National Security Committee (as Deputy Chairperson). My law background is essential in this role where we work together with synergy to draft bills before they become laws and I feel privileged to continue to serve with passion my beloved country and the Bahraini people.
What in your opinion is the status of women in the National Assembly and in our laws?
Women are equal in terms of political rights: they have the right to vote and to stand as candidates in municipal and national elections. Article 5 of The Constitution of The Kingdom of Bahrain focuses about the Family and subsection (b) says, "The State guarantees reconciling the duties of women towards the family with their work in society, and their equality with men in political, social, cultural, and economic spheres without breaching the provisions of Islamic Law (Shari'a)." The recent Joint Family Law that was passed last year is considered a milestone achievement.
The Supreme Council for Women (SCW), chaired by Her Royal Highness Princess Sabeeka bint Ebrahim Al Khalifa is Bahrain's advisory body to the Government on Women's key issues, promoting women's rights in the Kingdom and women's full participation in society.  This Council was instrumental in spearheading the campaign for the introduction of a unified Family Law and continues to help Women in many matters.  Women interested to enter the field of Politics can benefit from the many Programs conducted by SCW and other key Organizations such as The Bahrain Institute for Political Development (BIPD), to help them enter their career choice.
In my experience of being part of visiting delegations, many countries would like to learn from Bahrain's example of gender equality and equal pay compared to many countries that continue to struggle to achieve wage equality and a closing of their gender gap, and in my opinion, we are blessed as Bahraini to have the support of Bahraini men to reach positions of authority within Government.  Improving and strengthening Laws continues to be an on-going process with the aim of continuous improvement to citizens' standard of living.
In this passionate field of service, what are some of the highs and lows? Do you find gender relevant to your performance in your field?
As a Legislator, high points of my service have been and are to-date, all the times when my passion of Law is applicable to issues in contention.  The low point has been the delay in promulgating some Laws such as the revised Juvenile Law and at times when prudence is over ridden, for e.g. during a debate for the revised Traffic Law, in which there was an article proposed by Colleagues from The House of Representatives, which would have been to the detriment of expatriates living in Bahrain, as they would be banned from driving, this article if passed, would have created a wedge in an hitherto inclusive Kingdom so I was one of the few at The Shura Council who opposed this article as it was unconstitutional.  Thankfully, my debate and that of a few of my colleagues, managed to steer the decision to oppose the proposed article as everyone was convinced that it is the right of any person, whether local or expatriate to obtain a driving license.
So as you can witness from this example, passing Draft Laws have had its challenges but they arose not because I am a woman.  Each Career has its fair share of challenges for male and female that one must learn the skill as to how to overcome them by perseverance and a passion to serve with a conscience.
For those interested to know more about the history of The Jewish community of Bahrain, Nancy is the Author of a book entitled, "From Our Beginning to Present Day," and its Revised and Updated Edition is recommended, to take you all on the historic journey.
The Book can be obtained from all Jashanmal & Sons W.L.L. outlets in The Kingdom of Bahrain.