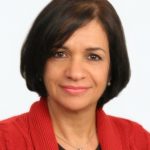 The Assistant Undersecretary for Construction Projects & Maintenance at the Ministry of Works, Municipalities Affairs & Urban Planning Eng. Mona Al Motawa stressed on the importance of ensuring sustainability and improving the competency and quality of green buildings.
The construction and maintenance sector at the Ministry is working on stabilizing green buildings principles in government buildings. The green buildings initiative has always received much support from HE the Minister, which helped apply the initiative on many government buildings; new or existing buildings.
Al Motawa explained that the Human Resources Directorate at the Ministry, represented by the Training & Development Department, has arranged to hold a number of specialized workshops in the field of green buildings. The aim of these workshops is to fully enable the sector to carry out their responsibilities and apply green buildings measures and principles into action in a professional manner.
The first workshop took place under the theme 'LEED Green Associate', which was presented by accredited specialists from Marvel Management Training Institute – Bahrain. The workshop saw participation from 23 engineers with various specializations and levels. Other workshops are to soon follow.
The workshop prepares engineers to apply for the LEED Green Associate, which is a test issued by the American Council for Green Buildings, designed to gauge the general knowledge of green buildings practices and how to support specialists working in LEED projects (Leadership in Energy & Environmental Design).