Following the highly successful first edition of Arab Fashion Week (AFW) in Riyadh earlier this season, the Arab Fashion Council (AFC) continues to revolutionize the regional fashion industry with the sixth edition of Arab Fashion Week held in Dubai. The bi-annual event, that took place on 9-12th May on board of the historical Queen Elizabeth 2 ship, attracted more than 15,000 visitors and featured a total of 21 fashion shows.
As one of the first and only platforms in the world dedicated to promoting Resort and 'Ready-Couture' collections, the Arab Fashion Week lived up to its name by presenting an exciting array of international and regional talent. The Middle East's most acclaimed designers including Amato Couture, Aiisha Ramadan, Aram Designs and Asory House proudly presented their 'Pret-A-Couture' collections to an affluent crowd of international buyers, media and VIP guests.
Strong focus was also put on showcasing the work of incredibly talented designers from all over the world including Tony Miranda (Portugal), Tatiana V. Layalina (Russia), J by Jordy (UK), Ilse Jara (Paraguay), Humariff (Russia), Maison Lesley (Lebanon), Fllumae (USA), Renato Balestra (Italy), Sophia Nubes (Switzerland), Villafane (Argentina), Nicole+Felicia (Taiwan), House of Mua Mua (Italy), Asmaraïa (UAE), Harmony (Armenia), Bav Taylor (UK), Krie Design (Croatia) and Simone Racioppo (Italy).
'We are extremely pleased with the line-up of fashion talent for the sixth edition of Arab Fashion Week in Dubai. Our mission is not only to promote and nurture the regional fashion economy but also help international designers to successfully enter and establish their presence in this market. The latest editions of Arab Fashion Week in Dubai and Riyadh truly demonstrated the full potential of the Middle East and its growing appetite for 'Ready-Couture'' commented Jacob Abrian, CEO and Founder of Arab Fashion Council.
As part of the continuous efforts to establish a sustainable fashion ecosystem in the region, the Arab Fashion Council also introduced the AFC Green Label initiative that supports emerging eco-friendly labels by showcasing their work during the sixth edition of Arab Fashion Week. The first 'green' designers to present their collections in Dubai were Italian-born Bav Tailor and Croatian label Krie Design with plans for more eco-friendly brands to participate in the next editions of Arab Fashion Week later this year.
Ever since its inception in 2015, the Arab Fashion Week has received support and wide recognition as one of the world's highest-profile designers showcase and has been featured alongside the other four big fashion weeks that take place in New York (NYFW), London (LFW), Milan (MFW) & Paris (PFW). Held on board of the historic Queen Elizabeth 2 ship, the sixth edition of Arab Fashion Week became the world's first 'floating' fashion experience. The historic cruise liner, harbored at Mina Rashid in Dubai, has recently opened its doors as an exclusive hotel and museum.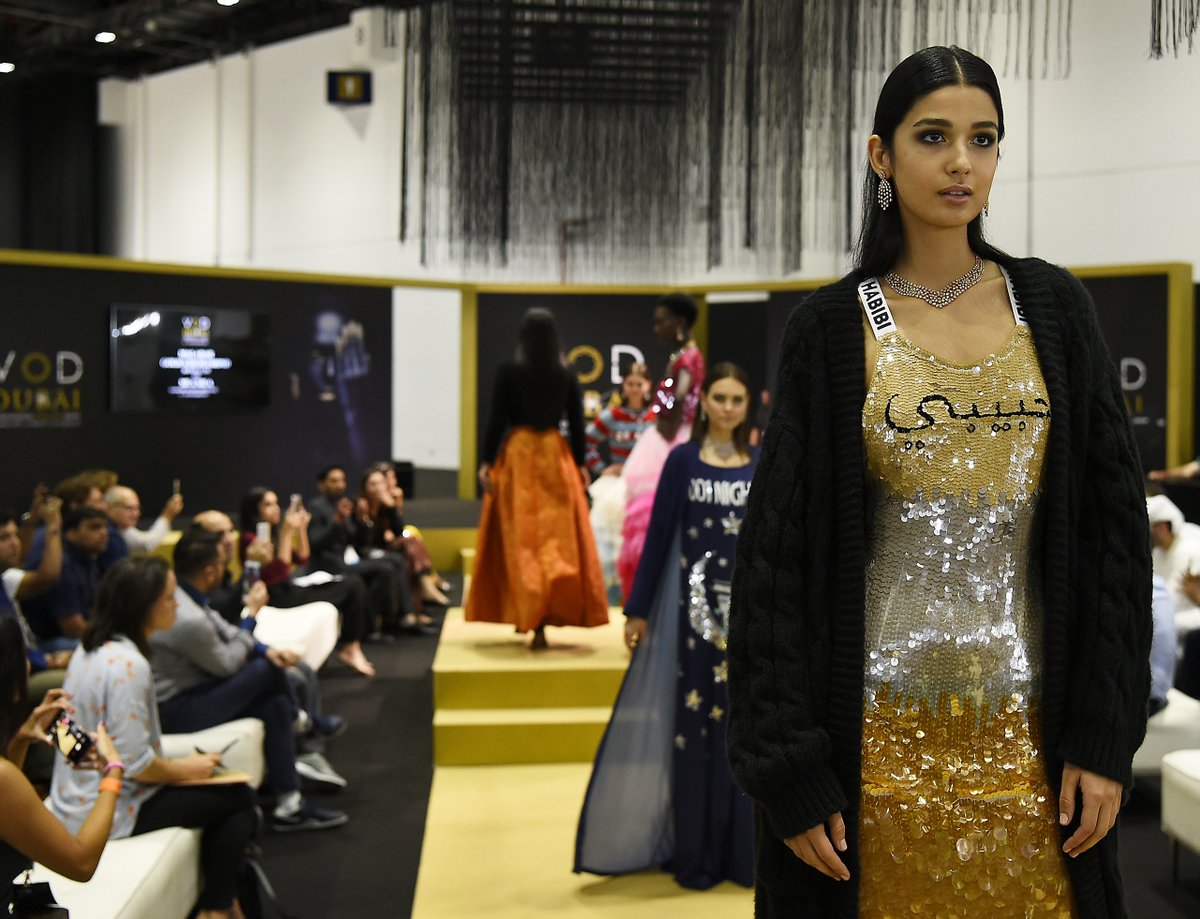 The Arab Fashion Week concluded this season with the bi-annual Arab Fashion Awards Royal Gala Dinner held on May 12th. The glamorous red-carpet event honored and celebrated the latest achievements of international as well as regional fashion pioneers including H.R.H Princess Deena Ali Al-Juhani Abdulaziz who received the 'Fashion Icon' award this year. Italian eco fashion designer Bav Tailor was given the 'Conscious Fashion' award while Dubai-based couturier Furne Amato was recognized for the 'Best Red-Carpet Fashion Collection'.  The 'Buyer's Choice'award went to the highly acclaimed UAE designer Aiisha Ramadan, and Meraas Holding received the "Fashion Real Estate" award.
The special 'Fashion For Good' 2018 award was given to Chantal Khoueiry, Founder of the pioneering social enterprise 'Brides Do Good' that aims to raise funds by selling pre-loved designer wedding gowns to support charities that help provide a safe and equitable education for millions of young girls as part of the United Nations Sustainable Development Goals.
As one of the key sponsors of the sixth edition of Arab Fashion Week, Simon Ellis, General Manager at Gargash, commented "The Gargash group of companies has been recognized in the Middle East for over 100 years and continues to set new standards of excellence. Being the sole distributor of Alfa Romeo in the region, we are proud to be a part of the Arab Fashion Week, which is one of the most influential and sought-after fashion events in the Arab world. Alfa Romeo shares a unique synergy with the event, standing for Italian design and luxury.''
The sixth edition of Arab Fashion Week was held in partnership with MBM Holding, Alfa Romeo (Gargash Group of Companies), Queen Elizabeth 2, 7 Production, Max Factor Academy, Mike and Jack Hair Salon, For the Hunters and Saudi Research & Publishing Group.
The Arab Fashion Week will return later this year with its Riyadh and Dubai and editions that will take place in October and November 2018. The events are organized by the Arab Fashion Council, the world's largest non-profit fashion organization representing the 22 Arab country members of the Arab League.