Wyndham Hotel Group, the hotel giant with an unmatched global presence of more than 8,100 hotels in 78 countries, today announced the opening of Wyndham Grand Manama in Bahrain Bay's iconic United Tower.
Wyndham Grand® is an ensemble of distinguished hotels that are approachable by design, representing one-of-a-kind experiences with refined accommodation, attentive service and relaxed surroundings. The opening of Wyndham Grand Manama adds to other top destinations around the world where the brand can be found, including Shanghai, Istanbul, Salzburg, Athens, Chicago and Orlando.
Wyndham Grand Manama is located in a waterfront district development valued at $2.5 billion, with vibrant residential, commercial and retail spaces. The hotel occupies 19 floors of the United Tower, a 50-storey landmark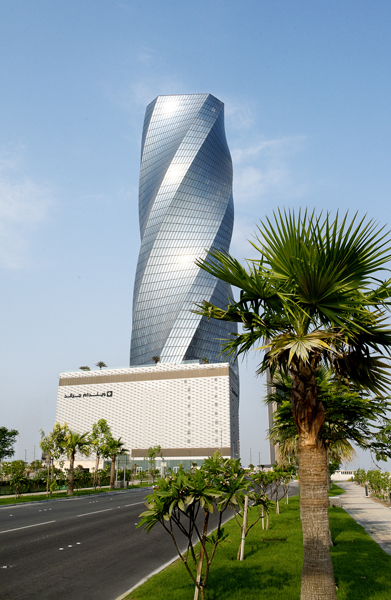 which features a twisting shape and 360-degree unobstructed views of the Kingdom.
With 1,840 sq m of state-of-the-art meeting space, a rooftop ballroom on the 50th floor with breathtaking views of the sea and the city, the new hotel is also an ideal destination for weddings and meetings in Manama.
Mr. Ignace Bauwens, Regional Vice President, Middle East and Africa, Wyndham Hotel Group, said: "Wyndham Grand is a brand that is approachable by design, offering accessible luxury in many of the world's most culturally significant cities. This one-of-a-kind location in Manama is undoubtedly the perfect spot to introduce our iconic brand to Bahrain, and we are delighted to have joined forces with such an innovative partner, Ahmed Mahmood Al Qaed, for this exclusive launch in the region. Adding Wyndham Grand to our growing portfolio of hotels in Bahrain demonstrates our commitment to ensuring that however visitors choose to travel, when they visit Bahrain there will be one of our hotel brands that meets their needs."
Mr. Klaus Elftmann, General Manager, Wyndham Grand Manama, added: "Set in this incredibly innovative new development, with easy access to Bahrain's World Trade Center, its Financial Harbour, as well as the Avenue's shopping mall, Wyndham Grand Manama is set to be the perfect destination to welcome business and leisure guests visiting this thriving city."
Following an agreement with Ahmad Alqaed Group, one of Bahrain's most active integrated award winning real estate developers, Wyndham Hotel Group will manage the hotel.
Mr. Ahmad Alqaed, Owner and Managing Director of Ahmad Alqaed Group, said: "I am immensely proud that we remained true to our original vision of creating a vertical city. Just as the United Tower has set a new standard of architectural mastery in Bahrain, and will be the beacon of modern Manama, Wyndham Grand Manama will set a new standard for luxury hotels in the city."