The taste of hard work is sweet success. Proving this true, Bahrain recently witnessed the second edition of the Bahrain Award for Entrepreneurship that celebrated entrepreneurial spirit and inspired innovation across all sectors to highlight the success and outstanding performance of entrepreneurs in the Kingdom of Bahrain.
The award encourages creativity, supports enterprising ideas and elevates entrepreneurial standards of award winners enabling them to contribute to the economic development in line with the Kingdom of Bahrain's economic vision.
His Royal Highness Prince Salman bin Hamad Al Khalifa, Crown Prince, Deputy Supreme Commander and Chairman of the Economic Development Board (EDB) attended the ceremony of the annual Bahrain Award for Entrepreneurship,  celebrating the achievements of Bahrain's entrepreneurs.
During the ceremony, His Royal Highness highlighted that innovation and creativity are vital components of boosting employment opportunities for all Bahrainis. His Royal Highness also said that the government's efforts in facilitating entrepreneurship underlines Bahrain's firm commitment to promoting the foundations of hope and opportunity for all.
His Royal Highness stressed that Bahrain identified economic diversification as a key driver of growth and employment opportunities over a decade ago, and that this recognition laid the groundwork for a new phase of economic reforms that prioritised the role of the private sector in driving economic growth and providing entrepreneurial opportunities.
His Royal Highness concluded by highlighting that Bahrain recognises that its economic and fiscal reforms must continue to progress at a swift pace, in order to continue providing an economic environment that fosters opportunities and enables sustainable growth.
The Chairman of Tamkeen, His Excellency Shaikh Mohammed bin Isa Al Khalifa, noted that the Bahrain Award for Entrepreneurship highlights the Kingdom's achievements in fostering entrepreneurial opportunities, and that the award winners will benefit from a range of development and funding programmes, business coaching schemes, office space and growth plans. His Excellency Shaikh Mohammed also emphasised that the award is in line with Tamkeen's and its partners' efforts to foster a business environment within Bahrain that is beneficial to entrepreneurs and SMEs.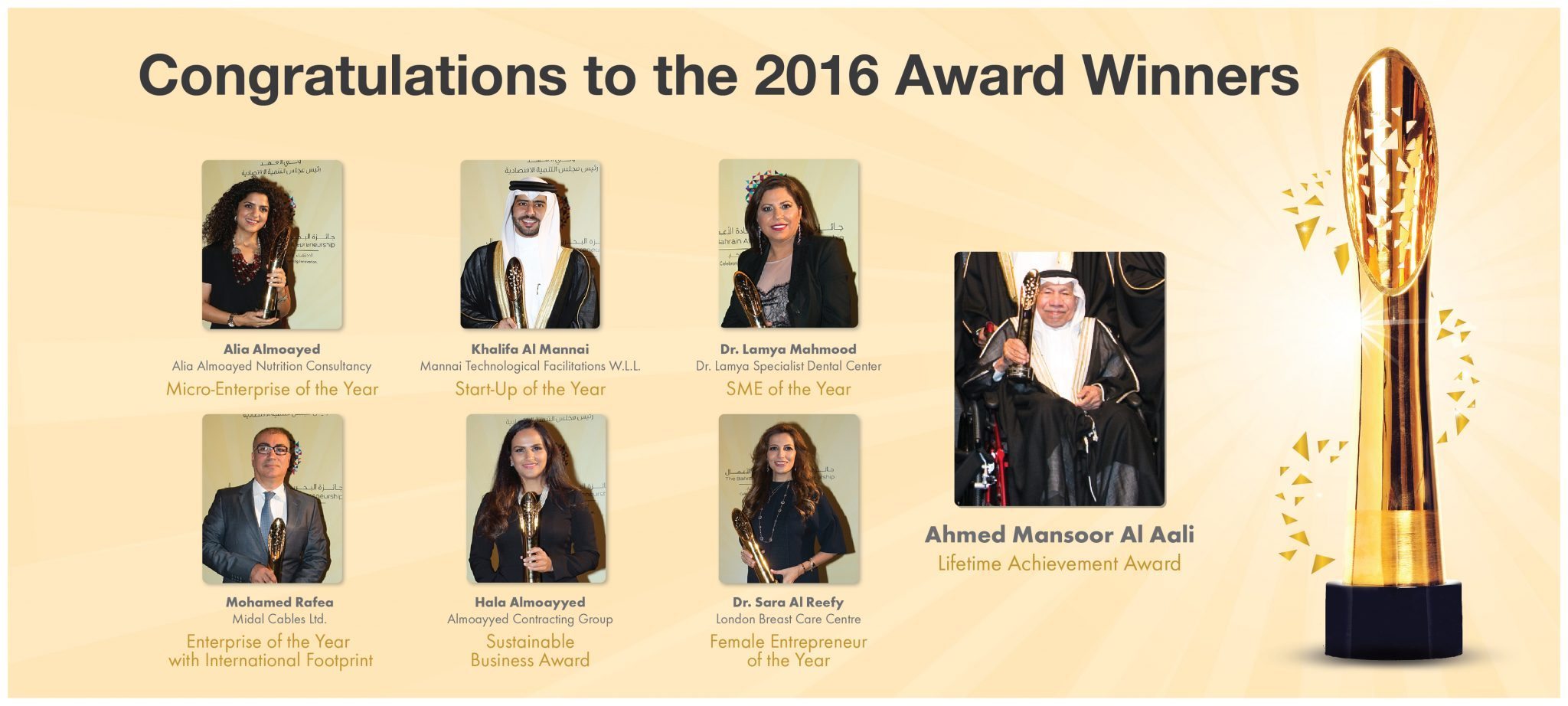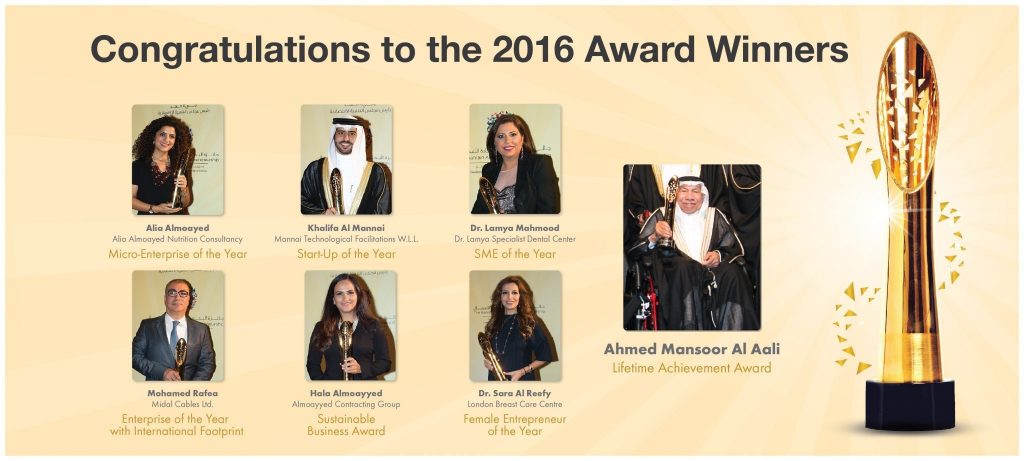 Bahrain AE Winners
This year's winners for the various categories are:
Alia Almoayed Nutrition Consultancy for Micro-Enterprise of the Year Award
Khalifa Al Mannai– Mannai Technological Facilitations for Startup of the Year Award
Dr. Lamya's Laser Dental Centre for SME of the Year Award
Mohammed Rafea- Midal Cables for Enterprise of the Year with International Footprint Award
Hala Almoayyed – Almoayyed Contracting Group for Sustainable Business Award
Ahmed Mansour Al Aali Group for the Lifetime Achievement Award
Dr. Sara Al Reefi- London Breast Care Centre for the Female Entrepreneur of the Year
The Micro-Enterprise of the Year award includes:
A trophy
Full participation in UNIDO Entrepreneurship Development Programme to help them graduate to the next level.
Customised Enterprise Support up to BHD 20,000 as financial support to Enterprises that includes but not limited to Acquisition of Machinery & Equipment, Consultancy, Marketing, certification and training.
BDB Coaching.
Dinner with Judge of Your Choice.
As planned in the award programme, all applicants have been evaluated on the basis of qualitative as well as quantitative criteria. The evaluation has been conducted in the following four stages:
Application Stage: Check of provided information for accuracy and correctness.
Quarter Final Stage: Evaluation on the basis of qualitative criteria for all companies and quantitative criteria for SMEs and large companies.
Semi Final Stage: Evaluation of all companies on the basis of qualitative and quantitative criteria (except micro-enterprises) as well as an interview with the Technical Committee.
Finals Stage: Evaluation based on the results of the previous evaluation rounds as well as a final presentation to the jury
For evaluation, the following qualitative criteria were rigorously examined for all applicants:
Entrepreneurial spirit
Strategy
Innovation leadership
Business responsibility (focus for sustainable business award)
Internationalization strategy (International Footprint of the Year only)
Moving beyond Bahrain's domestic market as core part of your company's DNA.
The Jury for these prestigious awards included:
H.H. Shaikha Hessa bint Khalifa bin Hamad Al Khalifa, Executive Director of INJAZ Bahrain, Chairperson of Al Salam Bank
H.R.H. Princess Reema Bint Bandar Al Saud, CEO of Alfa International and Founder and Creative Director of luxury handbag brand Baraboux
Anjan Das, Executive Director, Confederation of Indian Industry
Anvita Varshney, COO MEA Naspers
Habib Haddad, Co-Founder & CEO of Wamda.
Kushal Shah ,Regional Managing Partner,Roland Berger
Peter Wong Man Kong, Executive Chairman of China Chamber of Tourism, Life Honorary Chairman of The Chinese General Chamber of Commerce and The HK Chinese Importers' & Exporters' Association
Mohamed ElSayad, Marketing Director Deutsche Telekom
Nina Curley, Founding member of WAIN, Director at Flat6 Labs Abu Dhabi
The various organizations that partnered this award along with the  Ministry of Industry, Commerce and Tourism were UNIDO, TAMKEEN, BDB, EDB and EY.