SH. Hala Bint Mohammed Al Khalifa, Director General of the Culture and Arts Directorate at Bahrain Authority for Culture is an active member in the emerging sight of Bahrain's art and culture. She and Antiquities had pursued art and studied culture during her academics and career.
Bahrain This Week meets with SH. Hala Bint Mohammed Al Khalifa onset of 42nd session of the World Heritage Committee.
You are an artist, and Director General of the Culture and Arts Directorate at Bahrain Authority for Culture and Antiquities. How do you can describe your role in this field?
I'm extremely lucky to be able to work under the umbrella of the cultural institution in Bahrain. The field of arts and culture has been a life long source of passion and inspiration. Here, I'm allowed to be part of an evolving cultural scene. There are so many aspects in this field of work to be explored, protected, and promoted. We have a unique story to share with the rest of the world. We are blessed with the land rich in its heritage and ancient civilizations and our main role at the Cultural Institution is to preserve and promote our historic sites and focus on the contemporary role of art and culture at the present time.
Working on our annual cultural programmes and coming up with new ways of engaging the general public to raise awareness through history, art, and culture at the Bahrain Authority for Culture and Antiquities. Our publications play an important role to document and to share various topics which highlight a variety of themes and subjects that shape the unique tapestry of who we are.
Heritage, art and culture is a connected system, it ties the past, present, and future. It holds our true essence, it tells the story of our land. In terms of the arts we extremely lucky to host an annual exhibition that show cases both pioneer artists alongside the younger generation. This particular exhibition has been going on for the last 44 years. In January we celebrate the 45th edition of this visual art platform.
Initiatives like Food is Culture for example, created an exciting platform for artist and chefs to come together and explore Food & Art. This event brought a different audience to the museum, this to me was one the most important goals, we are constantly creating programs that bridge between the cultural institution and the public. In this initiative, there was a dialogue that brought together themes shared between chefs and artists; food was the source of inspiration for the art. On a yearly basis, a documentary is produced, following the process of the participants, and a book that holds the content, and recipes, and essays that celebrate food and art.  This spotlight on both young and professional talents allow exposure and celebration of our local talents.  It also can be a source of inspiration for the younger generation that wish to pursue a career in these fields.
Can you share with us the development of your career path?
I started in education, teaching introduction to painting to students at the Bahrain University. This was my first stepping-stone into my professional career. I still believe there is magical spark that accompanies working in transferring knowledge and sharing ideas in a classroom setting. Later, I joined a museum institution and focused on education in a museum setting. This role opened a new way of exploring objects and museum displays to be used a learning tool to audiences of different ages. Looking at a particular piece of art whether it is a painting or a historical artefact can bring together so many references like history and craftsmanship and a story behind the hands that made them.
It's always a challenge to create workshops and programs that are interesting and would leave a mark with young students in particular.
Today, being a member of BACA allows me to be part of a dynamic institution, and it gives me the chance to promote and create a verity of projects that truly allow me to follow my passion in life. It gives me a huge sense of satisfaction and gratification to see how we can promote and nurture local talents and showcase them to the rest of the world. Whether its through exhibitions, music, art, or publications.
Have you faced any struggles?
There is no work without struggles, its part of developing any project. Sometimes the funding could create a struggle, other times, it's coming up with the right concepts and ideas. Here is a struggle that can be transformed to a success, I believe through passion and dedication we can overcome any issues.
I would like to take this opportunity to thank the wonderful team at BACA for always managing to pull of the events with a smile and a great deal of dedication.  There are so many people behind the scenes that truly play a huge role in any success we manage to gain.
You had studied Arts in USA and U.K and pursued a career at culture and museum institutions? How did these international cultures influence your artistic notions?
We are a melting pot of people and creative processes – we are defiantly apart of the bigger world, we influence and are influenced by what happens around us – this is what makes our dialogue through the arts connected to the rest of the world.
Now, with a click of a button we can be exposed to various news, images, and knowledge, and something that I have always believed in – is the concept of what unites us is more that what divides us.  Every nation has a unique story to share – and every artist, poet or writer can reach out and be heard.  Our role in any cultural institution is to allow these experiences to be shared, heard and documented.
For my personal growth in the field of the arts, I'm constantly looking for new sources of inspiration. I'm always intrigued to know more about the pain and struggle of people, art can reflect on various issues, for me it doesn't have to be pretty, sometimes the grotesque can hold a lot beauty and a message of strength.
What is the common underlying tone in Bahraini artworks?
There are so many styles and themes – it depends on what is the source of inspiration to any creative mind.  The visual language varies, today in Bahrain; I'm delighted to see new contemporary topic being explored. Multimedia and installation works are common now between the younger generations of artist. There is one particular group of artists that have been developing a body of work each year, to shown at the art centre, parallel to our annual International Music Festival. Each year they explore themes that relate to sound, beats, and rhythm, and I always keep a look out to see what ideas they come up with. On a personal note, I am currently working on a body of work that explores themes of the refugee struggle, this allows me to highlight the pain, but at the same time value what we have in terms of safety and prosperity.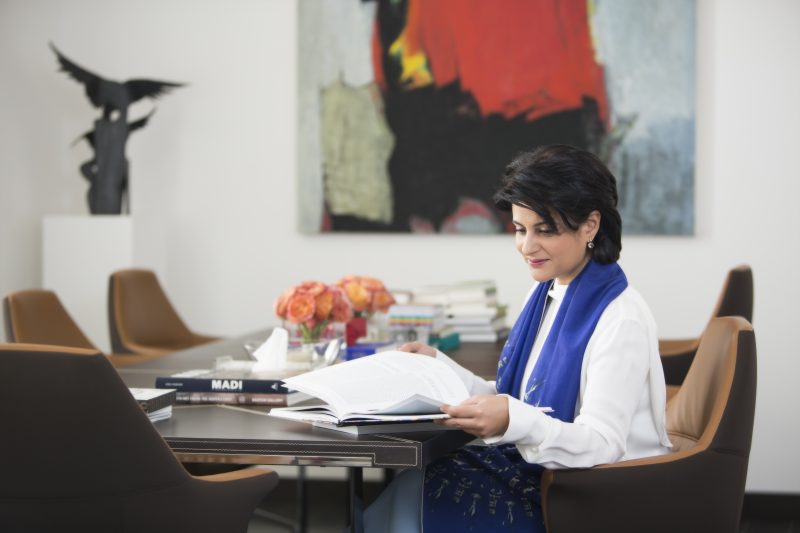 What do you wish to achieve the most in your role as the Director General of the Culture and Arts?
Our goal is to promote Bahrain's cultural and art scene, our policy is to highlight our story, through various channels. Here is the best chance and challenge to showcase creative minds and allow their creative process to be celebrated. I am always proud to meet and share ideas with young creative Bahraini minds – and have an opportunity to support their line of work, for me it always begins with a line, a line that is a start of a book or a stoke on a canvas, or a note on a music sheet.
It's crucial to promote and nourish the intellectual and artistic stroke in any society, this is our main policy whether through the arts, or the history & heritage it's all interconnected.
What is your view on the younger generation's interest in art and culture of Bahrain?  What is your message to them?
I am always positive, and there are so many success stories that make me proud.  There is a great deal of awareness of how arts and culture can be an interesting career path for many young minds.
My message would be, stay true to yourself. Inspiration is key; keep looking to find your true and special theme to be explored. Also, never feel that you have fully achieved your goal, its important neither to give up, nor get over confident. You never stop learning and evolving.
How do you believe that 42nd session of the world Heritage Committee will influence the visibility of art and culture in Bahrain?
It is a huge honour to see the World Heritage Committee come to Bahrain. Walking through the UNESCO Village site where the committee meetings are taking place brings a huge sense of pride and fulfilment, so many languages, and cultures come together under one roof to share and discuss and raise awareness to our historic sites from all over the world. Starting with the Young Professional workshops that took place last week, and the World historic site managers forum that brought together professional in this field from all regions of the world to share their expertise and knowledge, and challenges, all in preparation to support their local historic sites. The side events and workshops and temporary exhibitions that take place within the UNESCO village all play an immense role to allow us to understand the wealth of each civilization. In a world effected by turmoil and wars it's a huge responsibility to protect and save the sites that holds and mark of our global history. At Bahrain Authority for culture and Antiquities, the work that has been going to support this committee meeting has been on our top priority for the past year.
We wish that all our guests leave Bahrain having explored our culture and history; this is key to promote our beautiful land and share its wealth with all the world.