Smart Home for Smart Future!
The Pad at Juffair is a home just right out of Sci-Fi movies. It's the first fully functional, voice controlled smart home in the Middle East.
Inspiring interview with Omar Al Mohammed, the owner and creator of this wonder shares his experiences in creating the unique wonder.
How and when did you start the concept of The Pad?
You'd be surprised if I tell you that I never had the qualifications or experience in this field. I have always been a working person, doing many jobs. I did have one thing in mind though: Bahrain needs to bring about a change to diversify the economy. I always wanted to do something for Bahrain.
As a kid, I was never interested in playing with kids outside home, and used to stay home playing with trains and robots to explore their functions. My dad had limited means of income but he brought us heaven at home through the latest technology. As I grew up with curiosity, the movie "Iron Man" mesmerized me in 2008. There was a voice control feature newly rolled out to ask for directions in 2016 and I was a fan. The following year I bought an apartment under construction in Juffair. That year I came across a robot vacuum cleaner online, which could work with mobile. I bought it and set it up to work as voice control which was the world's first one. I did a Facebook live getting more than 1.2k views within a few hours.
I was excited and started researching gadgets which supported voice control in previous years. I started searching throughout Middle East if there was an apartment ever made this way, and I found none. I said to myself: Bahrain was the first to discover oil, first to host Formula 1 race, and why can't Bahrain be the first in the Middle East to have a smart home?
To my astonishment, at the completion of The Pad, I came to know that there's none in Europe or the US made to this level!
Can you explain 'The Pad'?
When you are at home or in your car, even out of country, you can get your clothes washed, food cooked and house cleaned by your voice through your mobile. You can have lights turning on and off with brightness levels but also change colours! The thermostat, door locks, curtains, oven and also all sockets and switches, a virtual flames cooktop are also voice controlled. The fridge which has a WiFi enabled screen that shows you what's inside the fridge with expiry dates, mirror your TV, read recipes, send emails, play YouTube and radio, order a taxi and much more.
Apart from that the apartment has sensor bins and soap dispensers, smart clock which shows your steps, weight, weather, calls, smart scales, sensor angled smoke hood, smart smoke detectors, a touch screen oven, which steams food from inside while cooking and more.
I have made my first attempt in designing a home and make technology and interior just blend in seamlessly. Tom Dixon's iconic "Tide carpet" was specially made for this apartment by Ege Carpets in Denmark. Tom Dixon's "Melt" and "Cut" were ordered from the UK. The seamless chiffon curtains were also specially made to give that aesthetic look. I have designed the art in the hallway and bedroom of The Pad. In terms of design it has that super luxurious posh wintery look with black birch branches in black Eiffel vases against white backdrops.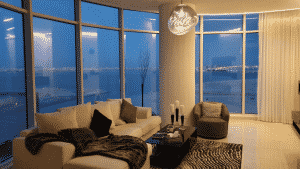 What were the challenges you faced during the creation of 'The Pad'?
Apart from municipality and contractors delays which caused a year's delay in, I had money constraints. If I had cash at hand, I would make it the world's best including voice controlled spa and massage at home and a lot more.
The biggest challenge was making organisations understand the value of collaboration.  I didn't receive the desired support.
How do you envisage the future of Smart Homes in Bahrain?
In one line: this is the future and it is right here! Smart homes make you save electricity by turning of whatever you want from wherever you want.
Security and maintenance costs are much lower. Disabled or old age people can see who is outside from their mobiles, and allow or block the visitor via their phones connected to the doors.
It also avoids food wastage by letting you monitor whats inside your fridge and keeping tabs of expiry dates.
Do you think these advanced technologies may make people more lethargic?
People who are not health conscious will always find a way to stay lazy, and active people will see this as a way to ease life.
What is the response you have received from builders about
'The Pad'?
Honestly, I received major appreciation from GCC and international communities. The local response was moderate. We at Bahrain like to see what works for pioneers and then copy.  Properties in Bahrain were similar until Bin Faqeeh and Royal Ambassador brought changes. The competition is regional and not confined to Bahrain. If we are having Hollywood styled apartments in Bahrain so does Dubai. This is where the likes of The Pad will be the real game changer.
How do you believe that the Kingdom can develop further based on 'The Pad'?
Of course, in many ways! Bahrain could be smart homes hub, it could set new standards for property market. Smarthome market has a huge potential and it's a niche market for whole Middle East.
You see I have always said Bahrain has the history which no one in the
region has! A lot of companies I have presented The Pad to, are enthusiastic to look into setting up in Bahrain. Government entities can cash in on this opportunity to set up Smarthome companies, which not only diversifies the economy but also opens thousands of jobs!
Not only that, Bahrain can bring in ideas which can be an initiative. For example: people don't walk in
Summer due to the weather. You
can bring in the electricity generating tiles when you walk over them so it powers air conditioning from the top to cool that area. This saves money to generate electricity and can become active part of parks and other walkways for public.
Also, Bahrain has perfect weather for butterflies, why not a butterfly garden which is lit up with colour changing lights exactly like The Pad?
Another example is using smart technology to introduce parking permits to solve parking spaces crisis in Bahrain which is increasing by the year.
There's a lot more I could suggest, and give plans for it, but I need support of the government for it, which I don't know how to approach.
Have you ever lost the spirit or even now thinking of the future of the project?
Never, I have been trained, never to give up as my mother nurtured me with that spirit. I proudly call myself a perfectionist, as I like to plan very well to have the perfect outcome. God has been my guardian throughout my life, that's why I never lost the spirit or faith, no matter what I do. Having no IT background, zero knowledge of Autocad or photoshop I used just the "paint" application on Windows to design every inch of the apartment, is not an easy thing to do. I stayed focused and dedicated.
Who stood with you with equal enthusiasm in this project?
My mother was a moral support and would advise me on what could be done better, especially the homely touches. Apart from that I did it all alone, from concept and planning to designing, gathering appliances and custom made decor, the graphics, the videos and music for social media adverts.   Just to put it out to the your readers, the country, the world: sometimes it just takes an individual to change things around, where big names and companies fail, individuals can set examples like this to help the whole country, and this is for my beloved Kingdom of Bahrain.
What's next for you?
I still have a full time job in a semi government organisation, I am still a model, I am still a nutrition and a career advisor, and I still want to do more for the country. I have recently started providing consultations for smart homes and interior designing, and started working on project named 'The Glass' which has no walls internally, like even the bath is full glass. The glass blackouts when needed and becomes see through when needed. It will have roll able OLED TV, curtain less glass which blackouts when required, self-transforming furniture, walking robot coffee maker which will serve you when you want and lots more. This will be twice as advanced as 'The Pad' and so am I excited twice more than 'The Pad'.