Noor Sami Hamada, one of the young Bahraini artists has joined several local and international contests, including His Highness Shaikh Naser bin Hamad Al Khalifa international award for youth creativity in the field of drawing a peace painting, which she won worldwide in the fifth edition out of over 7,000 entrants, winning first place and excellence in the caricature competition entitled "Hygiene", winning second place in a competition called "My country is in my eyes", winning first place in a competition called "The world is my country", winning third place in the "I am smart, I am safe" competition. 

She transferred her experience in the world of painting to the USA through her participation in the Torrance competition in a painting entitled Gratitude, and the Republic of Finland through her participation in the Civilizations Exhibition, in addition to her participation in" Egypt in the Eyes of the World competition" in Egypt. She also left a mark in more than 200 entries in the Kingdom of Bahrain and obtained a lot of first places and awards.
Noor Sami Hamada talks with Bahrain This Week on her artistic journey.
Who/what influenced you to be an artist?
I inherited my talent from my grandfather, and I was inspired and influenced by the way my grandfather drew things. So, I loved to go deeper and learn more things, and he had a role with my parents in encouraging me and continuing to develop this talent.
How did you start? Did you take any training or classes?
My teacher discovered the extent of my mastery of drawing when I was in the fourth grade, which motivated and encouraged me to develop this talent that I inherited from my father and grandfather. I took classes in the Gifted Students Centre for almost ten years with different artists, which enhanced my talent more through this term.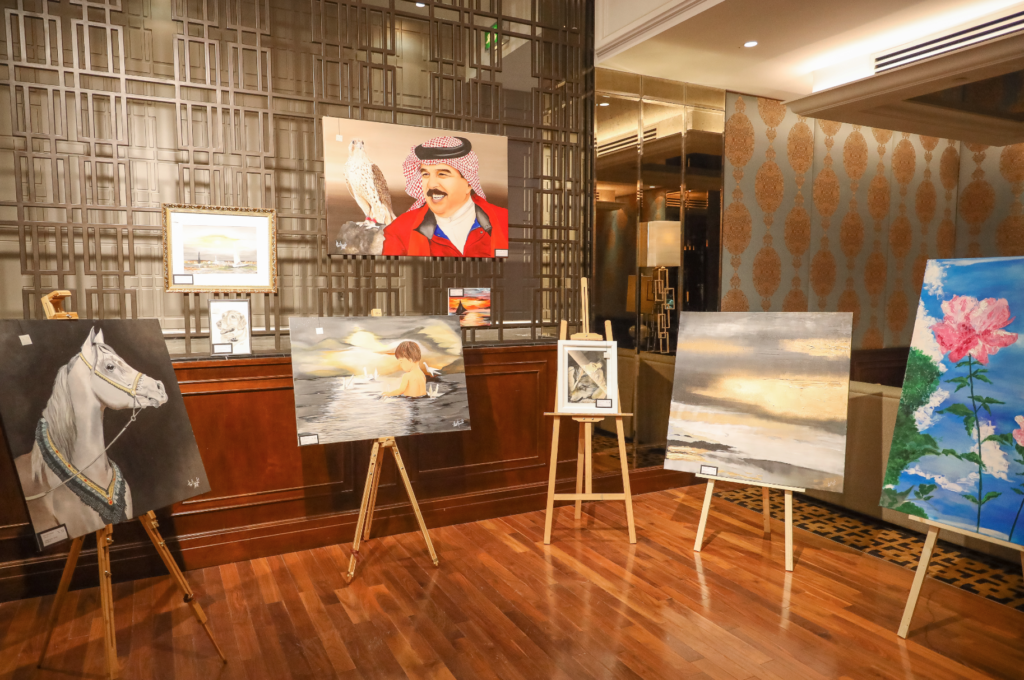 Where do you take inspiration for your art?
I rely on reality to embody what I imagine. Imagination and realism are intertwined in art, and both help the other to produce meaningful content. Imagination is able to represent images in consciousness that contradict reality a little or a lot.
How has your art evolved through the years?
I found my refuge in developing my talent in the Gifted Students Centre, Where I was mostly taken by my talented teacher "Dr. Zainab Swar", who embraced me and strengthened my drawing. She encouraged me to participate in many local and international competitions.
You have joined a lot of art competitions around the world, how was the experience and what did you learn from it?
Each competition had a different experience and influence on me, as each one of them gave me an add-on to my knowledge in the art. Competitions had an important role to motivate me, as they helped me to develop my creative skills by exposing them to contemporary talent in the field. By observing the work of my peers, I had the opportunity to analyze and evaluate their techniques and outcomes vis-a-vis those of other artists.
You have also won a lot of these competitions, which is the most memorable one and why?
His Highness Shaikh Naser bin Hamad Al Khalifa international award for youth creativity in the field of drawing a peace painting. The feeling of winning this award was different, as I felt proud and excited about the success of choosing my work and winning worldwide in the fifth edition out of over 7,000 entrants. I also had the honor of meeting His Highness Sheikh Nasser bin Hamad Al Khalifa to hand me the prize.
Who's your favorite artist?
The Canadian portrait artist Pavel Sokov.
How many art pieces do you think you've made so far? What's your favorite one?
I have made more than 150 art pieces. The closest to my heart is the drawing of His Majesty King Hamad bin Isa Al Khalifa, because of the challenge and determination to finish it in a short period of time not exceeding 72 hours.
What's your advice to young Bahraini artists?
Paint what fascinates you in the manner in which you choose to paint it. If you want to increase sales, popularity, or acceptability, don't change your strategy. If you do, you will never produce your finest work. Internal validation is important because you will never be able to please everyone. Not everyone is an artist.
You can learn to improve the way you draw and approach color, but if it does not come naturally to you it is going to take that much more effort to just get to the point where someone with natural talent starts out. That doesn't mean you shouldn't try your hand at it, just have realistic expectations as to how much effort and practice it will take to become the best artist you are capable of becoming.