The agreement follows the efforts and directives of the REHC High Committee, chaired by His Highness Shaikh Isa bin Salman bin Hamad Al Khalifa, to further advance the Kingdom of Bahrain's international recognition as a horseracing and equestrian destination.
The two-year agreement was signed by the REHC CEO, Yusuf Buheji, and George Chisholm, CEO of Chisholm Enterprises, Texel Air's parent company, granting Texel Air a Gold Sponsorship for the Bahrain Turf Series, starting from the upcoming 2023-2024 racing season.
Commenting on the occasion, Mr. Yusuf Buheji highlighted that the sponsorship agreement is in par with the High Committee's far-reaching goals aimed at furthering its strategic partnerships with various institutions and companies that will serve and further develop the Kingdom's horseracing sector.
Mr. Buheji reiterated the importance of the agreement in ensuring the Kingdom's long-term commitment to remaining on the international map for equestrian sports, making Bahrain the destination for international races and championships.
Mr. Buheji extended his gratitude and appreciation to the officials of Texel Air, highlighting their unwavering support of the Kingdom's racing season and their essential role in the equestrian ecosystem, adding that the club is looking forward to further this partnership to new heights.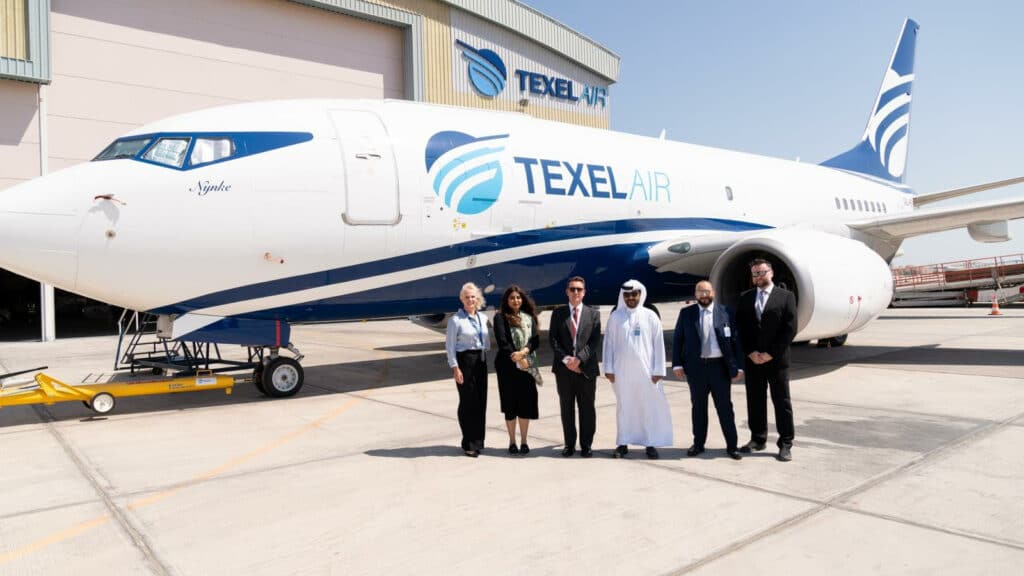 Commenting on his part, Mr. George Chisholm, expressed his pleasure in signing the agreement which aligns with Texel Air's equestrian-services strategy. Texel Air are a Bahraini cargo airline that has been serving the equestrian and horse racing community for many years in the Middle East providing horse transportation by air. Mr Chisholm commented, "We are a proud Bahraini airline and are honoured to be supporting the Bahrain Turf Series for the 2023- 2024 racing seasons."
Mr Chisholm commends the efforts and dedication of the REHC High Committee, chaired by HH Shaikh Isa bin Salman bin Hamad Al Khalifa, in initiating the partnership, which will further the Kingdom's achievements in the equestrian sports.
Mr. Chisholm concluded by affirming Texel Air's commitment to being an active and pivotal partner in supporting the REHC's wide-ranging goals and international races.