The Arabian Gulf University (AGU) President Dr Khalid bin Abdulrahman Al Ohaly recently appointed Family and Community Medicine Department Head Dr Afif Ben-Salah as the Deputy Dean of the College of Medicine for Graduate Studies and Scientific Research.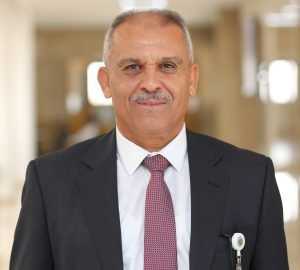 Dr Ben-Salah expressed thanks and appreciation to Dr Al Ohaly for his continuous support to AGU faculty members, especially in light of the availability of an academic environment incubating and encouraging scientific research.
Commenting on the occasion, Dr Ben-Salah said: "At AGU, we are aiming at becoming a distinguished academic and research centre to address the concerns of the Gulf Cooperation Council (GCC) countries. Therefore, the University gives priority to research that is concerned with developing solutions to health problems facing Gulf citizens."
It is worth noting that Dr Ben-Salah obtained a PhD in epidemiology from the University of Oxford in the United Kingdom in the year 1999, and a Master's degree in the same specialty from the Royal College of London in the year 1993, that is in addition to a Master's degree in Collective Medicine from the University of Montreal in Canada in the year 1987, and he is holding Doctor of Medicine degree from the University of Tunis since 1985.
Dr Ben-Salah is also a professor specializing in Community Medicine and Epidemiology at the Faculty of Medicine in Tunis. He held the position of Head of the Department of Medical Epidemiology: Institut Pasteur Tunis (IPT) from 2006 to 2016, and worked as Director-General of the Primary Health Care of the Ministry of Health: The Republic of Tunisia.
He later worked as Director of the International Centre for Research in Tropical Diseases associated with the American Institute of Health (US-NIH) at the IPT from 2007 to 2012, and Director of the Regional Training Centre associated with the World Health Organisation (WHO) in 2015.
Dr Ben-Salah has more than 25 years of experience in the fields of Epidemiology, Public Health, Primary Health Care, Paediatrics, International Clinical Trial Regulations. He has also obtained funding from the World Bank and WHO to carry out his research in the field of Epidemiology, and he is an expert member of the Research Grant Funding on Tropical Diseases at the Organisation-Mediterranean region since 2003, in addition to being an expert member of the Advisory Committee on Drugs for Neglected Diseases Initiative (DNDI) in Geneva since 2006, among many other senior international posts.
He also published more than 80 scientific articles published in the International Scientific Journals (ISJ) and supervised more than 20 students at various levels of masters, doctorates in medicine and science in various biomedical fields.