The AlGhad team, an 11 member strong coalition running for the Bahrain Chamber of Commerce and Industry, is extremely busy. Besides individually runningmultiple businesses, involved in multiple industries, I caught them in the dead middle of a heated campaign. This term's BCCI elections, which take place every four years, has received enormous attention.
If you are a CR owner, you may have noticed an additional fee to your registration: as of 2017 every CR renewal comes with automatic membership to the chamber. Couple that with the epic developments Bahrain's economy is experiencing, and all eyes are on these crucial elections.
It's a testament to their friendliness, work ethic, and good intentions that the team made time for me at all! I sat down with AlGhad Coalition members curious about the BCCI, their motivation to run and their experience in a national campaign.
This terms elections of The Bahrain Chamber of Commerce and Industry, to take place March 10th, has received more attention than any other election in the history of the BCCI… What is different about this year?
Eman Nooruddin: This year membership to the Bahrain Chamber of Commerce is mandatory and not voluntary as before. Most of the new members are SMEs which lacked representation in the past, so this is a positive step forward.
Omar AlKhan: Beside the fact that all CRs in Bahrain are members and eligible to vote, the economic difficulties we are facing in the GCC generally and Bahrain specifically, which led to added governmental charges and soon to VAT, made the entire business community aware that stronger representation in the Chamber of Commerce is a necessity.
Abdulrahman AlMoayyed: This year is by far the most important elections for the BCCI.  The face of business has changed and this demands a chamber that protects the rights of businesses and represents their needs, with the highest standards of practice in place to achieve effective and transparent results.
Yaqoob AlAwadhi: The BCCI is more than a voice, it must work with government to diversify our national economy and be the catalyst for innovation and new approaches to respond to this new economic situation and reduce its impact on businesses and help them thrive.
What do these dramatic changes mean for the future Bahrain and the role of the BCCI in it?
AbdulRahman AlMoayyed: The BCCI must prove its effectiveness and relevance as a representative body. The private sector needs protected and promotion in order for it to succeed, and this is the responsibility of the BCCI .  Complete transparency is required for real time data and accountability of the chamber to the businesses it represents.  Such initiatives will restore the independence and image of the BCCI.
Yaqoob AlAwadhi: Facing the above challenges calls for fresh eyes with new and current fabrics of thinking which implies a completely new set of team members with high synergy  to run the BCCI board and work dynamically in a partnership with government to be a voice of the business 
community and support system for SMEs. They must be agile and responsive to new opportunities and have a strong connection to the community they represent. The old saying "big fish eats the small fish" is no longer true..  "the fast fish eats the slow fish" and so I believe our path to success requires a young, dynamic, efficient and synergistic team in Bahrain.
Hamed Fakhro: It all means we all have a lot to work to do, and if we don't put our hands together, we could be facing more challenges in the future!
What was your personal drive for running as a candidate this year?
Eman Nooruddin: Running for the BCCI seemed like a natural progression in my path. I work actively with NGOs and I have dedicated my life to better the lives of other. In the past I focused on individuals and the disenfranchised, but through my work I see the struggles other business owners like myself face and I must represent them because at the end this is good for my country and its economy, and that will spill back into my NGO work.
Hassan Kaiksow: I want to serve Bahrain and the business community which I am a part of. I saw the large room for improvement in the BCCI and had ideas to contribute in this regard- in implementing a service-oriented infrastructure in the Chamber thereby increasing its accessibility, transparency and effectiveness.
Ali Lari: I am continuously active in the SME community and am serving as board member in the Bahrain SME Society and my experiences led to my strong belief that it is time to change and support the coming generations. AlGhad is much more than a coalition of candidates, we all want to explore every available opportunity to create a great tomorrow for Bahrain.
Hamed Fakhro: I am highly active in Bahrain's entrepreneur society and try to be a mentor and advocate for them, and I believe having a team and being a part of the chamber will give us leverage to effect more change than any of us alone.
Hatim Dadhabai: Bahrain has given me everything I have, and this is my way to give back to Bahrain and to strengthen the voice of business community. But before being a mouth piece we are continuously listening to them to find out what their needs are.
Tell us about the experience of campaigning… has it been a learning experience? In what ways?
Hassan Kaiksow: My favourite experience with campaigning is meeting new people and listening to their problems and ideas for solutions and I wouldn't have gained this experience in such a short amount of time without the effort of the whole team.
Hatim Dadhabai: We are trying to raise awareness of the power and responsibly of the BCCI. As a businessman I have never utilized the BCCI platform, and only realized now that there is so much the chamber can do for the success of business. We try to educate business
Omar AlKhan: Honestly, I have never liked anything to do with politics yet decided to enjoy the campaign as a learning experience that will help me grow and provide me with opportunity to serve my country. Truly, Al Ghad has made the experience a lot easier and fun- we are group of young entrepreneurs and businessmen full of energy and innovation, and I am confident that we will be able to reflect that to the chamber.
Your team, AlGhad, has the slogan "Start Tomorrow Today"…. Tell us about your ethos as a group and why you formed a bloc together…
Hatim Dadhabai: We are a close-knit group of young individuals with a very modern work attitude. The aim is to be the voice of business community, specifically the SME's and micro businesses.  We have the energy, innovation, experience and commitment.
Haamed Fakhro: All the members think in the same direction, and are all well known in the community for their hard work. We have an amazing chemistry and hope all of the members are elected together as one team.
What are you hoping to achieve from within the chamber? What fresh insights do you bring to the board?
Mohammed Mustafa AlKooheji: Relationships. What we want to achieve is strengthening our relationship with both governmental entities and society representatives.. In this way we can make policies responsive to different sector concerns, be it retail, construction, technology….
Yaqoob AlAwadhi: As I said before, the global economic environment has changed and it is time now for a new and dynamic way of thinking. We bring innovation, a high level of agility and responsiveness to change and a commitment to work in partnership with the business community and the government.
Eman Nooruddin: What I would like to bring to the chamber is the implementation of a fair service economy where people don't have to call personal contacts to get their jobs done and instead have a support system within the public sector that gives everyone a free and fair chance. We will achieve this support base firstly with effective communication and partnership with ministries.
Mohammed AlAali: I have 16 years of experience in exporting and my experience in manufacturing is very diverse- it includes aluminum downstream, plastics, water bottling, courier, building facades and more. This gave me an understanding of challenges businesses face, from securing raw material, to getting products launched globally. Therefore, I will be able to listen to business problems, and address them in the BCCI, because they would be problems I would face personally in my own business.
Hassan Kaiksow: We will build a service-oriented BCCI, with visionary goals and accountable to clear KPIs and results.
If these changes have not happened before, what makes you certain you can achieve them?
Omar AlKhan: if we want to be ahead of the game and within the leading developed economies we need to do business the modern way, with modern business models that thrive on innovation and take the age of big data as its bases. This can be only achieved through young innovative entrepreneurs who are also not represented in the chamber.
Ali Lari: We will do things in an innovative and modern ways. This can be only achieved through young innovative entrepreneurs who are also not represented in the chamber.
AbdulRahman AlMoayed: The BCCI must adopt modern, innovative solutions that trickle down to businesses.  This includes using technology to improve
and modernize access to information through things like apps and updated websites where people can access information quickly.
With elections happening on March 10th, what are your plans for March 11th?
Hamed Fakhro: After this, I will be sleeping for 24hrs straight, wake up to hear the results, then get to work building the future!
Hassan Kaiksow: I will go to work as usual serving my clients, and will be wishing to hear that our whole AlGhad team has been elected.
Omar AlKhan: If I get the privilege to be one of the elected board, I would first of all make sure to have an understanding with every elected board member that I am in their team, we are all in one team.
Mohammed Mustafa AlKooheji: My body will be at work but my mind will be eagerly awaiting the results!
Ali Lari: To have my morning coffee and take a deep breath. Congratulations to whoever wins, but I have a strong feeling that we will. I will contribute to the agenda of the chamber through sharing business owner's pains and ambitions, which we have listened to throughout our campaign; in the end, we are here to represent them.
Hatim Dadhabai: Regardless of the result, I will definitely celebrate with our team and my family for going through the entire process!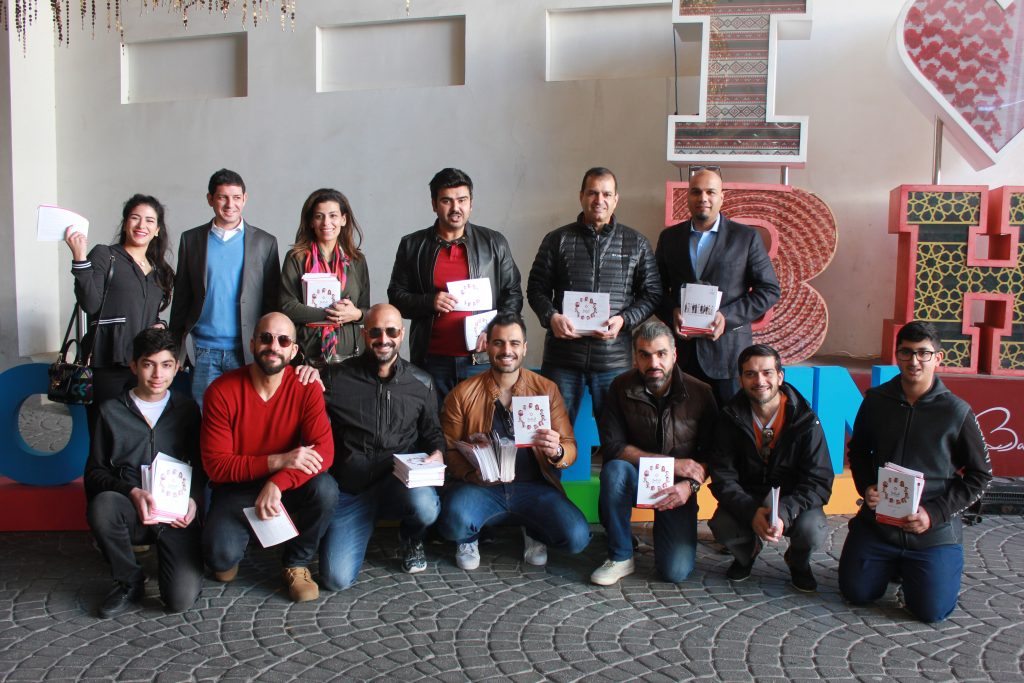 Written By Noora Mohammed AlMutawa