Located in a serene beachside location in the northern part of the kingdom, Raseel Asian Cuisine is an exquisite Indian restaurant that promises a one-of-a-kind culinary journey. With its perfect blend of authentic Indian flavours and a touch of Saudi Arabian hospitality, this hidden gem in Salman Town is owned by the talented Hanan Rasool, a proud Saudi national. As Bahrain celebrates India's 77th Independence Day, Bahrain This Week had the pleasure of sitting down with Hanan to explore her profound love and passion for Indian cuisine. "India is a nation that I am so passionate about, and I wish all Indians well as they celebrate their independence," Hanan told Bahrain This Week.
"As a child, I have fond memories of spending quality family time watching Indian movies on television. Those moments not only brought us closer but also ignited my love for Indian culture and cuisine. Fast forward to my career as a legal consultant, and I found myself constantly travelling, longing for a way to stay connected with my children and family. It was during this time that the idea of starting a restaurant dedicated to Indian cuisine struck me without hesitation. Its vibrant flavours, aromatic spices, and diverse dishes encapsulate the essence of my heritage and evoke a sense of nostalgia."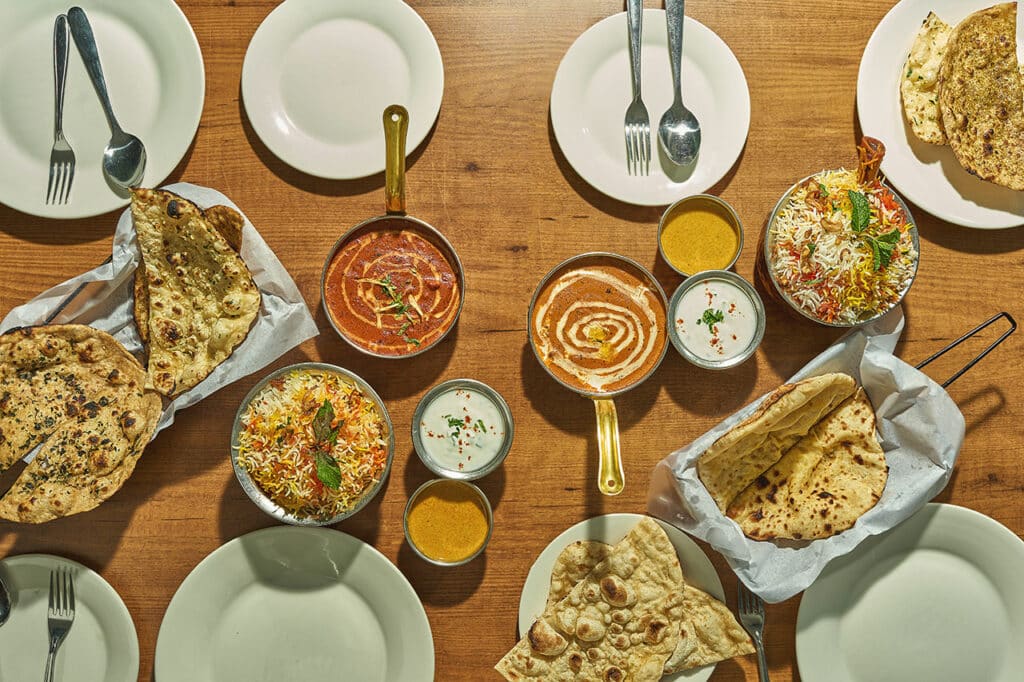 Raseel, established in 2016, stands out as the only Indian restaurant in the GCC located right on the beach. This charming and beautifully decorated eatery has become a favourite among both expatriates and locals, attracting customers from the neighbouring GCC countries as well. Families can often be seen patiently waiting for a seat in this cosy joint, eager to indulge in a variety of culinary delights. From a delightful matka chai and halwa poori breakfast to the chef's specialties, such as the mouthwatering Dhaal Gosht (a tantalizing combination of tender meat and lentils) and the succulent Rara Mutton (cooked in a flavourful gravy), Raseel offers an array of choices. Their fragrant Hyderabadi Biryani, prepared with tender meat and aromatic spices, or the traditional North Indian Amritsari Kulcha, a delectable bread stuffed with a choice of delicious fillings and classic butter chicken and cheese naan, are equally famous.
"Introducing the Halwa Puri Breakfast has been a tremendous success, gaining popularity and even catching the attention of bloggers from other GCC countries. They have hailed it as the epitome of an authentic and traditional Indian breakfast. I am overjoyed by this remarkable achievement."
Hanan travels to specific locations in India to identify unique platters, handpick her chefs, and source her spices and condiments. Be it Hyderabad for a biriyani recipe or Punjab for a traditional tip, the trip is soulful and satisfying for Hanan. Be it Holi or Onam, Hanan has a recipe ready from Delhi or Kuttanad to cater to her customers.
"I consider my chefs to be my biggest assets, and I specifically travel to India to personally select them; this helps me create a bond with them and their families," said Hanan. "They are part of my family, and this connection definitely adds to the value of Raseel's authenticity of traditional dishes."
Hanan acknowledged the challenge of introducing Indian cuisine to the Arab community due to different taste preferences. However, she claims a unique approach to breaking stereotypes and catering to diverse palates.
"Raseel is not just a restaurant; it is my personal interpretation of India and its rich flavors. I perceive Indian culture as vibrant and powerful, as reflected in both the teas and the dishes we serve. We offer a variety of South Indian and North Indian cuisines. It may seem odd, but I travel there to source the finest resources and spices. When I visit India, I take the opportunity to source my own spices directly from the farms and estates. I also spend time with the hardworking women who contribute to the production, creating a valuable and insightful experience. This firsthand involvement shapes the unique offerings I bring back to Raseel. Every trip to India introduces me to new dishes that seamlessly integrate into the preferences of our visiting families. I understand that my customers have taken the time to carefully choose our restaurant. Therefore, it is crucial for me to make them feel at home during their dining experience at Raseel, which holds a special place in my heart. At Raseel, we take pride in our artisanal approach to Indian cuisine."
She also touched upon the challenges that she faced as a woman while running a unique business, but was confident of embracing them and navigating through societal expectations with determination.
"It hasn't been easy, but our doors have remained open for seven years, thanks to the immense love and support from our patrons. I am humbled to witness the journey of our customers, from young couples who first visited us to now returning as parents with their families. My ultimate dream for Raseel is to create a place where people can forge lasting memories and indulge in authentic Indian cuisine, leaving with a strong association of Indian flavours with Raseel."
Hanan also shared about her plans to open a new outlet closer to the city while assuring her customers that Raseel will remain as an "escape to a beachside paradise" and a "tuckedaway gem that offers a peaceful retreat from the city's hustle and bustle".