Shaikh Nasser bin Hamad Al Khalifa Applauds Bahrain's Triumph at the 19th Asian Games in Hangzhou 2022″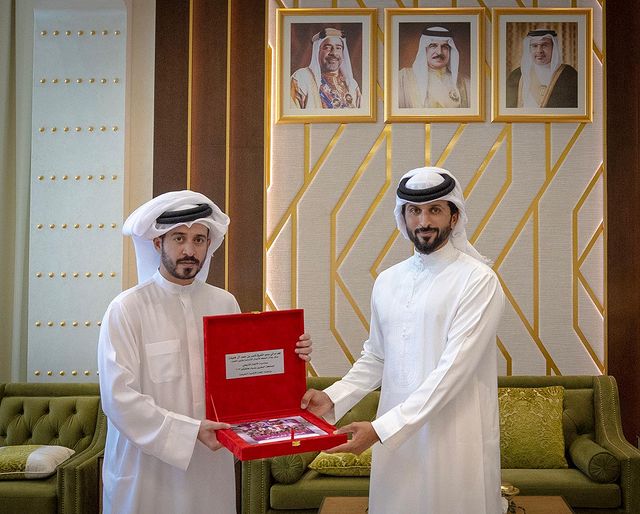 His Highness Shaikh Nasser bin Hamad Al Khalifa, HM the King's Representative for Humanitarian Work and Youth Affairs, lauded the exceptional performance of Bahraini athletes at the 19th Asian Games held in Hangzhou 2022.
During a meeting with the champions of the Hangzhou 2022 Asian Games and the administrative delegation of the Olympic Committee, he extolled their dedication in proudly representing the Kingdom of Bahrain.
Present at the gathering was His Highness Shaikh Khalid bin Hamad Al Khalifa, First Deputy Chairman of the Supreme Council for Youth and Sports (SCYS), General Sports Authority (GSA) Chairman, and Bahrain Olympic Committee (BOC) President.
Shaikh Nasser conveyed the warm congratulations of His Majesty King Hamad bin Isa Al Khalifa to the triumphant Bahraini heroes who secured an impressive tally of 20 medals, including 12 gold, 3 silver, and 5 bronze.
He also commended "Team Bahrain" for their remarkable performance in the Asian Games, securing the ninth position in Asia and claiming the top spot in the Arab world. This marked the highest number of gold medals since Bahrain's inaugural participation in 1974. Additionally, the team established seven new records for the Asian Games.
Shaikh Nasser praised the Bahraini national teams for their unwavering determination and perseverance throughout the tournament. He emphasized the burgeoning development of Bahraini sports and the genuine spirit of its players, particularly in athletics, weightlifting, wrestling, handball, and jiu-jitsu.
He extended his appreciation to the technical and administrative teams, acknowledging their indispensable role in this triumph.
Highlighting the golden era of Bahraini sports under the patronage of HM the King, Shaikh Nasser emphasized a collective pursuit of excellence in future endeavors.
With confidence in Bahrain's ability to excel at the 2024 Paris Olympics, he aspired to broaden the spectrum of achievements in the Games.
Shaikh Khalid expressed immense pride in Bahrain's historic feat at the Asian Games, the second-largest multi-sport event globally. He praised Shaikh Nasser for his steadfast support, considering him a source of inspiration for athletes and the youth of the nation.
The achievement was dedicated to His Majesty King Hamad bin Isa Al Khalifa and the government for their unwavering support of the sports movement.
Shaikh Khalid commended the administrative, media, and sports federations for their dedicated efforts in the Olympic movement, underscoring the collaborative efforts of all stakeholders before, during, and after the tournament. He conveyed his best wishes for the continued progress and prosperity of Bahraini sports.