"My Story with Football", which was written by Sharida, in which he reminisced about his years with football, domestically, and internationally, in addition to his years at the school team. It also reflects the history of Al Hilal, Muharraq and the Bahrain national football team, Rashid Sharida's contribution to Bahraini football as a player, coach and journalist.
Bahrain This Week team reached the Muharraq Club to have the honour to interview Rashid Al Shareeda, member of Bahrain Football team from 1967 – 1969, a coach and a sports journalist. We congratulated him on the launch of his book, "My story with football."
As we walked towards the hall, Mr Shareeda showed us the old pictures and cups won by Muharraq Club displayed in the gallery. It was a pictorial history of Muharraq Club and soccer in the Kingdom of Bahrain.
While seated in the elegant guest room of Muharraq Club, we asked Mr Shareeda about his early life and his journey.
As you know, Mr Shareeda said, football is is a game widely played in the Kingdom. I grew up playing in the streets of Manama/Muharraq alongside my brothers. My elder brothers would always talk about soccer. Different colours of Football jerseys  always fascinated me. I played in junior schools and different clubs. But I had a dream, a dream to play for the national team. I worked hard, I practised a lot. Those days were very hard, nothing much facilities, no favourable condition so it didn't happen overnight. I played at club level for many years before I was selected in 1967 for the national team. My dream had come true. What a great moment it was to wear red Jersey representing my beloved country. I represented Bahrain on a national and international level.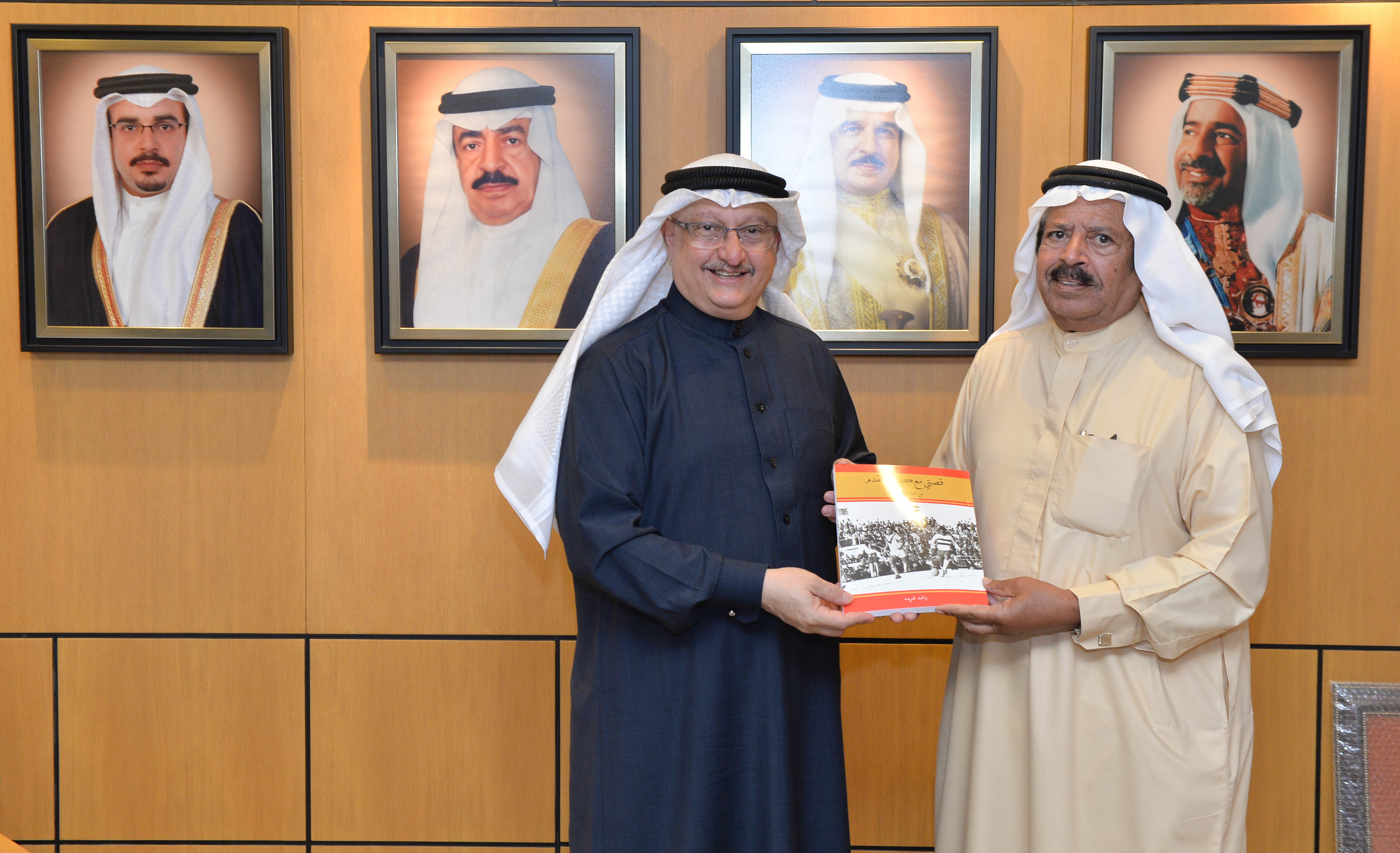 How long have you played in the National Team?
I played for three years but unfortunately, I had suffered a career-ending injury in one of the international matches. I had a very bad leg injury, the management sent me to London for the treatment. Doctors there told me if I could have come a bit earlier, the injury would not have worsened. But anyhow, I remained in London for a few months for the treatment. I never become fit to play again. I was heartbroken.
But the passion for football never stopped even after the retirement. I wanted to do all that I could do for football. So I started coaching the young children. I wanted to transfer all my skills to the next generation.
So when did you join Muharraq Club and what contributions you have for it?
Well, I joined Muharraq Club in 1965 and since then I am part of it in any of my capacity. Muharraq Club is one of the biggest of the biggest club and it has a large number of spectators. Many players from this club become part of national team. It provides a good environment and favourable conditions to the youth who are the future of tomorrow.   
So, how do you come into sports journalism?
Well, after the accident, I started coaching and ended up being a sports journalist. Some newspapers and magazines from Kuwait approached me and pushed me towards this field. They wanted me to write for their magazine and do the reporting, to share my experience through print media. I covered many national and international sports events.
Having been an active participant in football development in Bahrain, how you see soccer grow in Bahrain?
I am very optimistic person and can assure you that Bahrain soccer is in
the good hands. Under the patronage
of HM King Hamad bin Isa Al Khalifa
and HRH Shaikh Nasser bin Hamad Al Khalifa, Bahrain football team is all set
on the path to success. HRH Shaikh Nasser, himself a sportsman, takes
keen interest and provides all kinds
of support and assistance to the
Bahrain Soccer. Therefore, I have full confidence in the recent team. They are very talented and skilful and they are putting all efforts to do good in their coming games.
Any message you want to convey to the young players of Bahrain?
In life, nothing comes without a price. Indeed there is tremendous talent in Bahrain but talent all alone is not enough. To become professional footballer you need dedication, sacrifices and hard
work, Football is a team game and to
me, coordination and connection on and off the field amongst players is the key to any victory.