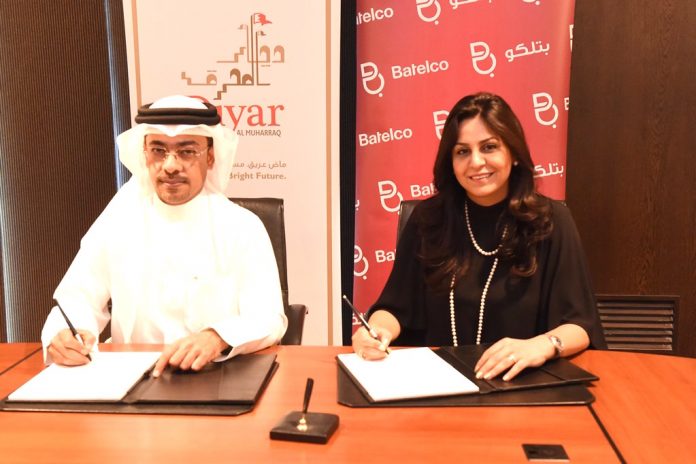 Batelco, Bahrain's leading digital services provider has signed a partnership agreement with Diyar Al Muharraq, one of the leading urban developments in the Kingdom of Bahrain.
The agreement was signed by Batelco Bahrain Chief Executive Officer Eng. Muna Al Hashemi and Diyar Al Muharraq Chief Executive Officer Dr. Maher Al Shaer, at Batelco's headquarters in Hamala on 24 November in the presence of officials from both leading organisations.
Under the agreement, Batelco will provide the mixed-use development with cutting-edge ICT solutions along with the necessary infrastructure to provide the most advanced fixed voice, broadband and mobile services. Fixed Services shall be delivered to commercial and residential customers located at Diyar Al Muharraq through Batelco's state of the art fibre optic network & mobile networks that arebased on the most advanced technologies, promising a quality-driven approach and optimal coverage for all mobile and fixed customers across the project.
Eng. Al Hashemi said that the partnership is in line with our strategic mission to support the growth of various sectors in the Kingdom of Bahrain by providing unmatched communications services.
"We have been investing continuously over recent years to expand our Fibre & mobile networks into new developments throughout the Kingdom. We are very pleased with the progress made so far."
"Bahrain boasts a robust economy and a booming real estate sector. We are looking forward to building on this new partnership which will witness the deployment of the most advanced network across Diyar Al Muharraq," added Eng. Al Hashemi.
Commenting on the signing, Dr. Al Shaer said that the agreement supports Diyar's continuous efforts to provide an unsurpassed infrastructure for the project which in return will elevate the offerings of Diyar Al Muharraq to its investors, tenants and residents.
"Providing the project with the most efficient and advanced services portrays our commitment to excellence. It is essential to equip our project with the latest ICT solutions, based on international standards, in order to further drive the growth of Diyar Al Muharraq," he added.
Batelco's network will provide integrated ICT services allowing Diyar Al Muharraq to benefit from world-class services and facilitating all-in-one communications featuring unified communications and an unparalleled class connectivity.
Diyar Al Muharraq is a unique master planned city for the people of Bahrain offering a range of housing options and quality lifestyle. The development offers a cohesive mix of residential and commercial properties with a strong lineup of projects aimed at creating a long term and sophisticated township.
Batelco's ability to deliver relevant communications solutions for the largest and most critical requirements has gained the company a local, regional and global reputation, which makes it the first choice for major development projects in the Kingdom of Bahrain.
Over many years, Batelco has played a pivotal role in the country's development as a major communications hub and today is the leading digital communications' provider, continuing to lead and shape the local consumer market and the enterprise ICT market.