The 5th Sports Stadiums Security Forum reviewed the importance of common collaboration between the various security & sports entities to maintain fans' safety & happiness, ensure their smooth entry & exit from stadiums and motivate them to support their favorite teams in a positive manner.
The Forum was organized by Dubai Police & Dubai Sports Council (DSC), under title "Stadiums Security is a Common Responsibility".
The Stadiums Security Forum was held in the presence of representatives from the Ministry of Interior, Police leaders from Abu Dhabi, Dubai & the other Emirates, besides representatives from the UAE Football Association, UAE Pro League & professional clubs in the State, media's representatives who were keen to attend the Forum & send positive messages to sports fans.
The Forum was inaugurated by H.E. Saeed Hareb, the Secretary General of DSC, who confirmed that all parties are responsible to ensure our sports fans' happiness & safety and to provide them with adequate atmosphere to support their favorite teams in a positive way.
H.E. Saeed Hareb stated: "The Forum's Title (i.e. Stadium Security is a Common Responsibility) represents a convenient solution to enable our stadiums appear in their best & most beautiful forms, in terms of fans' happiness & safety besides their smooth entry/exit from stadiums. Since we all work for the sake of our homeland & societies, and since sport is one of the most eminent factors to attain happiness, co-existence, tolerance & love, we need to continue our common work & to unify efforts in order to boost our stadiums' capabilities in such way that conforms to the hard diligence, exerted by clubs & football companies to attract the best players and present the best technical performance".
He added: "You are all invited to share your opinion and to review the best practices aiming to reach the best model for our stadiums, since the success of work is related to proper communication among all parties and presentation of the best solutions which meet our current situation and the nature of fans & quality of life in our homeland".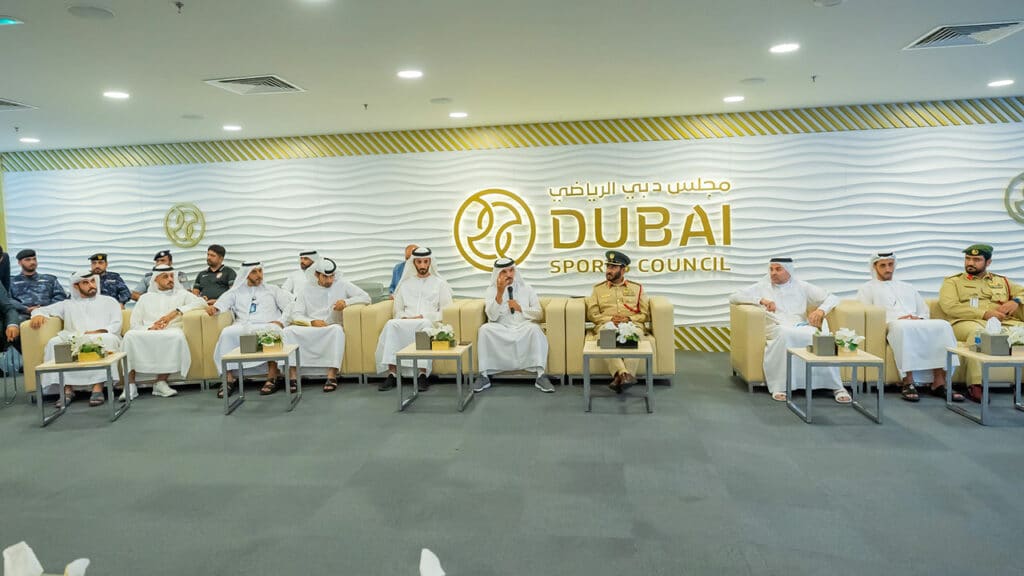 H.E. Major General Abdulla Al-Ghaithi, the Assistant Commander-in-Chief of Dubai Police for Operations Affairs & Chairman of Events Security Committee in Dubai Police, remarked: "Our common aim in UAE is to spread happiness among all public & fans. This goal can be attained when all respective parties are adhered to the sports spirit. Our wise leadership has taught us to respect all parties & to be fair with them. Therefore, today we focus on the eminent role of the stadiums security officer, who is assigned to attain security & safety in the facility and to maintain the safety of fans of both teams in the stadium. He deals with all difficulties in the stadium & work to solve problems among fans. All parties should respect each other and should not distort the image of the rivaling team regardless to the matches' results. The facility security officer should be aware of all respective matters. Our role is to collaborate & support this officer and help him to present his tasks perfectly, so that sports championships can meet all respective goals".
He added: "We have noticed intensive fans presence during the last sports season. It is a positive matter, which should be supported to ensure its continuity during the upcoming seasons. We also need to create positive & friendly relations among the various fans, who should follow matches with positive spirit & full happiness".
Several working papers were presented by Dubai Police, Security Industry Regulatory Agency (SIRA), UAE Football Association & UAE Pro League on the various sides of work to meet the fruitful goals of this Forum. In this regard, the Lieutenant Colonel Abdulla Tarish from Dubai Police talked on the facilities security officers' responsibility to secure sports stadiums. Mr. Mosaab Sultan Al-Marzouqi, Director of Corporate Support Dept. & Acting Manager of Competitions Management & Operations in the UAE Pro League, spoke about the Security & Safety Brochure, while the First Lieutenant Mohammed Al-Mazmi from SIRA talked on licenses of stadiums security companies. Mr. Ahmed Yaaghoub, the Technical Officer of the Lecturers & Inspectors of Referees in the UAE Football Association, referred to referees' role to control matches.
The Forum opened the door of discussion for attendees who represent clubs of the State, facilities' security officers, licenses officers, matches coordinators and fans & media associations, to unify visions and enable everybody to take part in attaining the Forum's goals.
The Forum aimed to increase the level of fans' awareness and encourage them to avert negative behaviors & to support their favorite teams in a positive manner. The Forum also endeavored to make all respective sports entities aware of positive behavior during matches and adhering to rules & regulations which ensure all staff and athletes' health & safety, aiming to make stadiums as a convenient destination for families to support favorite teams in full sports spirit & without negative deeds.
Dubai Police & DSC are keen to organize fruitful forums & workshops consistently in collaboration with various national entities, and to attract international experts, who have attained successes in this field, to develop the sports entities sector and support ways of adopting proper decisions through appropriate solutions & approval of administrative regulations, based on information & precise analysis of the same.