Information & eGovernment Authority (iGA) Chief Executive Mohamed Ali AlQaed has unveiled the authority's success in achieving 91% of the National eGovernment Strategy 2017 objectives.
iGA accomplished the majority of its Key performance indicators by 90%; the most important include reaching a total of more than a million transactions made across all channels, and increasing in value of transactions by 61%; highlighting the development process and continuous update to ensure ease-of-use and speed of delivery.
This was announced during a press conference held on Wednesday (24th January, 2017), with the attendance of iGA Acting Vice CE of eTransformation Dr. Zakareya Ahmed AlKhaja, along with a number of directors to announce the latest updates on the eGovernment program and upcoming work plan.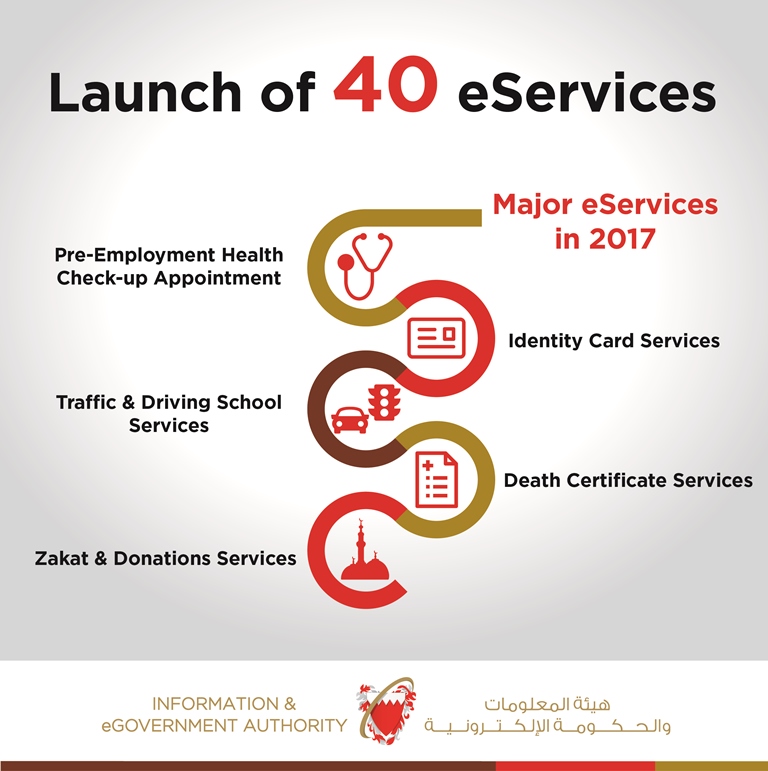 AlQaed began his speech by thanking the members of the Supreme Committee for Information & Communication Technology (SCICT) chaired by His Highness Shaikh Mohammed bin Mubarak AlKhalifa, Deputy Prime Minister, for their continuous support and follow-up of the eGovernment Program as well as their wise directives, he also praised the media as partners in achieving this success.
AlQaed thanked Interior Minister Lt-General Shaikh Rashid bin Abdullah Al Khalifa for his continuous support and directives.
The Chief Executive stressed that the Authority will continue its role in achieving sustainability in the quality of government services provided to the public by various means in line with aspirations of the wise leadership and Government Action Plan and Takamul project conducted with CSB. In regards to the upcoming plans, the authority is currently working on the 'Service Fact Book' as well Electricity & Water services project, national notifications project along with business related mobile app together with other significant services and projects which add value to the provided government services.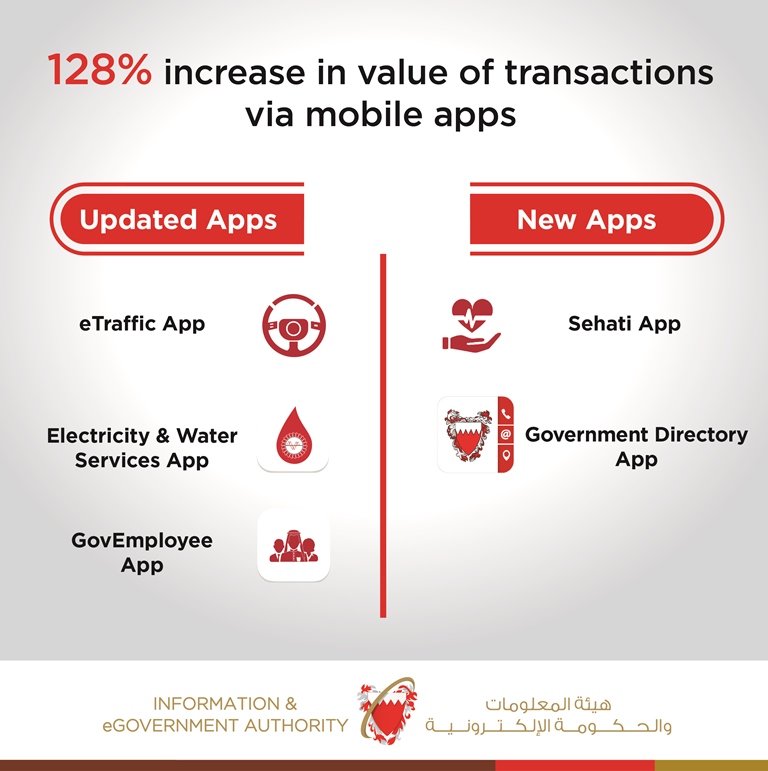 During the press conference, AlKhaja gave a detailed presentation of the key eGovernment strategy achievements during 2017 out-of-which he explained that the Authority worked on six strategic objectives under which 11 indicators are included annually. Furthermore, he indicated that most indicators have been fully achieved and reach beyond the target, where some partially. Services have also been made available to users through smart device applications that contributed to increase in demand and proved its effectiveness in the ease-of-use.
Some of the key achievements of 2017 include the number of registered eKey users to 75,000 users. The total number of financial transactions completed through the echannels has also risen by 42% to exceed the annual targeted rate by 20%. Moreover, four comprehensive government systems that develop the decision-making mechanism have been launched including the Pre-employment Medical Check-up for Expatriate Employees, National Payment Aggregator, Majalis and Government Committees system, Managing Affairs of Senior Centers system of the Ministry of Labour and Social Development.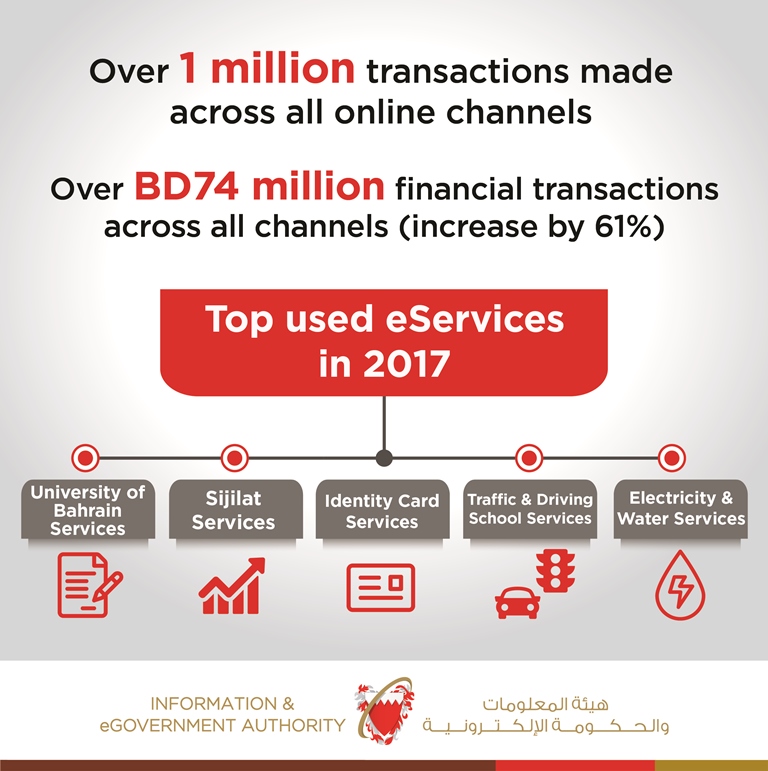 Additionally, 95% of government entities interacted with customers on weekly basis via social media networks (target was 50%); creating three partnerships in the eGovernment field; as well as training 291 government employees in training programs specialized in the eGovernment sector.
The collected amounts have exceeded BD74 millions across all channels, where most services were utilized in transactions and payments during 2017 in services of Electricity & Water, General Directorate of Traffic, Sijilat, University of Bahrain and Identity Card services. The Vice CE further stated that visits to the national portal services, during 2017, have largely increased in comparison to the previous year as the rate of visits accumulated to 57%, reaching to more than 9 million visits during 2017 versus 6 million the year before. This reflects the technical and interactive design readiness of the portal to enable users to benefit from its services via various channels.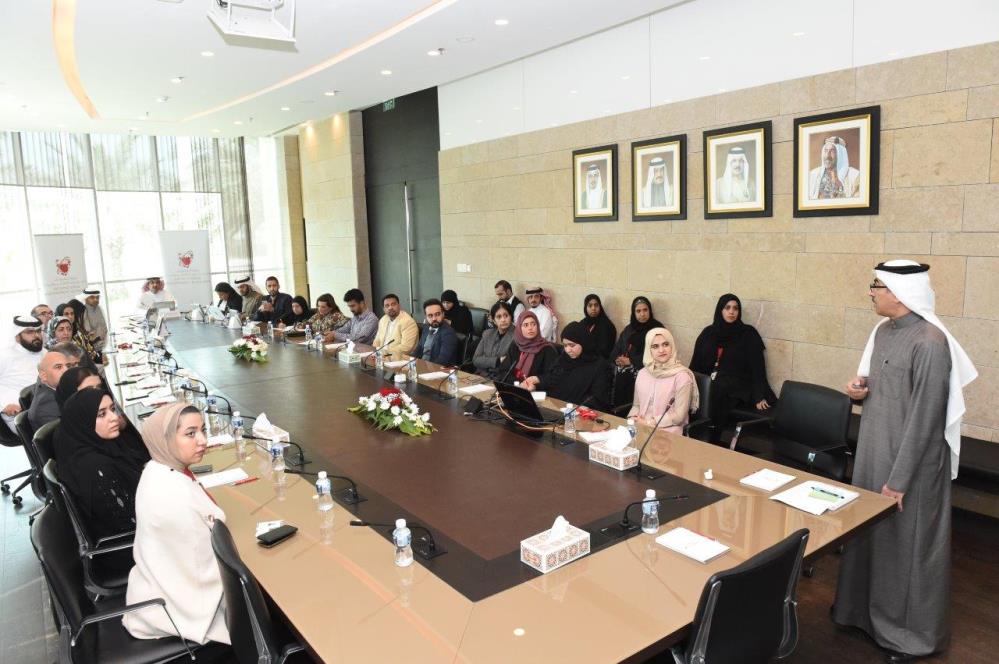 Over 40 eServices were launched in collaboration with various public entities, including services like the Pre-Employment Medical Check-up for Expatriate Employees, Identity Card, Traffic and Driving Schools, Demise Certificate together with Zakat and Donation services.
Smart device applications have also witnessed an increase in the number of accomplished transactions and collected amounts to more than double during 2017 in comparison to 2017. Also, the top five apps were downloaded during 2017 are eTraffic, Student Exams Results, Electricity and Water, GovEmployee and Bahrain Post.