Bahrain is taking significant strides towards a greener future with the implementation of its National Energy Transition Plan. The ambitious plan sets a target to increase the share of renewable energy resources in the kingdom's total electricity generation to five per cent by 2025, with further advancements planned to reach 20pc by 2035.
This was announced by Electricity and Water Authority (EWA) president Kamal bin Ahmed, who explained that the kingdom's commitment to renewable energy will not only contribute to a more sustainable and environmentally friendly energy sector but also position Bahrain as a leader in the global energy transition movement.
Mr Ahmed highlighted the steps taken by EWA in accordance with ministerial resolution 2/2017. These measures include streamlining the application process for connecting renewable energy resources to the distribution network and implementing procedures to facilitate the integration of these resources into EWA's electricity network. These actions were further supported by the issuance of resolution 1/2019, which amended article eight of resolution 2/2017.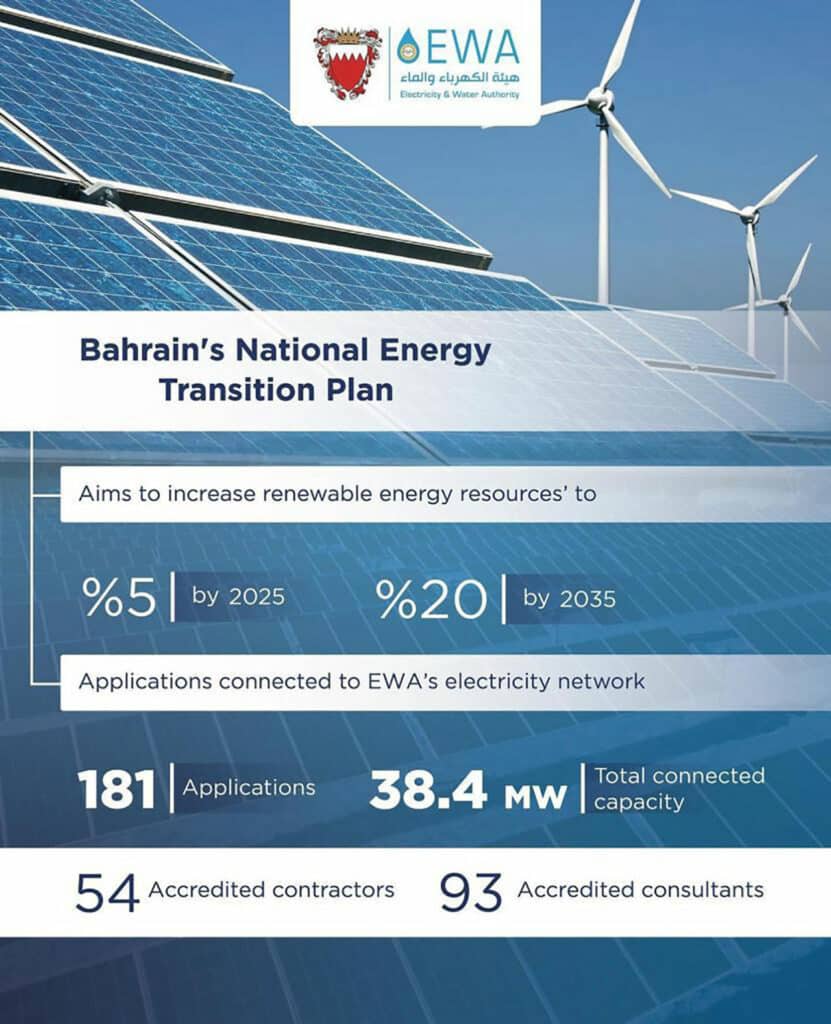 EWA has implemented a set of eligibility criteria for the enrollment of consultants and contractors in the field of distributed renewable energy resources. Currently, there are 54 accredited contractors and 93 consultants who have met these criteria and are authorised to distribute renewable energy resources in the kingdom.
Mr Ahmed confirmed that EWA has implemented rigorous technical standards to ensure the highest quality of equipment and components used in renewable energy systems. These standards are continuously updated to align with the relevant technical specifications outlined in the government's "Unified Guidebook of Building Permit Regulations". EWA has collaborated with thenInformation and e-Government Authority (iGA) to streamline the process of renewable energy applications. Through the unified portal "Benayat," an online system for building permit issuance in the kingdom, all stages of the application process have been digitised. This partnership guarantees a simplified and expedited process for applicants, ultimately ensuring efficiency and speed.
Mr Ahmed provided insightful statistics on the notable growth of renewable resources in the kingdom. To date, there have been a total of 303 applications submitted for the installation of renewable energy across residential, commercial, and industrial sectors. Out of these applications, an impressive 181 have been successfully commissioned and connected to EWA's electricity distribution network, resulting in a total connected capacity exceeding 38 MW. Looking ahead, there are further exciting developments anticipated, with over 150 MW expected to be installed by 2026.
EWA is committed to diversifying Bahrain's energy resources as part of its efforts to implement the kingdom's National Energy Transition Plan. Bahrain is fully dedicated to its transition towards sustainable energy and its commitments at COP26.
Through investments in renewable energy resources, EWA aims to significantly reduce carbon emissions and achieve net-zero emissions by 2060.