Saudi Arabia entered the Guinness World Records — breaking the record with the largest number of participants in the world by recording 2,950 participants — at the Hajj Hackathon, that was held by the Saudi Federation for Cybersecurity, Programming and Drones.
On behalf of organizers and participants in the Hackathon, Advisor at the Royal Court and Chairman of the Board of Directors of the Saudi Federation for Cybersecurity, Programming and Drones Saud Bin Abdullah Al-Qahtani extended his thanks and appreciation to Custodian of the Two Holy Mosques King Salman and Crown Prince Muhammad Bin Salman, deputy premier and minister of defense, for the great support for Saudi youth in all fields, which was the main reason for this achievement.
He said, "The Kingdom's entry into the World Records through the Hajj Hackathon confirms the aspirations of the Saudi youth for their country to be the gateway to technology in the region, pointing out that this is in line with the Kingdom's Vision 2030, as an ambitious vision that takes the Kingdom to a quantum leap in all aspects of life."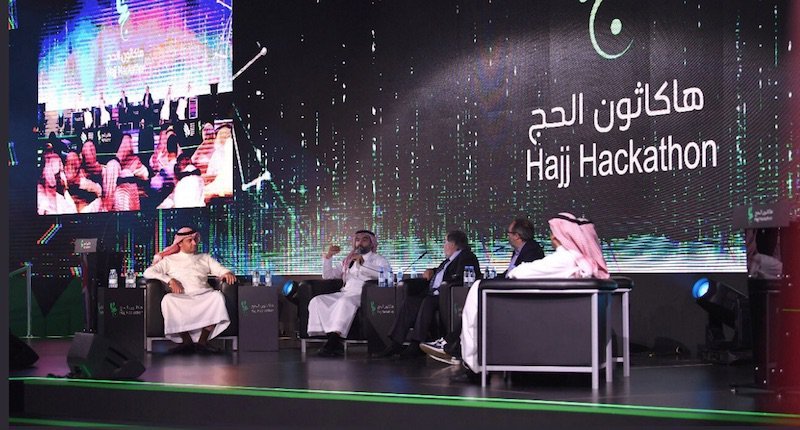 The entry of Hajj Hackathon in the Guinness World Records was announced at 7:00 a.m. on Wednesday, whereas Al-Qahtani received the Guinness Records Certificate from the Guinness World Records' Arbitrator Ahmed Jabr. Jabr officially announced that the Hackathon registered 2,950 participants as the highest number of participations in the world, breaking the previous record of 2,577 participants registered by India in 2012.
The Kingdom's entry into the Guinness World Records is a great success for the first session of the "Hajj Hackathon", which attracted male and female developers from different countries, including the Kingdom, GCC countries and the world. Google supported the event and held several training workshops for the participants.
The Saudi Federation for Cybersecurity, Programming and Drones had allocated rewards and funds for participants' projects amounting to SR2 million, in order to transform participants' ideas into projects. The reward will be divided into three parts, with first prize winner receiving SR1 million, the second SR500,000, and the third SR 350,000. Another prize of SR150,000 will be a reward for excellence.
The competition in the Hajj Hackathon included the sectors covering the Haj season, its services and challenges, including food and beverages, public health, financial solutions, transportation, crowd management, traffic control, travel and accommodation arrangements, waste management, housing and communication solutions.