INJAZ Bahrain successfully concluded its 10th annual Young Entrepreneurship Competition and annual appreciation ceremony at the Diplomat Radisson Blu Hotel. The event witnessed student entrepreneurs from around the Kingdom compete to obtain the coveted "University Company of the Year" and "High School Company of the Year" titles in addition to several other awards. Over 200 schools and universities participated in this year's 10th edition.
"Contrive" team from Shaikha Hessa Girls School won the "High School Company of the Year", and "Taawin" team from the Royal University for Women won "University Company of the Year".
"Masque" team from Ibn Khuldoon National School won the High School Product of the Year 2018,
"Ejar" team from Ahlia University won the University Product of the Year 2018,
"Kharda" team from Abdulrahman Kanoo International School won High School Company for Best Social Impact 2018 and "Grow and Glow" team from University of Bahrain won University Company for Best Social Impact 2018.
"Masque" team from Ibn Khuldoon National School also won the newly introduced EDB Marketing Excellence Award 2018. The first-time award recognizes the best marketing plan by a student company by the Economic Development Board.
The winning teams received the trophies from Her Highness Shaikha Hessa Bint Khalifa Al Khalifa, Executive Director of INJAZ Bahrain, Dr. Abdulrahman Jawahery, Chairman of INJAZ Bahrain and Dr. Ebrahim Janahi, Chief Executive of Tamkeen.
Commenting on the successful conclusion of the event, Her Highness Shaikha Hessa Bint Khalifa Al Khalifa, the Executive Director of INJAZ Bahrain said: "INJAZ Bahrain is grateful for the tireless support of its partners and volunteers in ensuring another successful year to the Young Entrepreneurs program in its 10th edition. Their participation throughout the year is key to the success of our programs. Their presence at the event enables us to have a panel of professional judges who provide students with real world advise which will equip them to become the leaders of tomorrow."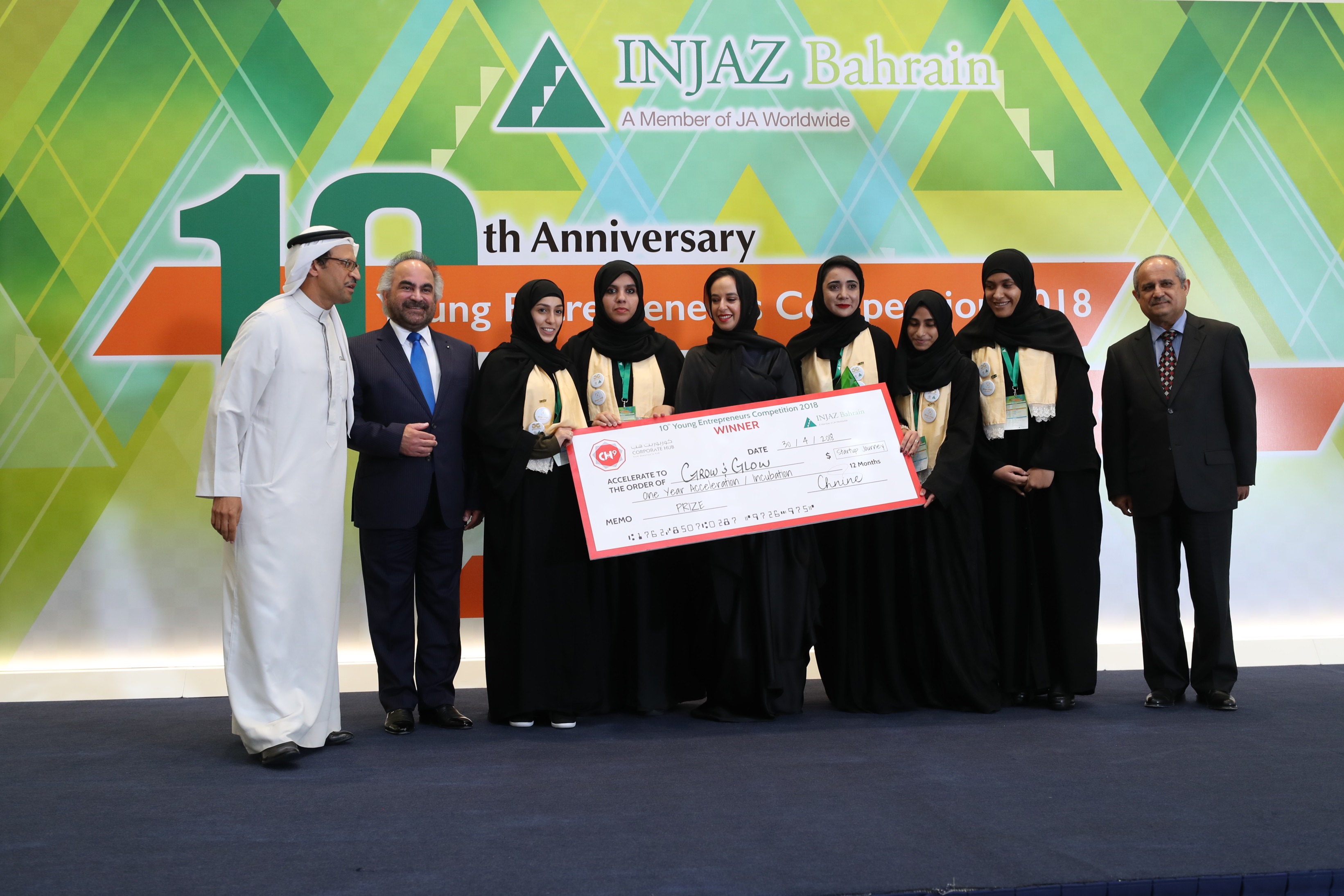 Chairman of INJAZ Bahrain, Dr. Abdulrahman Jawahery praised the competition saying: "The continued success of the Young Entrepreneurs program is attributed to the dedication of our talented students, the support of our esteemed board members and volunteers, and finally to the exceptional leadership of Her Highness Shaikha Hessa Bint Khalifa Al Khalifa. The Young Entrepreneurs program not only provides students with educational understanding, knowledge transfer and experience but also unleashes their creativity and innovation to become tomorrow's game changers."
Bashar Al Kadhi, Chief Executive Officer of H+K Strategies MENA and regional INJAZ board member, commented: "As a longtime PR partner of both INJAZ Bahrain and INJAZ Al-Arab, H+K Strategies is committed to support and proud to have witnessed firsthand the impact the organization has had on youth across the Arab world. In delivering specialized skills training, capacity building and business acumen to students during this crucial time in their development, INJAZ takes on the important responsibility of helping shape the future leaders of the Arab world."
The finalists showcased their enterprise and business acumen before a panel of independent judges who evaluated each company's performance against the competition criteria. The winning team from both Categories (High School and University) will represent INJAZ Bahrain and the Kingdom at the regional INJAZ Al Arab Young Entrepreneurs Competition 2018.     petition. of this year'ing of " throughout 2012/2013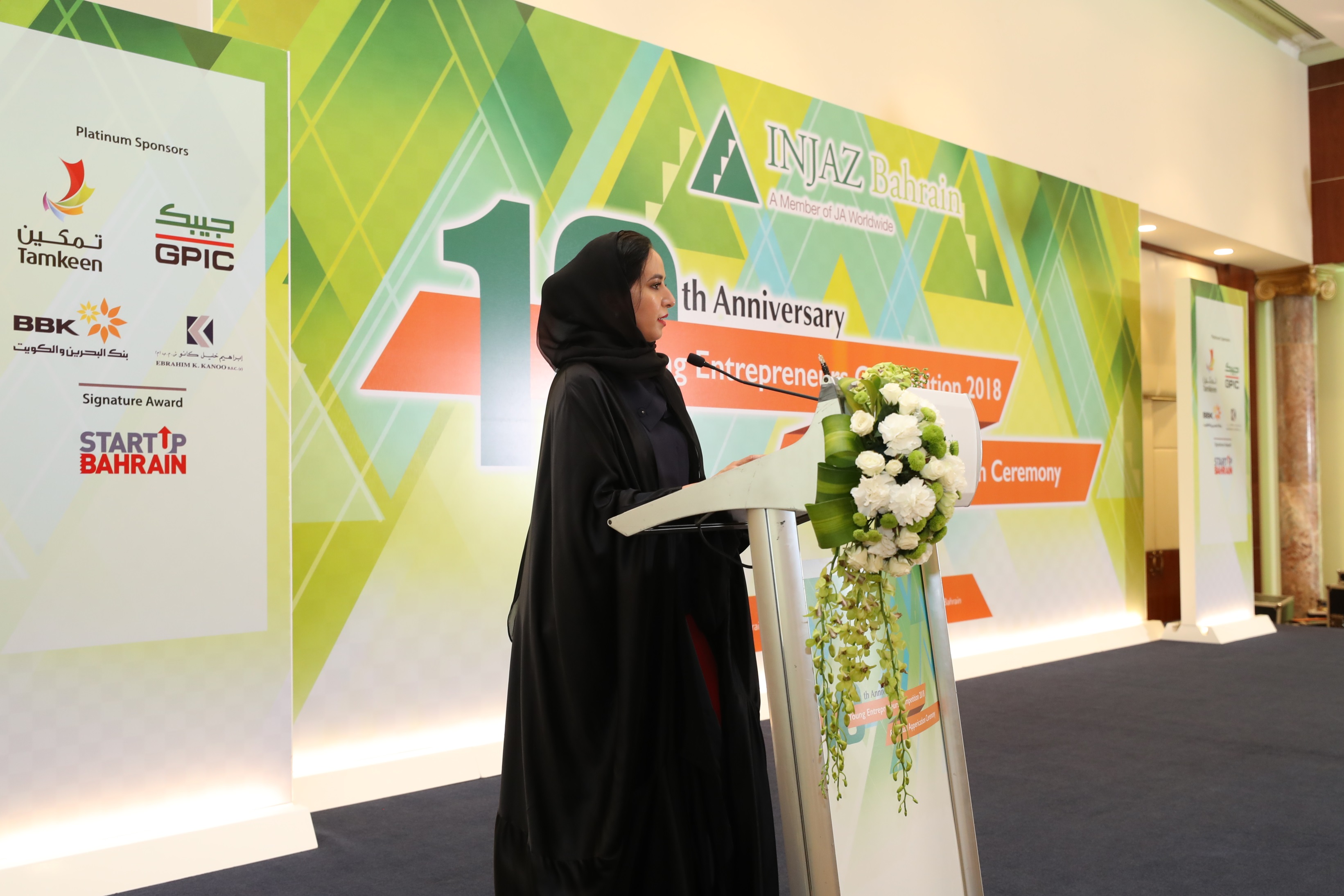 This year 21 teams from 15 secondary schools and 6 from Universities participated in the competition. These participants are as follows: Isa Town Secondary Boys School, Al Iman Private Schools- Boys, Sheikh AbdulAziz Secondary Boys School, Ibn Khuldoon National School, Omaima Bint Al Noaman Secondary Girls School, AbdulRahman Kanoo International School, Arabian Pearl Gulf School, Al Hidd Secondary Girls School, Al Isteqlal Secondary Girls School, Jidhafs Secondary Girls School, Al Aahad Al Zaher Secondary Girls School, Al Wafa Secondary Girls School, Sheikh Khalifa Bin Salman Institute of Technology, Shaikha Hessa Girls School, Hamad Town Secondary Boys School. From Universities participants are: 6 teams from University of Bahrain, Ahlia University and Royal University for Women.
This year, INJAZ Bahrain collaborated with CH9, a local incubator, to offer the categorical winners further career enrichment opportunities. Competition winners in the university category will receive a 12-month accelerator and inception opportunity, while high school category winners will receive a 12-month membership at CH9 allowing them to pursue their entrepreneurship journey towards future success.
Additionally, the event featured an appreciation ceremony by INJAZ Bahrain to all its partners in gratitude for their collaboration. The ceremony was followed by an appreciation lunch held in recognition of all supporters and volunteers who participated throughout the 2017/2018 academic year. Attendees included INJAZ Bahrain's volunteers who supported in delivering its 15 programs over the school year, as well as honored board members, coordinators, and representatives for the Ministry of Education and Ministry of Labor.
Awards for exceptional volunteers and board companies were also distributed after the event. The honorees who dedicated their time included: 10 platinum category volunteers who volunteered for over 100 hours throughout their years of service and 28 gold category volunteers who logged more than 24 hours this academic year and 8 silver category volunteers who were awarded for their contributing efforts. Batelco, Banagas, GPIC and Bapco were recognized with a Volunteer Service award for their staff who dedicated the most volunteer hours.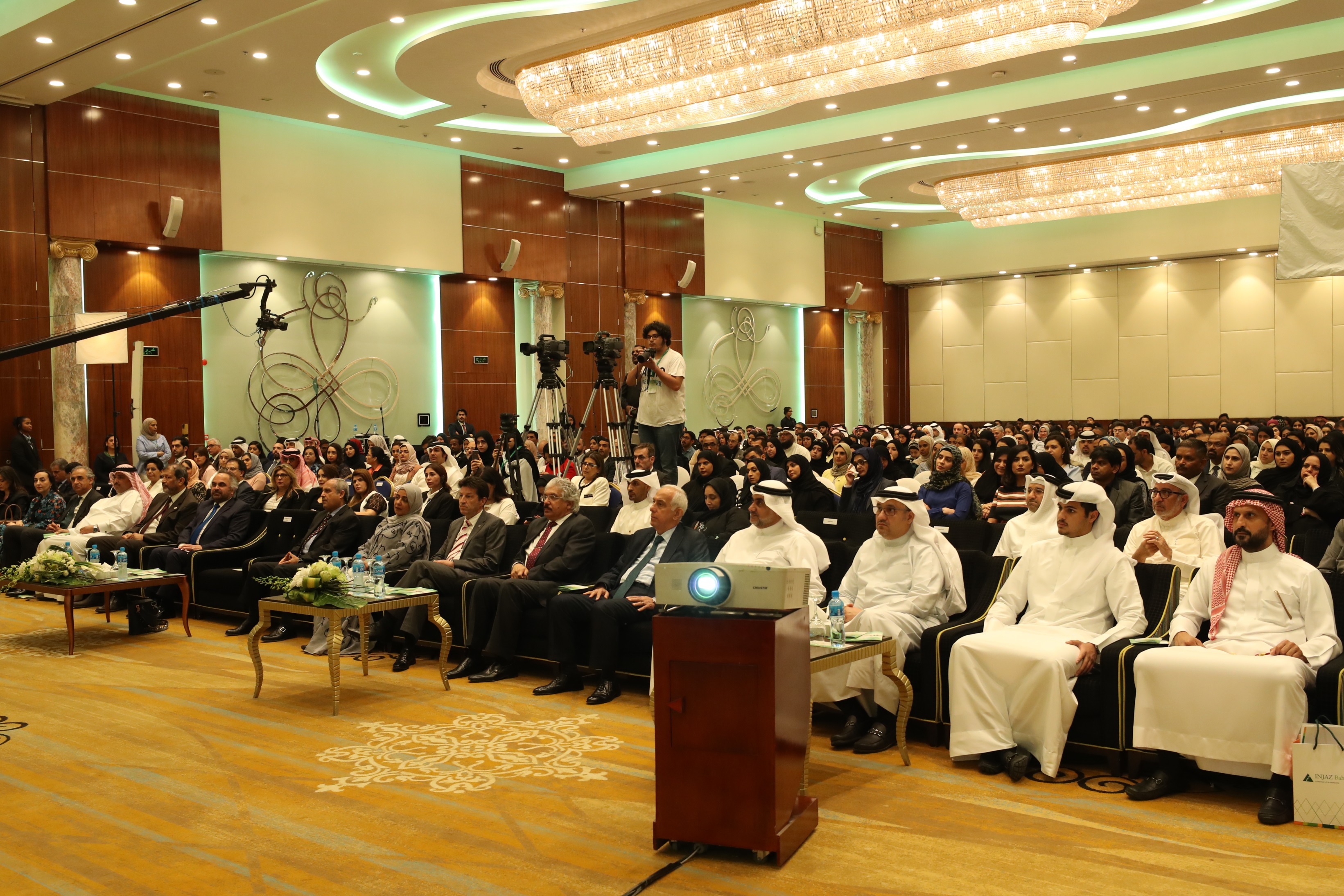 The yearlong supporters who also received special recognition include: Tamkeen, Al Salam Bank, Banagas, GPIC, H+K Strategies, Boeing, BBK, E.K. Kanoo, Alba, Seef Properties, EDB, National Bank of Bahrain, KPMG Fakhro, ABC Bank and The Ritz Carlton Bahrain.
The 10th edition of the competition was sponsored by platinum sponsors Tamkeen, GPIC, E.K. Kanoo and BBK.
INJAZ Bahrain has impacted over 30,000 students in the 2017/2018 academic year in over 200 schools and five universities, with the support of more than 1,200 volunteers who have dedicated their time to youth mentorship. Over 100,000 students have benefitted from their participation with INJAZ Bahrain since it began operations over 10 years ago.