Likee, one of the region's most popular short video platforms, is proud to announce its second partnership with Tkiyet Um Ali (TUA) for the upcoming Eid 2023 celebrations. Tkiyet Um Ali (TUA), an NGO based in the Jordan with a mission to eradicate hunger in Jordan, raise awareness of food scarcity, and provide nutritious food to families living in extreme poverty, will be collaborating with Likee, to launch the "Share a Meal This Eid" campaign. In line with the campaign, Likee will also be initiating a new event page on April 21st, 2023.
For the campaign, Likee users and creators will be encouraged to post videos and share their blessings during the occasion. For every user who participates in the campaign, Likee will donate a certain amount of money to Tkiyet Um Ali on their behalf. Tkiyet Um Ali will then use the money to provide daily hot meals to families in need. To participate in the campaign, users need to post a video of themselves sharing a meal or a message of kindness with their friends and family and use one of the campaign hashtags: #ShareaMealThisEid or #HappyEid. Once they have completed the task, users can return to the event page and pick up an Eid package from Likee along with an electronic donation certificate from Likee x TUA.
In addition, Likee will be introducing a fun and engaging filter to amplify the essence of giving back to the community. The filter will enable users to add exciting visual effects to their videos, enhancing the overall experience and spreading joy and happiness during the holy occasion. With the interactive feature, users will be able to explore their creative side, produce unique videos and participate more actively in the campaign and raise awareness about the cause.
"As a platform that empowers people to create and share meaningful content, Likee is thrilled to partner with Tkiyet Um Ali for the second year in a row to support families in need during Eid 2023." Commented a spokesperson from Likee. "We believe that our platform has the power to inspire positive change in the world, and through this partnership, we hope to encourage our users to use their creativity to spread kindness and generosity. By donating to Tkiyet Um Ali on behalf of our users, we aim to make a tangible impact on the lives of those in need, and we look forward to continuing to improve charity initiatives and give back to our communities through the power of social media."
Eid is an auspicious occasion that invokes feelings of love, harmony, and kindness, not only among our near and dear ones but across the world. The partnership between Likee and Tkiyet Um Ali aims to spread positivity and promote the spirit of giving during Eid. Likee is committed to using its platform to help those in need, and the partnership with Tkiyet Um Ali is another step towards spreading positivity, supporting a noble cause, and driving meaningful change in society.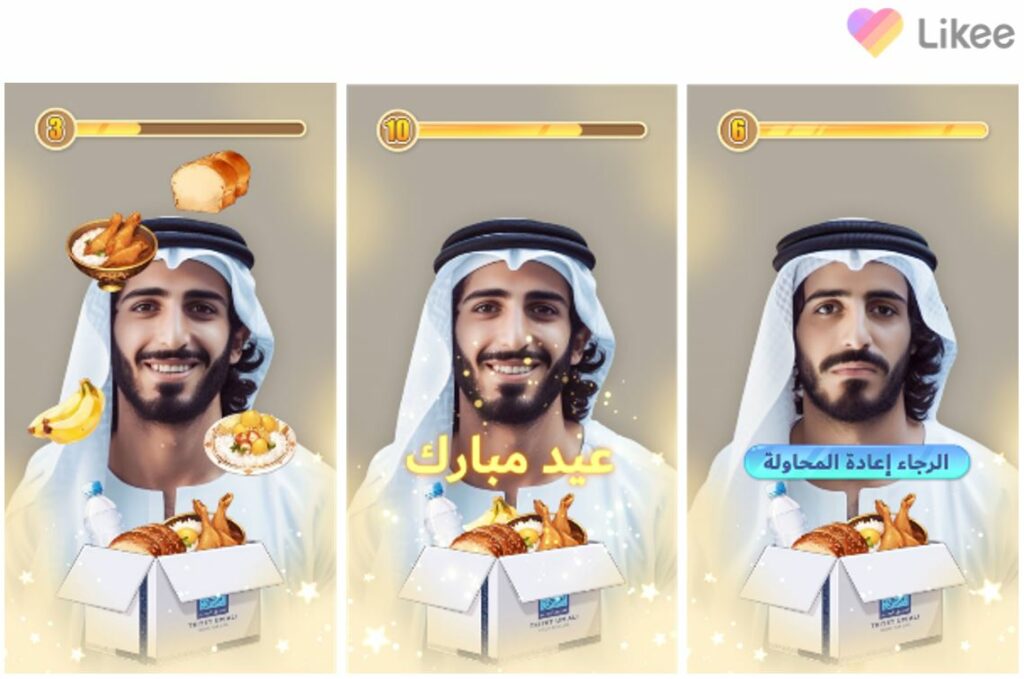 Commenting on the partnership, Samer Balkar, Director General of Tkiyet Um Ali, said, "We are happy for the continued partnership with Likee and their ongoing support for our cause. Tkiyet Um Ali aims to provide sustainable food aid support to the most vulnerable and underprivileged people in the Jordan, and we are sure that the collaboration with Likee will help us to achieve our goals more effectively."
Likee and Tkiyet Um Ali, are determined to make a difference in the world through their partnership by promoting the spirit of giving and spreading positivity. They encourage Likee users and creators to participate in the 'Share A Meal This Eid' initiative this year. The act of charity is highly valued across the Arab world, and this collaboration makes it possible to participate in different forms of charity simultaneously. Whether it is through bringing smiles to loved ones or providing essential aid, let us come together and make a difference in the lives of those who need it most.