All the world loves a hearty pasta and the ingredients for a gourmet Italian meal are available right here in Bahrain at Lulu Group's six Hypermarkets. In celebration of the World Week of Italian Cuisine, the region's largest retailer shall showcase the best of Italian products at "The Extraordinary Italian Taste", a week-long gastronomic festival of Italian cheeses, finest olive oil, pasta and desserts. The festival shall be inaugurated by Italian Ambassador to Bahrain, H.E. Mr. H.E. Ambassador Domenico Bellato with the presence of Michelin star Chef Giuseppe Biuso from Sicily. The festival is supported by the Embassy of Italy in Bahrain and the Italian Trade Agency.
The inauguration, which is open to the public, shall take place at Lulu Hypermarket in Hidd on November 22 at 6 pm. Along with food specials from Lulu's kitchens guests shall also get a glimpse of Italian culture, engineering and style. There will be a mandolin performance of Italian music and a display of iconic Italian cars as well as Vespa scooters and classy Ducati motorbikes.
To enliven the festival, Italian food fans shall be invited to participate on 25 November at Lulu Hypermarket in Juffair in an Italian Pasta and Dessert cookery contest to be judged by three Bahrain-based Italian food experts, Michela, Martina and Daniela. They will also give a demonstration of fine Italian cooking with secret tips. They have created developed a new culinary approach which is a fusion of Bahraini spices and Italian ingredients under a brand Cacio & Pepe (Cheese & Pepper).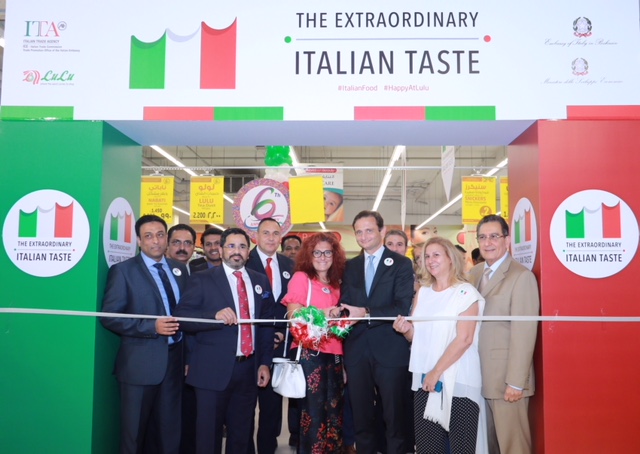 "It is well-known that Italian food is among the most popular in the world and Lulu Hypermarket has always brought the finest Italian products to customers here – cheeses, olive oil, herbs and a range of pasta, Italian rice and halal meats. We are delighted to showcase these with special promotions during Italian Week," said Regional Director Mr. Juzer Rupawala, "There will be sampling of classic Italian cheeses and ingredients, demonstrations on how to cook the best Italian meal by the three amazing lady chef consultants and also a feast from Lulu's talented chefs, of some of the favourite Italian foods."
The cookery contest will focus on contestants' pasta and dessert skills and there are exciting prizes to be won. To participate, one just has to fill out a form and drop it at any Customer Service counter and bring the prepared dish to the Lulu Hypermarket in Juffair on Saturday, November 25th.
H.E. Ambassador Domenico said that "Italian food is a distinctive character of Italian culture and lifestyle, widely appreciated throughout the world. In Bahrain there are very good Italian restaurants and people are well aware of the unique quality of our culinary tradition. This year's Week of Italian Cuisine in the World aims at further promoting the "Made in Italy" agricultural and food industry, as well as enhancing tourist destinations and the Mediterranean Diet, one of the elements that make Italy the healthiest Country in the world. Besides the events organised with Lulu, we will have, in cooperation with the Bahrain Authority for Culture and Antiquities, an amazing evening at the Darseen Café at the National Museum on 23 November at 7pm, where Italian-Bahraini receipts will be explained by Chef Biuso and Chef Al Alawi and tasting offered to a limited audience. The day after, a concert of mandolin and oud, open and free to the public, will be performed at the National Museum at 8pm".