25% of office available space taken by multinationals
Office rents remain stable across main submarkets
Retail industry continues on positive growth trajectory
Prime residential rents dip by 0.1% in Q3 2015
Annual residential rent growth at 6.7% but decline expected
Residential sales values down 5.3% during first 9 months of 2015
International real estate consultancy, Cluttons, has welcomed the resumption in activity from multinationals in Bahrain, which now account for approximately 25% of office space deals in the Kingdom, which is in turn helping to support residential property demand.
Cluttons' Bahrain 2015/16 Winter Property Market Outlook report indicates that the return of this important occupier group to the office market is a direct result of the widespread re-emergence of social stability across Bahrain. The country's appeal has also been boosted by being voted as the fourth best country for expats to live world-wide, and the top destination among Gulf Countries by HSBC bank.
COMMERCIAL MARKET
According to the Cluttons report rents across Manama's main office submarkets have been relatively stable for the past 12 months, however in some submarkets such as Al Seef, rents for fitted shell and core space have crept up over the last three quarters from BD4.5 and BD5.5 psm, to between BD5.5 and BD6 psm, suggesting that the market may have bottomed out.
Harry Goodson-Wickes, Head of Cluttons Bahrain said: "We welcome the recent increased activity in the office market, however the performance of the global economy is likely to filter through to Bahrain in the form of reduced business activity in the near term and may lead into a period of consolidation of space for this segment of the market. We are already seeing this trend in the hydrocarbon sector. Should this scenario play out, the weak turn around in rents may be reversed for a time. For now, it is our expectation that the next six months will see rents holding steady, although the downside risks appear to be gathering momentum. Regardless it is a positive signal to see multinationals resume activity in the Kingdom."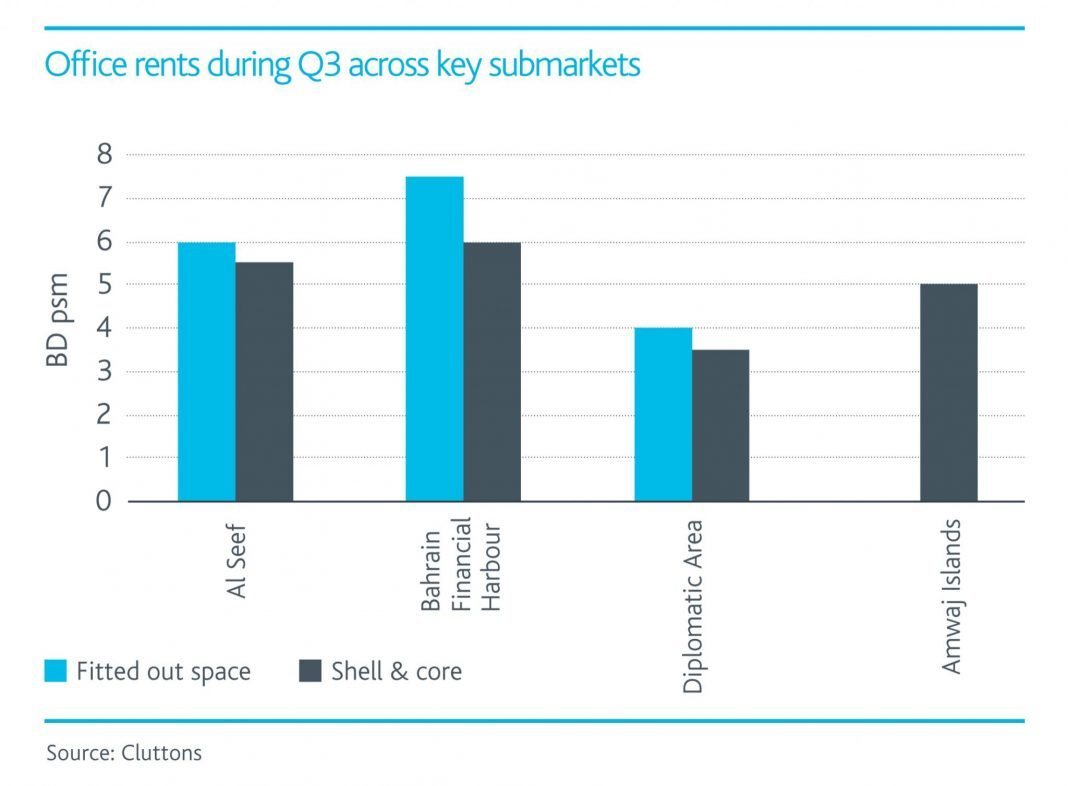 Faisal Durrani, Cluttons' Head of research explained: "The ability of the office market to sustain the slight turn around seen so far this year very much depends on how the global economic story plays out. With challenges ahead for China and the EU, and with commodity prices unlikely to stage a comeback in the near term, the global economy is now expected to grow by a downwardly revised 3.1%, the slowest pace since 2009, according to the latest IMF forecasts".
The report shows that retail market penetration continues to rise, with developers keen to introduce retail schemes designed to offer everyday conveniences such as gyms, supermarkets, cafés and pharmacies. The market also continues to witness strong growth in the appetite for space with activity particularly buoyant to the north east of Manama. Previously undeserved residential submarkets are now seeing a slew of retail developments designed to cater to the needs of the local resident population.
Goodson-Wickes adds: "At Amwaj Islands, which is dominated by expat families, retailers have been keen to gain a foothold in a market they perceive to be particularly lucrative, which has helped to drive up rents from BD 9 psm at the start of the year, to BD 12 psm at the end of Q3, which equates to a 23.5% rise."
RESIDENTIAL MARKET
In the residential market, Cluttons' report points out that average rents in Bahrain's prime residential areas dipped by a marginal 0.1% during Q3 2015, after growing for three consecutive quarters. While apartments were solely responsible for the slight decline in average residential rents, the fall was confined to Al Seef. Despite this, year-on-year rents in Al Seef are 2.4% up on Q3 2014. The latest change does however leave the overall annual growth rate in residential rents at 6.7%, slightly down from the 6.9% recorded at the end of the second quarter.
Goodson-Wickes said: "During Q3, Reef Island retained its position as Bahrain's most expensive submarket for apartments, with one-bedroom units letting for about BD 700 per month, while three bedroom apartments on average let for BD 1,300 per month during Q3. In the villa market, Amwaj Islands held its position as the most expensive with four bedroom villas topping out at BD1,500 per month. The 6.3% rise in rents here over the past 12 months underscores the area's increased desirability amongst expat families."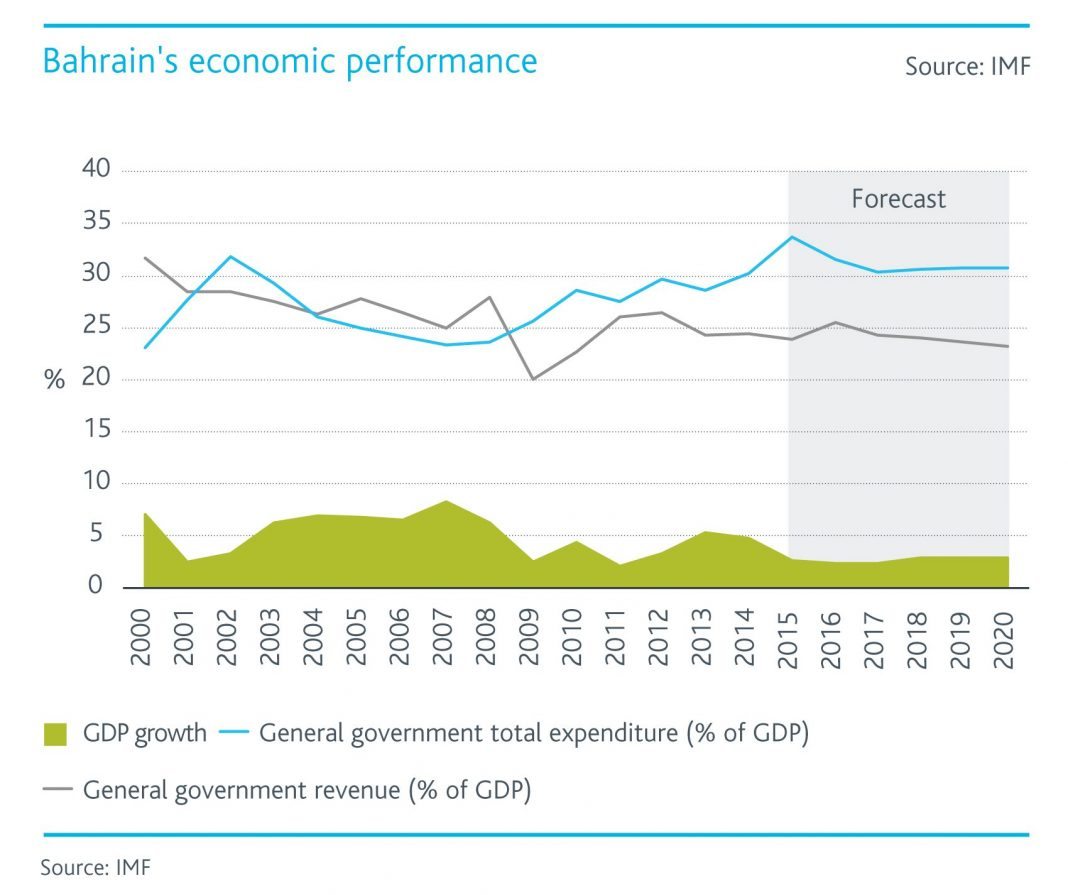 In the sales market, average residential capital values in Bahrain's prime residential submarkets slipped by 0.7% during the third quarter, following the 4.6% drop in Q2. The latest change now means that values have, on average, fallen by 5.3% during the first three quarters of 2015.
Durrani added: "Despite the relative stability in the lettings market, the long sustained period of low oil prices is likely to start impacting overall business activity. In the first instance, as with other oil-based economies, underlying market confidence in Bahrain is expected to weaken as organisations, particularly those in the hydrocarbon sector, consolidate activity and reduce head count.
"What this means for the Kingdom's property demand is a slowing in the rate of job creation and therefore a reduction in the rate of household creation, a phase we have already entered".
While Cluttons does not believe there is an imminent danger of oversupply in the residential market, weakening demand and market confidence are expected to dent household budgets.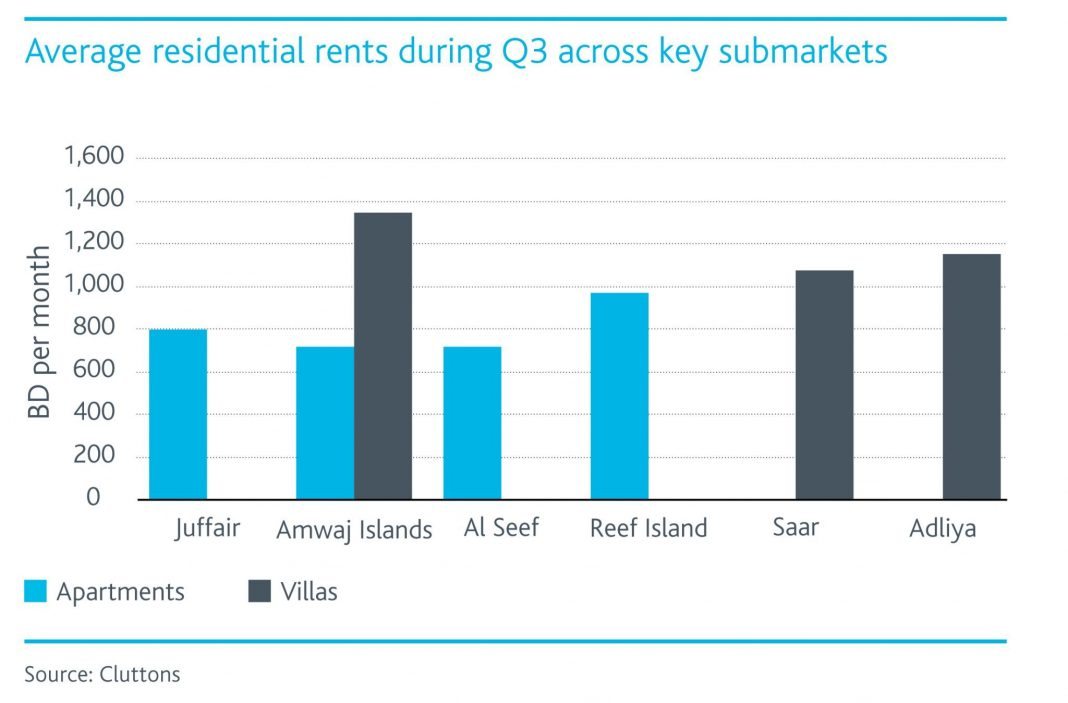 Goodson-Wickes concluded: "It is our view that rent falls are likely to accelerate over the next six to twelve months, with an average decline of 3% to 4% expected. The sales market is expected to mirror this trend, with a petering out of demand the key risk to the performance of the market, particularly among Saudi's, which drives the bulk of deal activity. With weak oil prices set to persist, the disposable incomes of this critical buyer pool is likely to start diminishing, thereby undermining overall buyer requirement levels."