New Millennium School, Bahrain organised a grand ceremony to felicitate its staff for their relentless dedication and commitment, which enabled the school attain the glory of being the first and the only CBSE School adjudged "OUTSTANDING" by the Education and Training Quality Authority, Kingdom of Bahrain.
The function was hosted by the School's Managing Committee at The Ramee Grand Hotel, on the 14th of September, 2023. The ceremony acknowledged and appreciated the immense contribution of the Principal and the staff in taking the school to the zenith of success. The occasion was graced by School Chairman Padmashri Dr Ravi Pillai, Managing Director Ms. Geetha Pillai, Principal Shri Arun Kuumar Sharma, members of the management, headmistresses and the teaching and non- teaching staff. Every staff member was awarded with a certificate of appreciation, a memento and a gold coin by the Chairman, Dr. Ravi Pillai and the Managing Director, Ms. Geetha Pillai.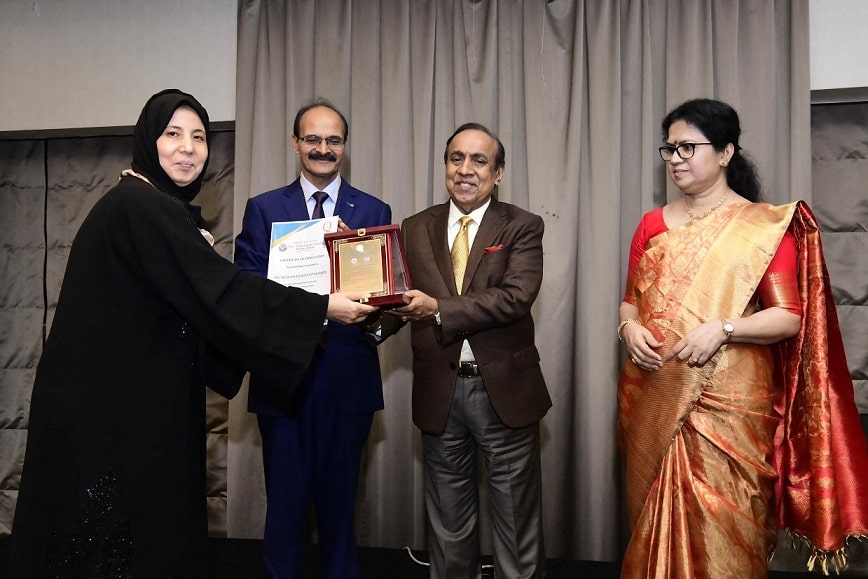 During the ceremony, Chairman Dr Ravi Pillai ardently appreciated the staff and felicitated the Principal, Shri Arun Kuumar Sharma for his exemplary service as a visionary and conscientious leader of the team. He also felicitated all the teaching and non- teaching staff of the school for their unparalleled devotion towards the school.
Shri Arun Kuumar Sharma, on behalf of the staff, expressed his profound gratitude to Chairman Padmashri Dr Ravi Pillai and Managing Director Mrs Geetha Pillai for their incessant guidance and support to the team throughout their journey to success. He revisited his experiences through the years, expressing his gratitude to the entire school fraternity, signifying his admiration for each one on attaining this milestone together. Appreciating the efforts of the management, staff, students and parents he said, 'Our students and our teachers are my Heroes and the management and parents are our strong pillars of support.'
Walking down the memory lane on this joyous occasion, the staff members witnessed a power Point showing the growth and evolution of the school from 2004 to 2023. The ceremony was followed by a scrumptious dinner.