Amidst the bustling metro of daily life within Bahrain, lies an escape right in the center. Reef Clubhouse sits at the heart of Manama and can be reached for less than a 30-minute drive from wherever you are in Bahrain. This 132,346 square meter marvel stands out with elegant architecture, lavish décor, and minute details of its colorful furniture and numerous uniquely tiled walls. A step within its golden lobby truly brings you to a visual journey that only gets better.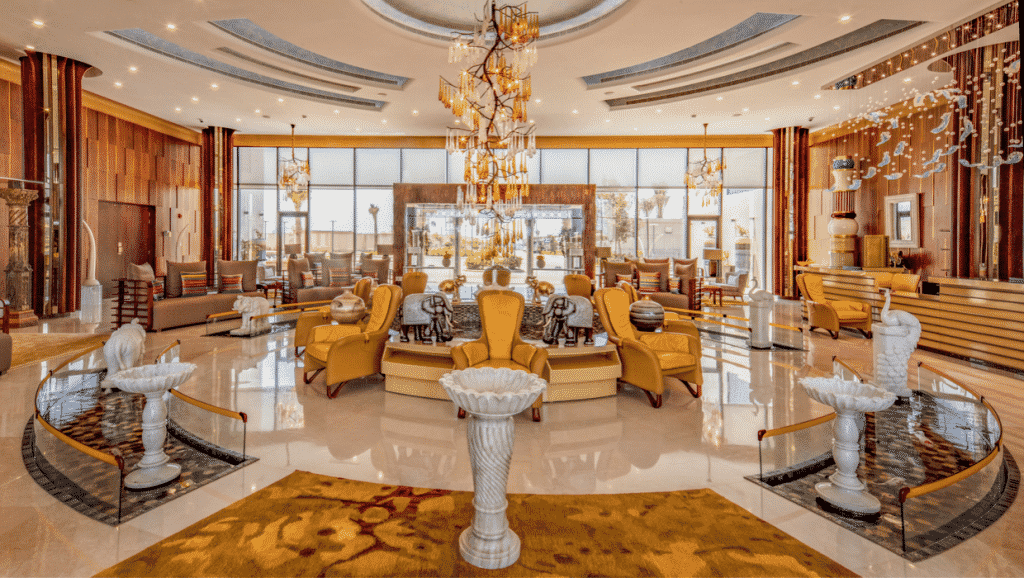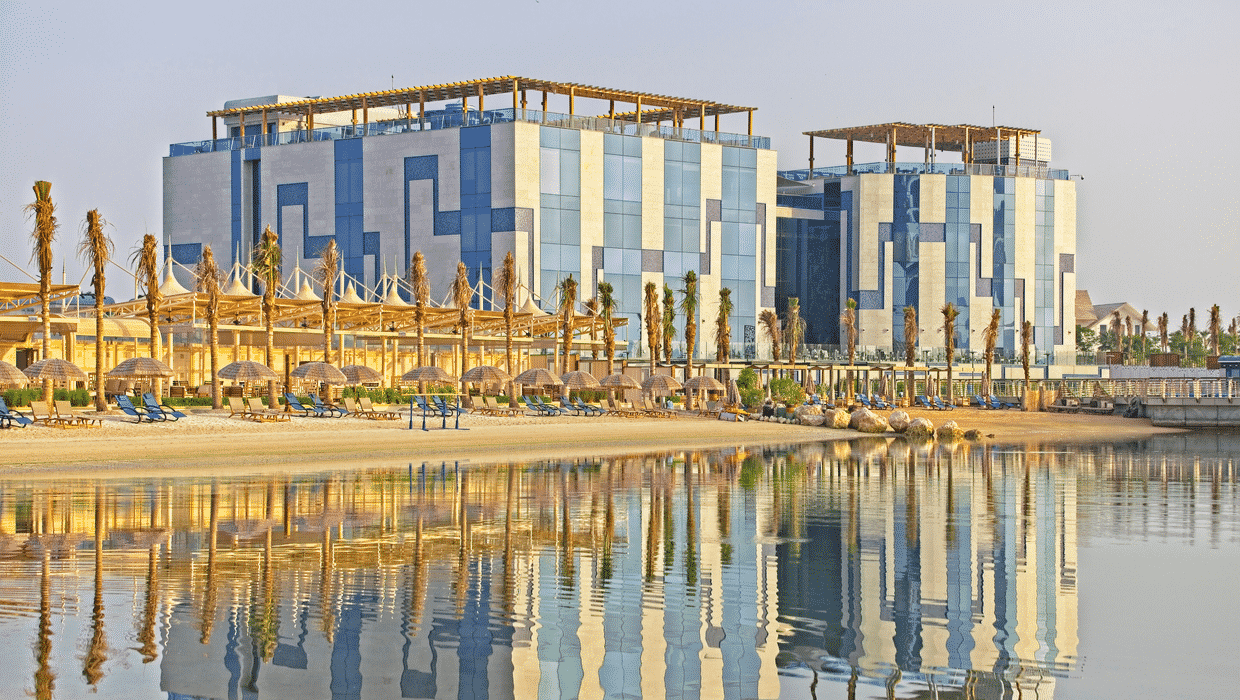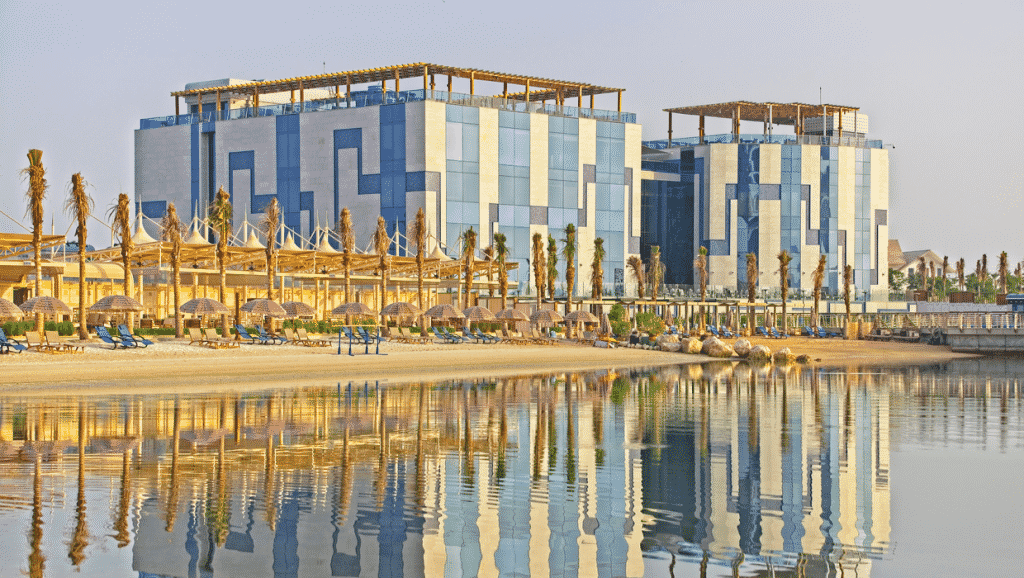 "The Reef Clubhouse alone is a monumental development that offers a unique and unprecedented experience in the Kingdom of Bahrain. This is a vibrant hub of lifestyle amenities, placing you at the heart of a world where wellbeing, leisure, socializing, dining and relaxation in luxury surroundings," says Antoine Assaad, Operations Manager, when asked about what makes Reef Clubhouse unique within the Hospitality sector of the Kingdom. "Every element has been meticulously crafted to meet the highest standards of luxury and comfort, ensuring a truly memorable experience for all those who visit. To spend time here is to surround oneself with luxury of the highest order and to step into a world where only the finest will suffice."
Reef Clubhouse is landscaped by flourishing greenery and positioned in a way that every terrace or window brings you a wonderful view of the city or its Lagoon. And as much as it is picturesque outside, the same can be said for its luxurious amenities. Cynthia Narvaez-Delena, Marketing Manager, lead us through the major attractions of the Reef Clubhouse.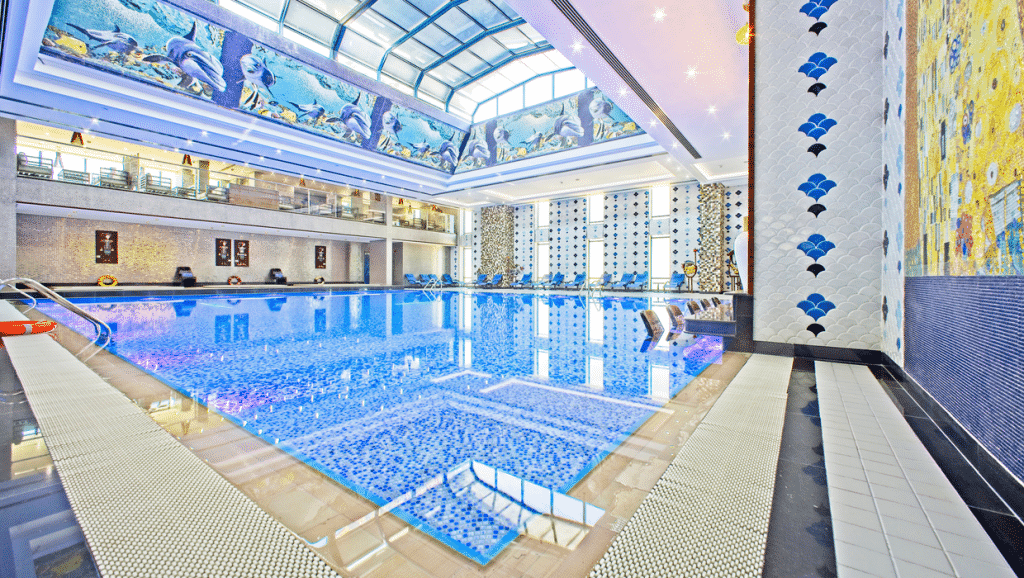 Indoor Pool
"The large-scale indoor pool is a sight to behold with every detail designed to make being here a delightful experience. Whether enjoying the warm water, a drink at the poolside bar, soaking in the Jacuzzi, or relaxing on deckchairs, the pool offers a world-class environment in which to spend moments of leisure. "The retractable sky dome flood the pool with daylight," Cynthia Narvaez-Delena mentioned.
The Pool also has a wonderful Klimt painting mural made of tiles on each side of its poolside bar.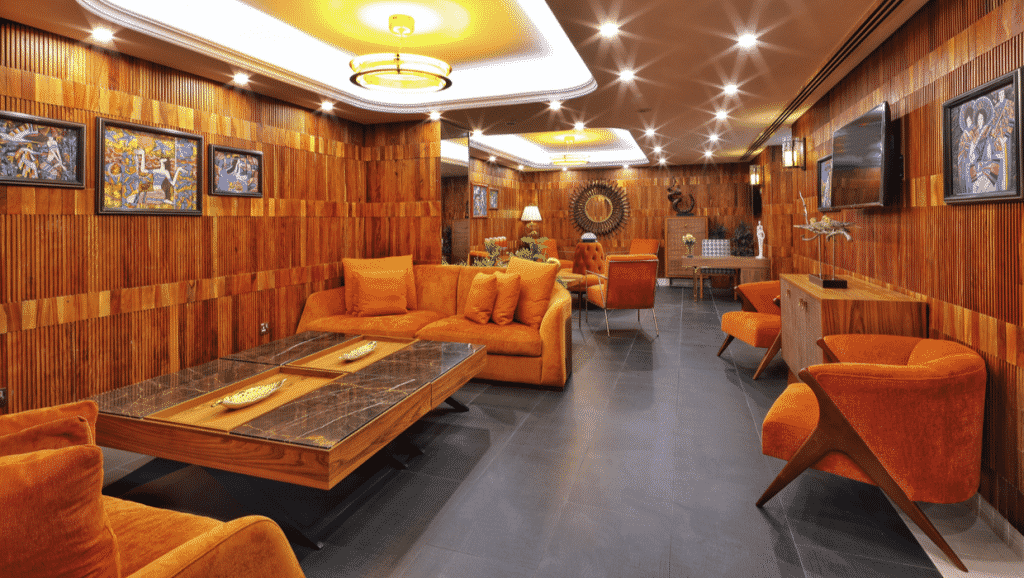 Spa
"The Reef Clubhouse Spa is an entire world of wellness services with dedicated sections for men and for women. From the moment of entrance, the atmosphere is warm and inviting, transporting you from the outside world to a domain of luxurious calm. Separate reception areas for men and women welcome guests into the Spa to begin an experience that envelops them in an atmosphere of extraordinary beauty and supreme wellbeing." Cynthia Narvaez-Delena explained.
The Spa has a Jacuzzi, Sauna, Steam Room, and offers traditional hammam rituals in its Turkish bath. The Jacuzzi and Turkish Bath can be enjoyed with a breathtaking view of the Lagoon.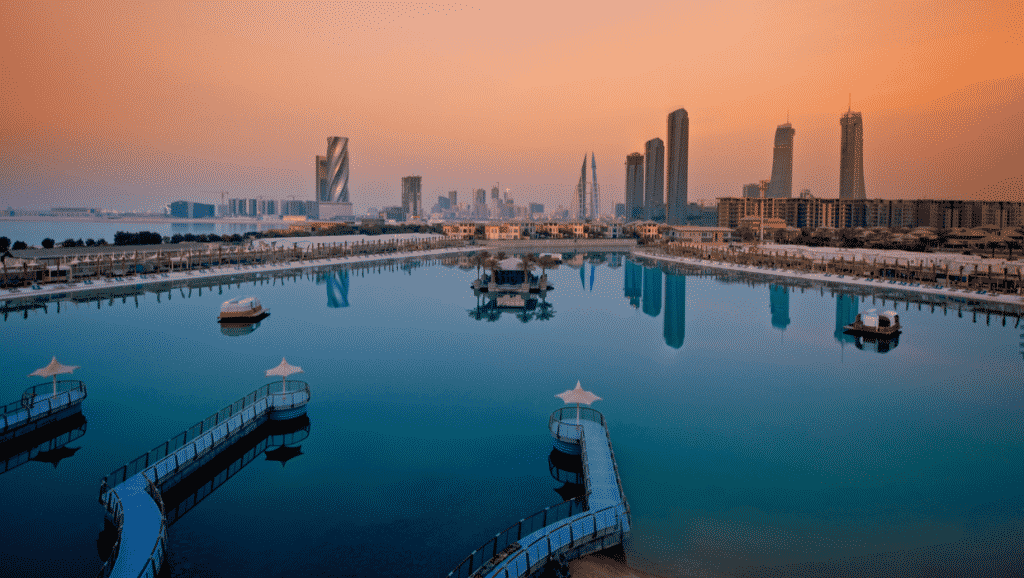 Lagoon Moon Floating Restaurant and Floating Lounges
The Lagoon Moon is surrounded by 1km beach that has tents, sunbathing seats, a basketball ring, a volleyball net, a coffee and snack bar, and a lot more. It is not only a place to swim in and have fun, but also a place to enjoy fine dining! Be it on the Lagoon Moon Restaurant or with family and friends inside one of 3 private floating lounges (inclusive of a Butler), the Lagoon brings magic and romanticism with its serene waters, panoramic views, and fine cuisine. Perfect for you and your special someone!
"Reachable by boat, Lagoon Moon is a unique dining destination. By day and by night, Lagoon Moon is home to panoramic views and excellent cuisine. Enjoy the peaceful calm of a day time visit with a wide selection of beverages and international menu or spend the evening with your loved ones and experience the culinary sensations combined with chill out music. Enjoy casual dining as if you were on a cruise." Cynthia Narvaez-Delena added.
The Indoor Pool and Beach are now open to the public every day of the week. The Lagoon Moon Floating Restaurant is open only on the weekends, Friday-Saturday, from 12pm to 10pm.
On its launch, the Reef Clubhouse will bolster numerous additional amenities. There will be a nursery, a men's and women's salon with private beauty rooms, a society lounge, a playroom with bowling for kids, a gym with private instructors, a beach shop, an outdoor garden/playground, and an incredible guesthouse and banquet hall for weddings and events. Reef Clubhouse will have everything for everyone to enjoy.
The Reef Clubhouse will also have a selection of restaurants to dine at. The Resto Club's continental buffet and signature cocktails, Society Lounge's dessert and beverage collection paired with social games, Juice Bar's wide array of refreshing drinks and healthy juices, Oriental Lounge's Arabic majlis seating paying tribute to the beauty of Arabic traditions, Rooftop Shisha serving a wide assortment of irresistible bites, drinks, and lavish shisha choices, and Pool Café and Bar catering for the indoor pool swimmers. Whichever restaurant you choose, you are guaranteed a splendid view while you enjoy your meal alone, with family, or in conversation with a friend.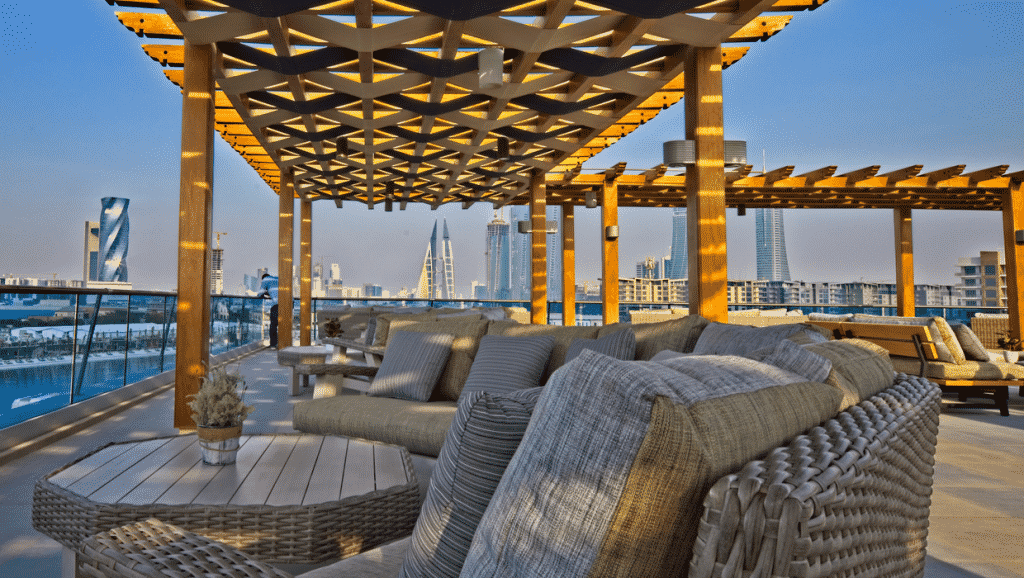 Antoine Assaad and Cynthia Narvaez-Delena plan to highlight Reef Clubhouse within Bahrain's continued growth towards infrastructure and tourism.
"Each and every day our team members strive to be a destination of choice committed to service excellence and continuous improvement with the goal of creating a quality experience for every guest. "
The Reef Clubhouse membership plans are available for Single, Couple and Family with duration for 1 month, 3 months, 6 months, 12 months. Day passes for beach access are available too. For inquiries, call +973 77 900 700.