Diyar Al Muharraq, one of the leading urban developers in the Kingdom of Bahrain, announced the sale of 80% of the seafront villas at the Al Bareh Freehold Project within 48 hours of its launch.
Al Bareh is one of the leading projects in Diyar Al Muharraq. It is a sophisticated residential community situated in a prime location on the west of the master-planned development, granting inhabitants with both a majestic seafront view and a prime view of the main canal. The Project offers both plots with different sizes as well as luxurious villas with a variety of designs to suit different tastes and needs, making it an ideal choice for a wide range of clientele.
Speaking on the occasion, the Chief Executive Officer of Diyar Al Muharraq, Dr. Maher Al Shaer said: "It brings me immense pleasure to witness the exceptional success in the purchase of the Al Bareh villas, with an astounding 80% of the seafront villas having been sold within 48 hours of the launch of its sales. This success reflects Diyar Al Muharraq's superior capacity to provide our customers with the best residential options that meet their aspirations to live in a sophisticated yet harmonious communal environment. Al Bareh is a prominent project that enjoys practical villa designs that enhance the family atmosphere, giving inhabitants absolute comfort in every aspect of their residence".
Diyar Al Muharraq seeks to provide modern residential solutions suitable for different segments of the community, and it reflects this commitment through the freehold villas that it offers within the Al Bareh project. The Villas are built on seafront plots of two types, 'El Bahar 1' and 'El Bahar 2', while the 'Dareen' and 'Es'hail' models are built on the Project's inner plots. Each of these villas has different features, characteristics and sizes designed to meet the needs of a wide range of clients. All these villas incorporate the latest smart home technologies to allow end-users to seamlessly manage, control and monitor homes.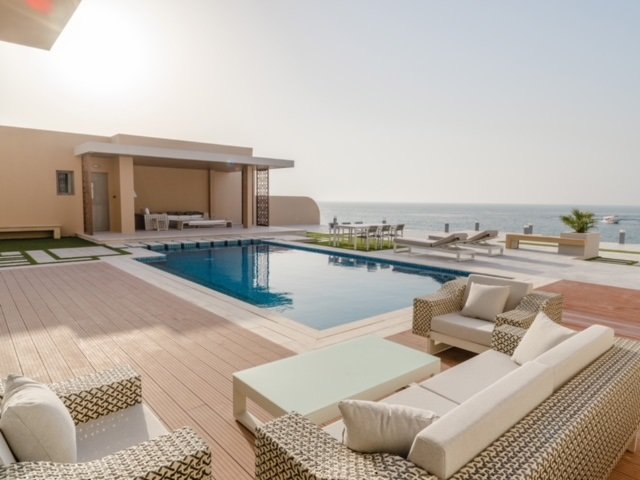 "We at Diyar Al Muharraq have given our best efforts to present the highest quality standards in the construction all of our projects, and Al Bareh is no different, as it encompasses various freehold residential opportunities offered to both Bahrain and GCC citizens, as well as prospective owners from all nationalities, which gives it a greater appeal as one of Diyar Al Muharraq's more prominent projects. Therefore, we are honored to invite everyone to visit us at the Diyar Al Muharraq Sales Office and find out more about the Al Bareh residential villas features and designs", he added.
The Al Bareh seafront villas, 'El Bahar 1' and 'El Bahar 2', have plot areas that are approximately 800m²-940m² , while the inner villas plots, called 'Dareen' and 'Es'hail', are approximately 460m²-640m².
Diyar Al Muharraq is a unique master planned city for the people of Bahrain offering range of housing options and quality lifestyle. Diyar Al Muharraq offers a cohesive mix of residential and commercial properties with a strong line up of projects aimed at creating a long term and sophisticated township.