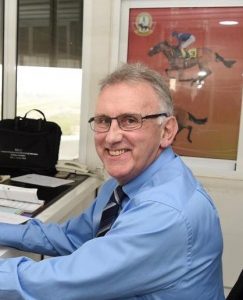 Phil Smith, who has more than two decades of experience as a handicapper in horseracing, was responsible for a number of significant advancements in handicapping practice. He introduced the Anglo-Irish Jumps Classification in season 1999-2000; providing the data which drove two changes in the jumping weight-for-age scale. Phil was also responsible for changes in handicapping practice in the Grand National, introducing 'compression' at the top of the weights in order to give higher rated horses a more realistic chance of being competitive over the unique 4 1/2 mile trip.
Phil Smith has represented Great Britain at the end of year conference in Hong Kong since 2007. He retired from the long service of 22 years from for the regulatory body, the British Horseracing Authority (BHA)'s Head of Handicapping in 2018.
Phillip Smith has visited the Kingdom as Racing Consultant and Handicapper at Rashid Equestrian Horse Racing Club (REHC). "It is a stroke of genius that HH Shaikh Isa bin Salman Al Khalifa enquired if there was a slot in the international horse race calendar a couple of years ago. What is very important now, is that Bahrain has managed to establish a slot in the International racing calendar" said Phillip Smith.
Phil Smith, shares his unique journey with readers of Bahrain This Week.
How did you get interested in horse racing?
I went to the Epsom Derby on my 21st birthday with some friends and was overwhelmed by the spectacle. It was a day of transformation in my career as I immediately got hooked to it.
You have spent more than 20 years as a handicapper, from BHA, and in Bahrain. How is it being done and what exactly is it you do?
As long as you like working with figures it is great fun. Basically, we assess the ability levels of horses relative to each other. It is like giving a child a test in school and you give each horse a score on what it achieves relative to other horses.
You've brought a lot of innovation and change to how handicapping is done. Do you think it'll change further? How?
Yes. I still have some ideas I would like to introduce particularly the planning of the race program.
Handicapping is met with criticisms and opinions, not just from the viewers but from everyone involved in horseracing. How do you see it and what "rule" do you follow in being a handicapper?
The most important rule is to try to be fair to every horse, whoever is the owner or trainer. You also have to be able to justify your decisions when you are questioned. It is very important that you use common sense that everybody understands and not use a difficult to understand theory.
How do you find Bahrain's Horse Racing scene?
It is amazing how much enthusiasm everybody has in Bahrain for horse racing and the improvement in the standard of the horse population. Importing a horse as good as Simsir who won the Bahrain International Trophy shows the direction horse racing is going.
What're your comments on the 2020 Bahrain International Trophy?
Well the race is now over and I am sure that everybody who watched it was excited by the speed of the high-quality horses and the closeness of the finish. I thought the ride that Lee Newman, the winning jockey, gave to Simsir was inspirational. Just look at the caliber of the jockeys that were behind him. He deserves to be very proud as do the trainer and owner.
Phil Smith hopes to continue his International commitments and to stay involved in racing utilizing the skills and knowledge that he has gained over the decades.