Bringing to the Kingdom of Bahrain a taste of its unique culture and tradition was the Turkish Festival at the Ramli Mall, A'Ali. The festival commenced on 3rd June 2015 and ran up to 13th June 2015.
Turkey is known as the cradle of cultures and civilizations connecting Europe and Asia and is the capital of ancient civilizations that have reined the lands of Anatolia for centuries. Since the beginning of history, this land has its mark to claim with the world's oldest civilizations and its many branches of art that originated in the Anatolian lands, which are still kept alive and continue to be developed in the present day.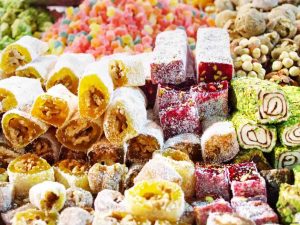 Turkish cuisine offers a variety of flavors with a magnificent heritage, which have evolved over the centuries with the blending of culinary cultures of many communities. Thousands of unique delicacies and specialties ranging from meat dishes to cold dishes, from sorbets to spices were wholeheartedly savoured by guests visiting Ramli Mall for the festival. The music played by the Turkish orchestra and traders from Turkey selling their wares such as sweets, silks, silver and copper items, accessories and the famous Turkish ice cream transported islanders to a Turkish bazaar.
The festival was inaugurated by the honorable ambassador of Turkey to Bahrain, Her Excellency Hatun Demirer. The event that was organized in partnership between Ramli Mall and Madre Padre saw quite a rush and enthusiasm from both, the crowds and the participants. The Turkish musical act, Ruhnevaz, gave the spectators a totally unique yet enjoyable experience.
"I have been to Turkey for a vacation, and to relive it back here in Bahrain feels great," Mr. Ali Ahmed, one of the many visitors, told BTW.
Enjoying their delicious pieces of Baklava, their eyes twinkling with joy, a bunch of kids said, "We loved it!"
As the curtains have closed on this interesting festival, it's now time to wait until the next one comes around, unless of course, you take the next flight out to the beautiful land of Turkey.